Companies have a right to ask tough questions when they're asked to spend on new technologies. Here's how to tackle the most common ones for FP&A software.
Even if you don't get nervous standing in front of your boss or executive team, asking for money and putting your credibility on the line, making a successful business case for FP&A software is far from a simple ask. There's a little more to it than confidence alone.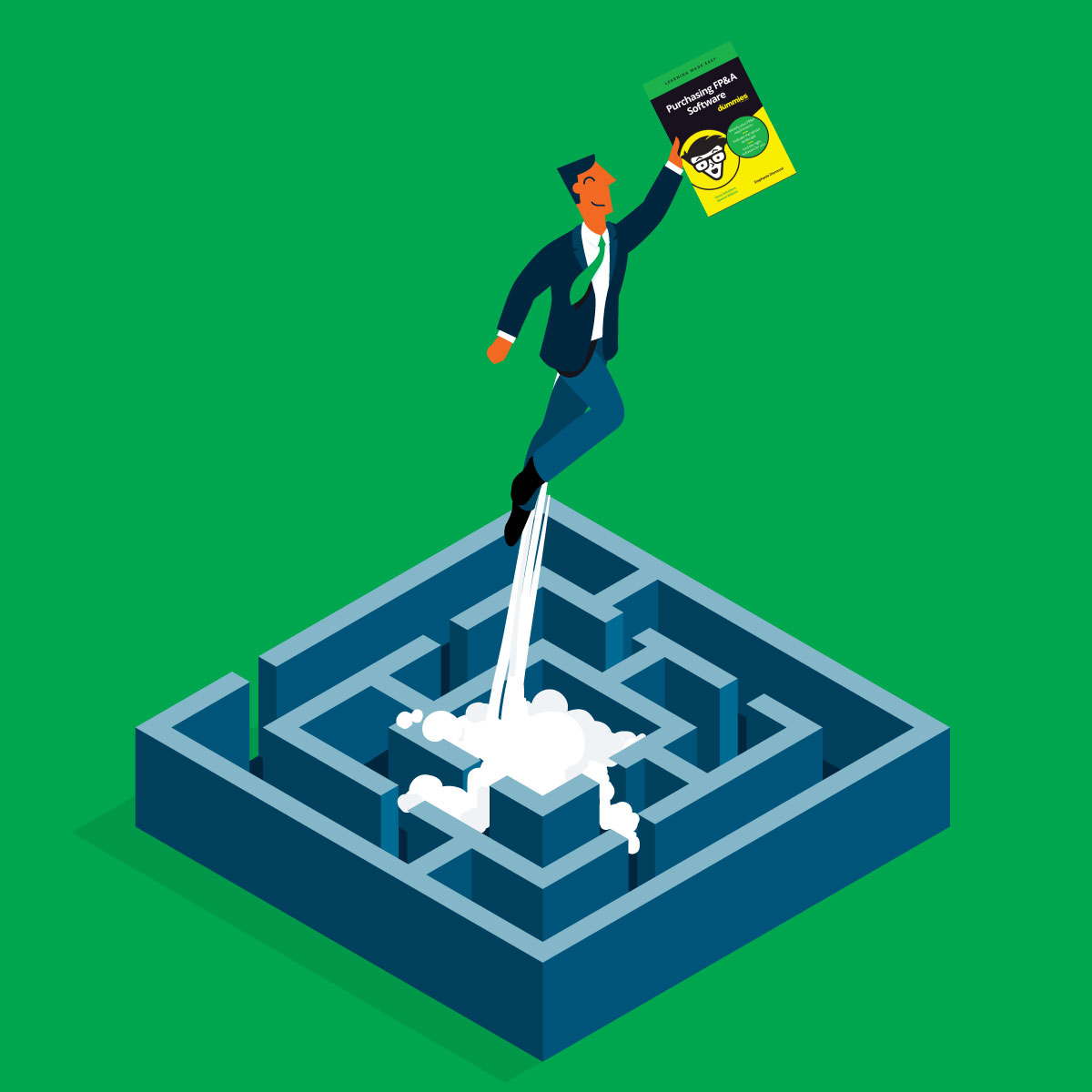 With this in mind, Vena recently launched a new ebook, Purchasing FP&A Software For Dummies. It breaks down in layman's terms almost everything a finance professional will encounter on their journey to more data-driven decision-making – by making the case for, then using the right software.
Here's the thing: reading the book can be as useful at the business case stage as it is when executing your FP&A plans.
No one in an organization will give the go-ahead on any major product purchase unless they're sure it's the right move. That's why you can't put off the necessary due diligence when you bring an FP&A project forward. In fact, the book is almost tailor-made to see readers through this process by addressing the biggest questions and objections before they're asked:
"Why Can't We Make Better Use of The Tools We Already Have?"
While you may wind up reviewing multiple competitors in the FP&A software space, the biggest competition we all face is the status quo. Organizations aren't always able to see that the cost of doing nothing can actually be higher than investing in new technology. The first chapter of the book helps here with guidelines on assessing your current processes, identifying their shortcomings and determining you requirements.
"We Don't Know Enough About How This Technology Works."
This kind of concern is basically masking something larger — a perception that a particular application won't perform as promised, or will be cumbersome to put into action due to integration issue, training headaches and so on.
The second chapter of the book breaks down the key features FP&A practitioners should bear in mind when considering new software, along with some thoughts on functionality that can deliver new, tangible business value.
"All These Software Vendors Sound the Same."
It can be difficult at first for those outside of finance to recognize the nuances between vendors, which is why smart purchases also take into consideration the viewpoints of experts like industry analysts. The next chapter in the book not only points you to that kind of expertise but also delves into whether you should use a request-for-proposal (RFP) process, require vendors provide a proof of concept (POC) and more.
"Who Has The Best Price?"
Purchasing FP&A software isn't like buying a pair of jeans, or even a car. You'll need to think much deeper about the knowledge, support and other variables associated with different vendors and even specific products and services.
You also want the team to which you're making the business case realize the kind of relationship you're about to form with a vendor, beyond just giving them money. The services team you're going to work with can be just as important as the software itself. That's what Chapter Four is all about.
"Are You Sure?"
They're only three words, but if the boss or other senior leaders don't think you've researched the market well enough, you could be sent back to the drawing board, or even have the project put off indefinitely. That's why you not only want to describe the merits of your chosen vendor, but the process you took to choose them.
In the last chapter, you'll get a list of 10 questions to ask any vendor before making a final decision. Make sure you get concrete and straightforward answers to all of them, and summarize those answers when you're finalizing your business case.
If you've covered off all these areas, you're ready to make your pitch to anyone who needs to hear it — and reading Purchasing FP&A Software For Dummies may start to feel like the smartest thing you've ever done.