How much should you spend on advertising your business?
While it's a common question, pinning down a cohesive answer is difficult because there are critical thinking elements behind each advertising decision and the budget a business needs to carry it out.
According to Shopify, companies should spend "10-30% of revenue back into ads." Fair enough, but this vague statement leaves more questions than answers. What type of ads? Should you spend 30% across the board, or 10% here and 25% there? To what channels should you allocate that percentage of your revenue?
Before we jump down a rabbit hole, let's look at some things to consider before deciding how much to spend on advertising. Don't worry, though. We will get to the answer.
💡 Key Takeaways:
You will need to establish goals before you can consider your advertising budget.
Depending on the size and scope of your business and the various strategies you use, you'll want to look for ways to maximize your advertising ROI.
Pick the best channels that reach your target audience and factor in additional costs, such as graphic designs, copywriting and time spent creating the strategy.
Invest in an FP&A solution that ensures accurate budgeting and forecasting reports so that you can make more informed allocation decisions regarding your advertising budget.
How To Set Your Advertising Budget According to Growth Goals



Source: YouTube

Establish your business and growth goals before determining how much you should spend on advertising for your business. Here are some questions to ask yourself:
Do I fully understand the target audience?
What is the best channel to reach them?
How many leads per month do I need to get?
What are my revenue goals?
How much more money must I spend to reach my goals?
We suggest beginning with these questions and expanding on them based on what you can afford to spend based on your budgeting & forecasting analysis. Although, you need to consider more than how much is left to allocate to your advertising budget.
You need to consider the worth of every advertising dollar.
How To Maximize Your Advertising ROI
Depending on the size and scope of your business and the various strategies you use, you'll want to look for ways to maximize your advertising ROI. The image below shows what top Fortune 100 companies spent on search ads alone.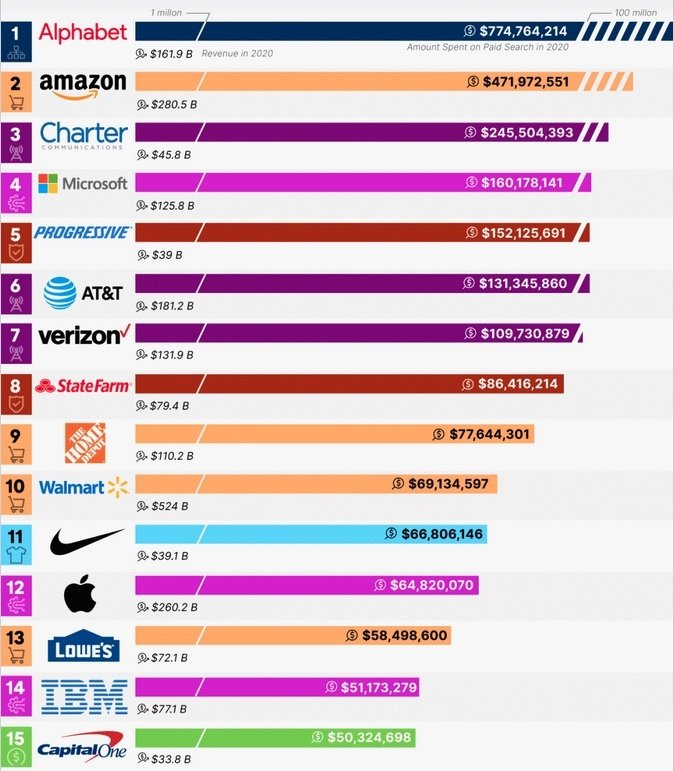 Source: AppleInsider

Google's parent company, Alphabet, spent $774 million on search ads in 2020. While these big names can afford these high-dollar marketing strategies, your business will take a more modest approach.
Let's look at ways to maximize your advertising ROI so you know exactly how much to invest in each advertising channel you use.
Pick a Channel
What are the best methods for reaching your target audience? It could be anything from a social media post to a billboard in Times Square.
When setting your paid advertising budget, it can be helpful to consider what others are doing.
For example, marketers will often spend 9% of their budgets on paid search ads, 14% on ads for social media and 16% on paid display (of which nearly half focus on paid ads known as retargeting).
The graph below shows the various channels from which you can choose: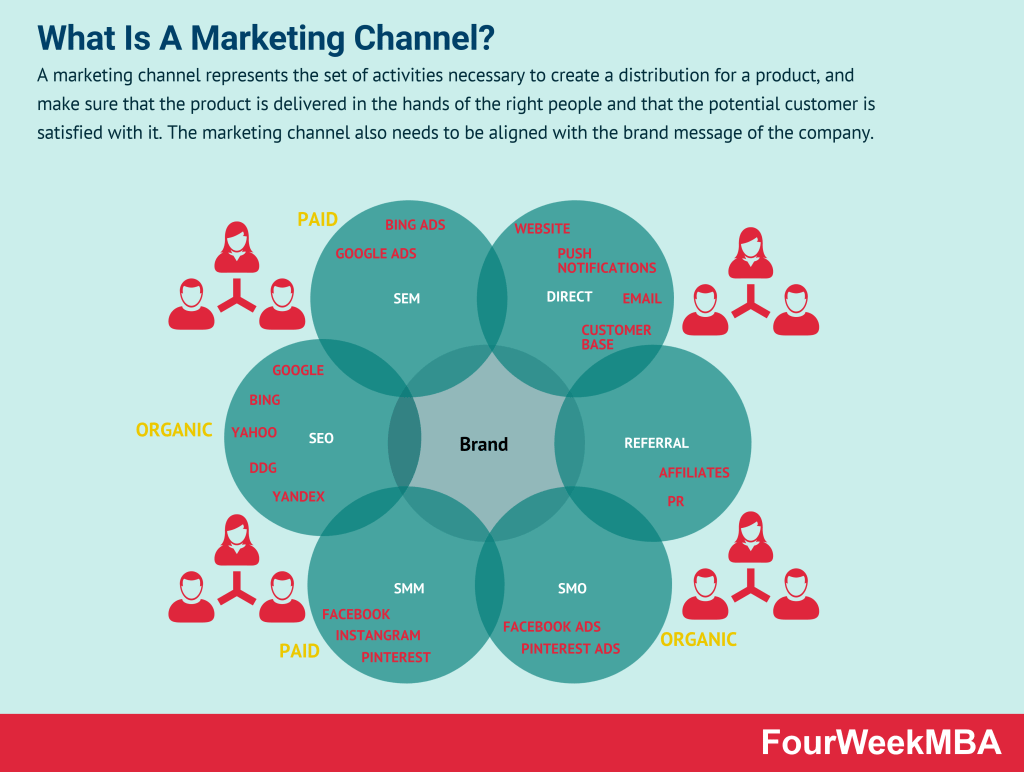 Source: FourWeekMBA
Factor in All Costs
Setting up an advertising budget isn't as simple as saying what percentage works best for a specific campaign. Different strategies will have various additional costs associated with them, such as:
Time Spent on Strategy
Time Spent on Project Management
Graphic Design
Copywriting Services
Publishing and Hosting
We could fill this article with expenses you may not consider when setting a budget. Our advice is to leave extra room for additional fees associated with ad campaign costs.
Invest in Reliable FP&A Software
Is your team still using Excel spreadsheets alone to prepare a budgeting report? If so, you could make advertising budget decisions based on incomplete data.
The problem with a standard Excel spreadsheet when it comes to budgeting and forecasting is that this Microsoft program is not a central database. It does not contain all the data your team needs to build a comprehensive report.
Reliable FP&A software will store all your critical business data in one place so that your team can create a complete and accurate report. They can do it in less time than previous methods, and the right FP&A solution will be an Excel-based platform.
Maximize Your Advertising ROI With Automation
Ultimately, how much you spend on advertising for your business should never exceed what you can afford and that requires accurate reporting so that you know how to allocate every business dollar. You can't rely on Excel spreadsheets to give you all the necessary information.
At Vena, we made our FP&A software an Excel-native user's dream. Get the look and convenience of the spreadsheet you know and love with the powerful insights available only through automation. Know exactly how much you should spend on advertising.
Not only can you see what money is available to spend on advertising, you'll also gain insights into which advertising dollar is worth more and where you might want to focus your marketing budget.