Do you constantly find yourself fighting the capital expenditure budget process?
Have you struggled to make changes because you're too set in your ways?
Have you come to realize that you can't continue down the same path without compromising the future of your company?
Streamlining the CapEx budgeting process may be just what you need to save time, reduce errors and feel more confident in every decision you make. But before you can take action, you need a plan of attack.
With this in mind, here are four tips for streamlining your capital expenditure budgeting process.
💡 Key Takeaways:
Automation and templates will help you get started—that's often the most difficult step.
Sharing real-time data through dashboards and reports empowers anyone (or everyone) at your company to make faster decisions.
Plan for all current and future

fixed assets

for each department.
1. Automate the Process
A manual process is an error-prone process. Not only do you have to worry about costly errors, you also have to consider the additional work that goes into fixing them.
With an automated approach, the CapEx budgeting process is consistent. You know what to expect and how to get there. The same holds true of contributors, such as stakeholders, who don't always share capital budgets on time.
Automation also prevents:
Challenges associated with consolidating data into spreadsheets. Automate data collection to prevent challenges such as lost emails or missing information.
Wasted time spent updating actuals. As noted above, automation is designed to save you time which in turn saves you money.
Inconsistent information. For example, the data you collect from others should match the data used in the budgeting process.
Even if you do nothing else to streamline the CapEx budgeting process, take the time to automate your system.
2. Use Templates
Are you just now thinking about making a change in the way you approach CapEx budgeting? It's a daunting task to build from the ground up, but fortunately, you have other options.
The use of templates allows you to hit the ground running. Here's an excerpt from our website explaining the power of templates:
Our CapEx and OpEx software includes built-in templates for faster time to value. Input and manage individual assets by properties such as book value, useful life, residual amount and more. Calculate and preview asset depreciation projections prior to submission. View existing assets and add future ones by project, department or cost center for increased flexibility. You'll never go back to operating without this level of detail.
Yes, you can customize templates to suit your every last requirement. But even then, you're not starting from scratch. You're building off of a proven template with built-in functionality.
The use of templates does more than streamline the budgeting process. It also streamlines the process of getting started—and that's often the most challenging step.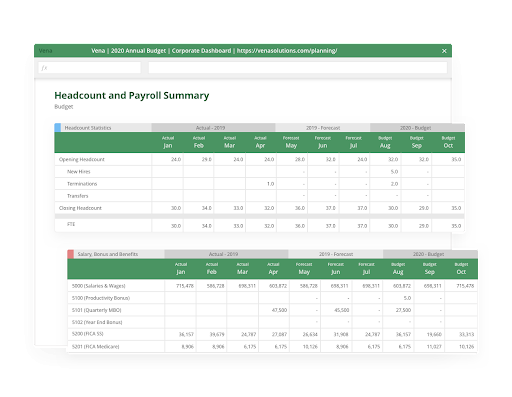 3. Use CapEx Planning Logic
Another powerful feature from Vena, pre-built CapEx planning logic is critical to both successful implementation and customization.
Some of the many benefits of using CapEx planning logic include:
Parameter controlled for simplified implementation (even for beginners). This helps to reduce the learning curve.
Create

more accurate forecasts

by using driver-based calculations for expenses such as rent, employee count, travel and office supplies. You don't have anything if you don't have accuracy.
No more re-keying data. Save time and reduce the stress associated with repetitive tasks.
Integration with source systems to ensure you're accessing the most recent (and accurate) numbers. Old numbers are often inaccurate. If you rely on these numbers, you can expect mistakes to carry over to your budget.
Planning logic is the engine that powers the CapEx budgeting process. Without this, there's more reliance on you and your team.
4. Let Dashboards and Reports Do the Talking
You're not streamlining anything if you're responsible for all aspects of creating and distributing reports. You need a tool that takes this off your plate.
Through the creation of CapEx budgeting reports, you can beautifully and seamlessly share data with anyone (or everyone) in your company. Benefits include:
A single source of information
Create up-to-date forecasts in minutes
An inside look at your business from multiple angles
Along with the power to create reports, you'll have access to a dashboard for viewing all your data in a single place. Here's an example: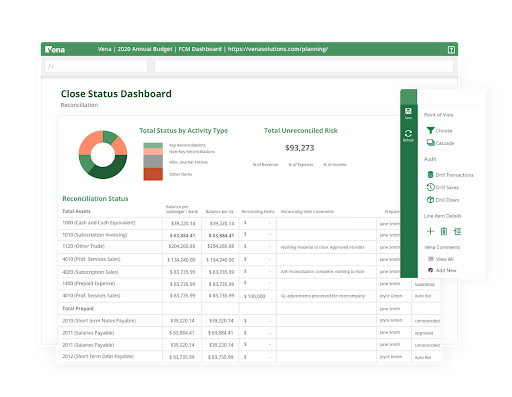 Everything is laid out in an easy-to-understand manner. And since it's powered by Excel, you're comfortable with the format from the start. Review what you want, when you want and share real-time data with others.
CapEx Budgeting Challenges To Address
As you take steps to streamline your CapEx budgeting process, it's imperative to address challenges that have bogged you down in the past while also thinking about what could happen in the future.
Some of the primary challenges to address include:
Effectively planning for all current and future

fixed assets

for each department. The two key words here are "effectively" and "each department."
Aggregating all data in a single location. This helps with organization, accuracy and the ability to receive data from others in a singular manner.
Incorporating your CapEx plan while considering the impact on financial statements. How will your plan impact

P&L

? What about your balance sheet?
In addition to these challenges—those that you want to keep in mind as you get started with the CapEx budgeting process—beware that others will come to light along the way. Address these immediately to reduce the potential impact down the road.
Final Word
Though some form of human intervention will always be needed, streamlining your capital expenditure budget process today will ensure a more efficient, effective and automated system in the future. It's not a decision you'll regret.