CFOs and their teams may feel like they're getting pulled in all directions, but the right leadership will ensure they keep moving forward.
When the precedent-setting ransomware attack infected computer systems around the world in early 2017, experts were quick to point the finger at a group of anonymous hackers who were likely behind it — almost as quickly as they used the incident to criticize finance departments.
"Cyber Attack Highlights the Lack of Tech Skills in Finance Departments," the headline in the Wall Street Journal declared, quoting sources from consulting firms and industry associations about the need for CFOs and their teams to ensure security risks are properly mitigated. This included Sean Joyce, a principal at PricewaterhouseCoopers LLP's advisory practice.
"The complexity of fast-changing information technology is one reason internal auditors are not fully familiar handling cyber security issues…Most of them have learnt on the job," Mr. Joyce added.
It might not seem fair, at first, to try and turn finance professionals into scapegoats for something normally more in the purview of CIOs and IT departments. Finance departments have been traditionally more focused on managing the hard costs of corporate assets and reporting back on the results of the organization's performance from one quarter to the next. Do they really have to become cybercrime fighters too?
On the other hand, the fact that finance departments are considered at all in the midst of a global hacking incident shows just what kind potential influence they can wield as organizations become more dependent on digital technologies and the data that underpins how they're used. CFOs might need to know the specifics of ransomware threats, but they can play a huge role in ensuring audit controls encompass a much broader set of risks.
Rather than focusing granularly on cybersecurity, however, let's look at some of the more immediate ways the finance function's role can be repositioned across the enterprise.
1. Take an Honest Self-Assessment of Who's Listening to Finance Today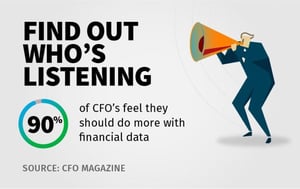 CFOs know they and their teams constantly need to provide more value, but that starts with getting people's attention. According to Paul McDonald, senior executive director with staffing firm Robert Half, inertia can be a bigger obstacle to elevating the finance teams' role than many people would imagine.
"If you've been doing something for 20 years the same way, and this goes for any finance or accounting function, or IT — if your company's large enough, there may be so many reports, and so many iterations of customization, that people don't read them," he recently said in an interview with FEI Daily. "Do you have time to read those reports? How are you measuring your business? What are the key metrics? Do the regulators need certain reports? These are the must-haves. Identify them and see if there's a vendor or tool that can help you meet that."
In other words, what data makes management and executives sit up and take notice, and how does that compare with other parts of the organization? Who's providing the valuable insights to the organization as a whole, and who's listening to yours? CFO.com reported that 90% of CFOs feel they should be doing more with financial data. That's a great starting point for realizing what information you need to bring forward in the future.
2. Build Your Network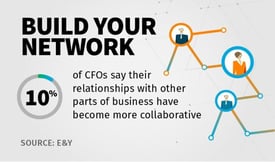 We tend to think of "networking" as something we do at a cocktail party, an industry event or on social media. The relationships you've already developed inside a company, however, can be even more important in terms of changing the scope of what you can accomplish. If finance is seen as an isolated silo within the business, its influence will obviously be limited.
The Association of Finance Professionals (AFP) chatted with Anne-Marie Rice soon after she took on a role as the director of its EMEA region. She said the transition from historical accounting practices to a more dynamic FP&A function is dependent on making allies in the right areas.
"The business partnership element is hugely important," said Rice. "As chief executive of a couple of businesses, I've seen that kind of transition from finance folks sitting in the corner of the room…actually wanting to collaborate with and build relationships with heads of departments, members of the board and various business partners, because actually finance has changed incredibly, particularly since the financial crisis."
Fortunately, an E&Y survey showed that 70% of CFOs say their relationship with other parts of the business has become more collaborative in the past three years.
3. Say 'No' to the Right Things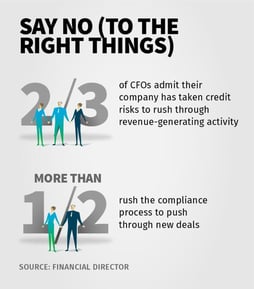 It may seem counter-intuitive at first, but having a bigger voice at the table may involve acting as the voice of dissent. This is key difference between, for instance, the future of the finance function and how the IT department has evolved. Whereas CIOs have been making more efforts to transcend their reputation as the "no people" to enabling business transformation, finance departments need to ensure they help organizations avoid costly mistakes.
According to a story on Financial Director, two-thirds of CFOs admit their company has taken credit risks in order to rush through revenue-generating activity. More than half say they rush the compliance process to push through deals with new customers or suppliers.
"A 'growth at all costs' culture, which can sit at odds with finance leaders' own appraisal of its dangers, speaks volumes about the position of finance leaders today," the article said. "Pulled in too many directions at once, finance leaders are finding themselves forced to make decisions in the dark – putting in jeopardy not only their reputation, but that of their organization."
It's not always going to be easy to stop certain plans once they're motion, but that's precisely why organizations need regular reality checks from their CFOs and finance teams. Finance departments are in a unique position to advise when to take the right risks at the right time, based on the information at their disposal. Even if it's not what companies want to hear, they're likely to listen to arguments backed up by data that only finance has at its disposal.
4. Coach Your Company to be Data-Driven
Chief Learning Officer is a magazine aimed at HR and others responsible for helping to manage people and processes. One recent article explored the topic with a focus on whether CFOs are a potential friend or a foe. Although the final answer was "friend," there was a recognition that growing pains are taking place on both sides of the table:
"For more than 100 years, CFOs have been using ROI for capital expenditures. Now the CEO would like to see the same approach for noncapital expenditures, such as learning and talent development. Some CFOs are uncomfortable with this responsibility. One told us, "They already hate us because of the budget process, now they are going to hate us even more when they perceive us as measuring their performance."
It's not going to be enough for CFOs to develop a better rapport with the CIO or the heads of sales and marketing. Repositioning how finance is perceived will also involve helping all parts of the organization work in a more metrics-driven manner, in as supportive and nurturing a way as possible. Many people see the CFO as only one step away from CEO, so the tone conveyed by finance to even the most junior levels really matters. That may be why a study from Deloitte showed that 69% of CFOs who describe themselves as "performance leaders" practice mentoring and coaching.
5. Assemble the Right Tools and Talent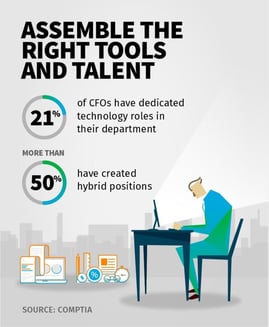 A more analytics-oriented finance department will be a more influential finance department. That shift in mindset won't make much of a difference, though, if you don't also have some great technology that can take analytics well beyond what CFOs and their teams have always been able to offer in their regular budgeting, planning and reporting.
It may also mean hiring a lot differently than in the past. A technology industry association called CompTIA released a survey of its members which noted that the "traditional IT buyer" is rapidly changing — as are those who are using the tools in specific business departments:
"21% of chief financial officers said they have dedicated technology roles in their department, including data scientists, business analysts and software developers," CompTIA said. "More than half have created hybrid positions that are partly technical- and partly business-focused."
It may take time before we can really determine what the long-term picture of future finance departments will look like, but there are tools today to begin the process. Those tools, along with taking some of the other steps outlined above, are your best bet to making finance something that isn't merely seen as a cost of doing business, but a partner in the business where some of the biggest value is created.