Virtual has become the new normal. The hybrid/remote work environment has affected how we work—and it's changed how we learn, connect and grow with one another. But transitioning from physical to virtual doesn't have to mean fewer opportunities for growth.
At Excelerate =SUM(it) 2022, Vena's third annual virtual conference for finance, accounting, operations professionals and business leaders, you'll have the opportunity to network in a diverse community of 5,000+ like-minded executives, allowing you to power your personal, professional and business growth while sharing ideas and forming new connections.
If it's your first virtual conference, we'll be on hand all week—from Monday, May 9 to Friday, May 13—to support you on your learning journey. Here are seven ways to get the most value out of this year's Excelerate =SUM(it), all from the comfort of your own environment.
1. Plan Your Digital (and Physical) Environment
Are you "digitally" prepared for Excelerate =SUM(it) 2022? Here are a few tips:
Ensure that you're using

Zoom version 5.5.0 or higher

(no need for a corporate account).
Test the radius of your wi-fi strength from wherever you'll be virtually attending the summit.
Block off calendar times for the sessions you want to attend.
Build your very own personalized agenda.
Physically? Get comfortable. Assemble your refreshments and snacks, wear whatever feels right and inform everyone in your household that you'll be attending a virtual conference and will have your "learning" cap on.
Lastly, your health is important. If you feel the need to move around and stretch but don't want to miss out on our world-class lineup of live and on-demand conversations, workshops, instructor-led training and product demonstrations—we've got you covered. Vena's very-own certified yoga teacher, Pam DeMesa, will lead yoga breaks on select days. In these sessions, Pam will show you how to increase range of motion, improve blood circulation, reduce stiffness and stress levels, build better breathing habits, achieve better sleep and more.
2. Gather Your Team
This year's third annual virtual conference is your chance to excelerate your team's personal, professional and business growth. With this in mind, as you level up your own learning and development, why not invite the rest of your team to master new skills? That way, you can all come away feeling equally inspired and armed with new ideas and expertise to help prepare your organization for whatever the future holds. After all, why should your learning journey end after the Excelerate =SUM(it)?
If you needed one more reason to invite your teammates—or friends in finance—we have just the thing for you. When you register five of your teammates or colleagues in finance, you'll be automatically entered into a contest for your chance to win one of our Vena "Excel Nerd" graphic tees. For contest rules, visit the Excelerate =SUM(it) 2022 homepage.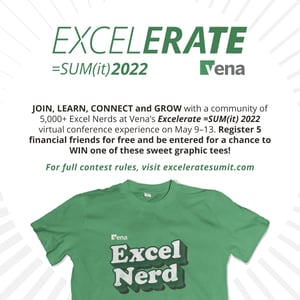 3. Earn CPE/CPD Credits
Earn while you learn. You can earn 25+ CPE/CPD credits at Excelerate =SUM(it) 2022. By attending at least 50 minutes and answering at least three polling questions at eligible events, you'll earn credits. Just ensure you're attending live (not viewing on demand later) and you'll receive your credits via the email address you provide during the polling.
4. Prepare Questions
Sure, you'll earn credits by answering questions, but why not ask some yourself? Research your favorite speakers from the Excelerate =SUM(it) 2022 agenda. Think about what you want to know more about to assist you on your journey to personal, professional and business growth, and ask away—our speakers are waiting to hear from you.
With more than 50 speakers—including three special guest luminaries, Microsoft MVPs, Vena experts, FP&A trailblazers from the Super Bowl-winning Kansas City Chiefs and LinkedIn influencers such as Paul Barnhurst (The FP&A Guy)—you'll likely have questions, so start making some notes.
5. Grow Your Network and Connect
Once Excelerate =SUM(it) 2022 has wrapped up, follow up with your favorite speakers, send LinkedIn invitations and email any burning questions you may have after the event.
Excelerate =SUM(it) 2022 has been specially designed to facilitate virtual networking with a diverse community of finance, accounting, operations professionals and business leaders, but the networking opportunities will continue long after the event is over.
Head over to Vena's Plan To Grow forums, where you can create a profile and continue to grow your network, discover other attendees' key takeaways, share your learnings and virtually meet other professionals who share your passion for finance, operations and business excellence.
6. Win Prizes
Learn how to score points and win with those points—because who doesn't love free stuff? There's a chance to win cool tees, books from our special guest keynotes, board games, gift cards and other great prizes. The top prize is a Microsoft Surface Laptop Go!
For the latest Excelerate =SUM(it) 2022 contests, games and swag news, follow us on LinkedIn, Twitter and Instagram.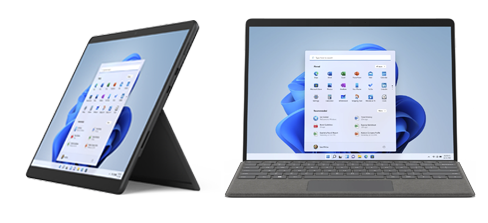 7. Don't Forget To Disconnect
Finally, just enjoy the moment. Whether you're attending all 45 sessions or just a few, don't forget to "disconnect" from regular life, your daily activities and devices to get the most value from this leading-edge virtual conference experience.
Be truly present. Be in the moment. This is your chance to "be a student again" and elevate your skills—all from the comfort of your own working environment. Don't miss out on this opportunity to continue your journey of lifelong learning while building lifelong connections.
BONUS: Access Content Live and On-Demand
The virtual environment at this year's Excelerate =SUM(it) will make it easy for you to access the insights you're looking for and customize your own personal schedule for the week. Additionally, in order to make your virtual conference experience as comfortable and as convenient as possible, all sessions will be available on-demand to everyone who registers.
We hope to see you at Excelerate =SUM(it) 2022. Here's to your growth!