The chief financial officer (CFO) is an essential part of your company's C-suite. Not only do they spearhead your business's accounting and finance activities—but they also serve as a strategic partner to other executives, such as your CEO, CTO, COO and more.

But as our business environments continue to change and adapt, so too must the role of the CFO.

With this in mind, whether you're a current CFO or an aspiring CFO, you'll want to understand how the role of CFO is evolving as a strategic business partner.
💡
Key Takeaways:
The CFO's position is growing to include duties beyond traditional accounting and transaction logging roles.
FP&A software allows CFOs to dedicate more of their time to strategic planning.
Access to integrated financial and operational data means CFOs must be savvy in big data analytics.
As a bridge of financial and operational data, businesses will increasingly rely on CFOs to be stewards of the organization's long-term success and planning.
The CFO's Transition Beyond Accounting Duties
Traditionally, the CFO's core job duties have been to oversee and execute your company's accounting and finance needs. This includes activities such as:
Preparing budgets and other forecasts
Generating key financial statements (e.g., profit and loss statements, cash flow statements, balance sheets, etc.)
Being responsible for audits and other compliance matters
These roles were often independent and isolated jobs that were separate from the other business activities of an organization (e.g., sales, marketing, operations, etc.). While CFOs will always be leaders of these core functions, businesses are increasingly becoming aware of the power finance leaders can have as a strategic bridge to other key decision making. From their financial insights, they have an extraordinary opportunity to participate in far-reaching business analytics such as identifying market trends, areas of weakness or liability and places for growth.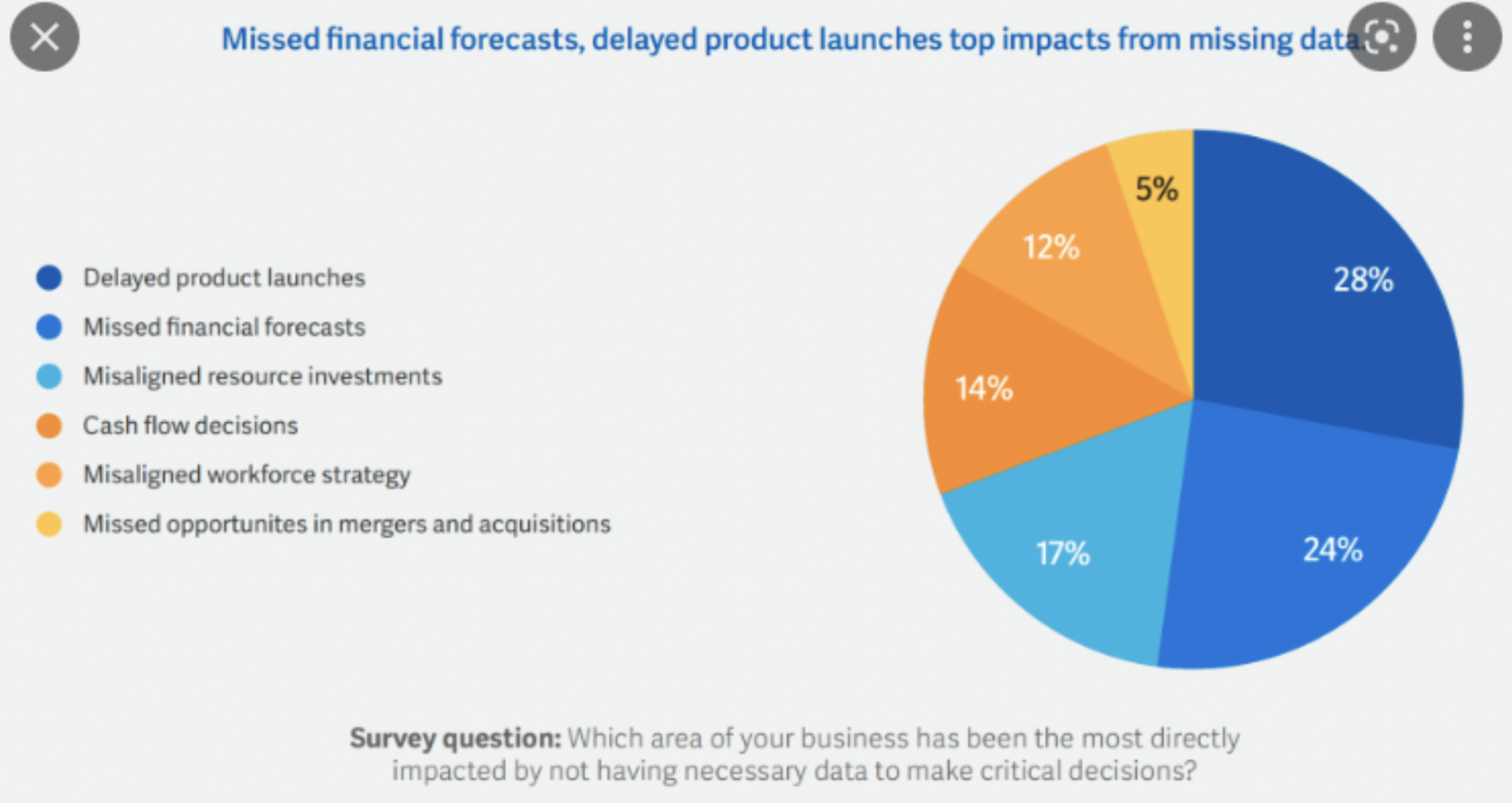 Source: https://fortune.com/2021/08/02/49-of-cfos-say-they-have-a-data-gap
Technology Advancements Offer a Growing Role for CFOs
Thanks to the benefits of FP&A software and other accounting technology solutions, CFOs can increase the amount of time they have to dedicate to the business analytic opportunities stated above. Moving away from spreadsheets and other legacy accounting methods can help your finance team automate the transactional aspects of their jobs and shift greater focus toward planning and deeper analysis. Some of the other key benefits of adopting technology as a CFO include:
Integrating financial data with operational data (tech, sales, etc.) into a cohesive system
Decreasing or altogether removing the risk of data entry errors through automation of accounting practices
Seeing instant and real-time figures and analysis from FP&A software that continuously updates transactions and data in your other systems
The CFOs who leverage the power of today's technology are the ones who will have the time and ability to deliver quick and useful insights about the business to key employees, the board of directors and other executives.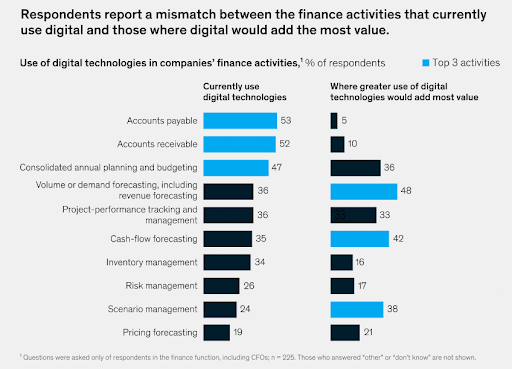 Source: https://www.mckinsey.com/business-functions/strategy-and-corporate-finance/our-insights/mastering-change-the-new-cfo-mandate
CFOs Must Engage in Data Science for FP&A Functions
The opportunities that arise for CFOs from greater collaboration of financial and operational data means that CFOs must become strong in data science practices (or have team members with those skill sets). We live in a business environment where key data moves quickly because of the technology we use that produces a wide range of metadata and other insights in the IoT. The speed at which data moves further increases the volatility of market industries and increases the opportunity for disruption.
CFOs and their teams must be able to process this information in a fast and actionable way because that is what other executives and leaders will expect when it comes time to make an important business decision. While CFOs will have a firm handle on the financial implication of big data, they will also need to know how to interpret other KPIs and metrics important to a business's mission.
Finance leaders are also used to hiring accountants, bookkeepers, comptrollers and other traditional employees. With the emphasis of big data on the role of CFO, they will also need to expand their finance teams to incorporate other skill sets from the following roles for example:
Computer programmers
Database administrators
Analytic specialists
Machine learning experts
Businesses Will Rely on CFOs To Be Stewards of Long-Term Success
When given access to immediate and powerful financial and operational data from technology, CFOs will become the figurehead responsible for blending the short-term goals and decisions of a company with the long-term plan. The challenge will be learning how to present data and analysis with a tint that keeps decision makers conscious of how the short-term action will align or detract from long-term goals. CFOs will need to have a solid footing of what their organization hopes to achieve and figure out ways to drive data to those ends. Being proactive in this regard will help to minimize the risk of your data overwhelming decision-making abilities.
Creating an Action List To Become the CFO of Today and Tomorrow
You know that your business can benefit from a forward-looking CFO and finance team that embraces the tools of the future to achieve unprecedented growth. However, taking those first steps in this direction can be daunting. You can begin the process by taking into account the current processes in your finance department that are ripe for automation (e.g., repetitive data entry, batch processing, and other recurring tasks). Identify your current data silos and which ones can benefit from immediate integration with your financial data sets. These initial steps will put you on the right path to finding the FP&A solutions that will enhance your role as CFO and allow you to prioritize the analytical work of your office.
Speak With a Vena Expert About Our FP&A Solutions
At Vena, our mission is to help businesses Plan To Grow™. We offer a wide range of solutions in FP&A, workforce planning, regulatory compliance reporting and other business planning functions. Our Complete Planning software can benefit all industries, but we offer tailored programming for banking, insurance, higher education, professional sports, healthcare and many others. Transform how your company accumulates and shares data to jumpstart innovations across your company's products and operations.