Enlightened CFOs can bring about a rebirth in how the boardroom and executive suite view the strategic value of the finance department
To call someone "well-rounded" implies they know and pursue several different interests. A "jack of all trades," suggests they are driven to take on many – often too many – different responsibilities.
But what about the so-called "renaissance CFO," a term that's increasingly making headlines in finance circles as a new model of financial leadership? Even for the most experienced finance executives, the notion of a "renaissance CFO" can be more than a little difficult to define.
According to consulting firm KPMG, however, more financial leaders need to not only start thinking of themselves as renaissance CFOs, but also to help get across the idea in subtle ways to their CEOs. That's because, based on a recent KPMG survey of more than 500 senior executives, it's clear that too many heads of companies aren't recognizing their potential. Consider these stats among CEOs surveyed by KPMG:
41%

feel the CFO needs to improve his or her leadership skills;
38%

feel CFOs need to widen their focus;
45%

think CFOs lack experience outside the finance function.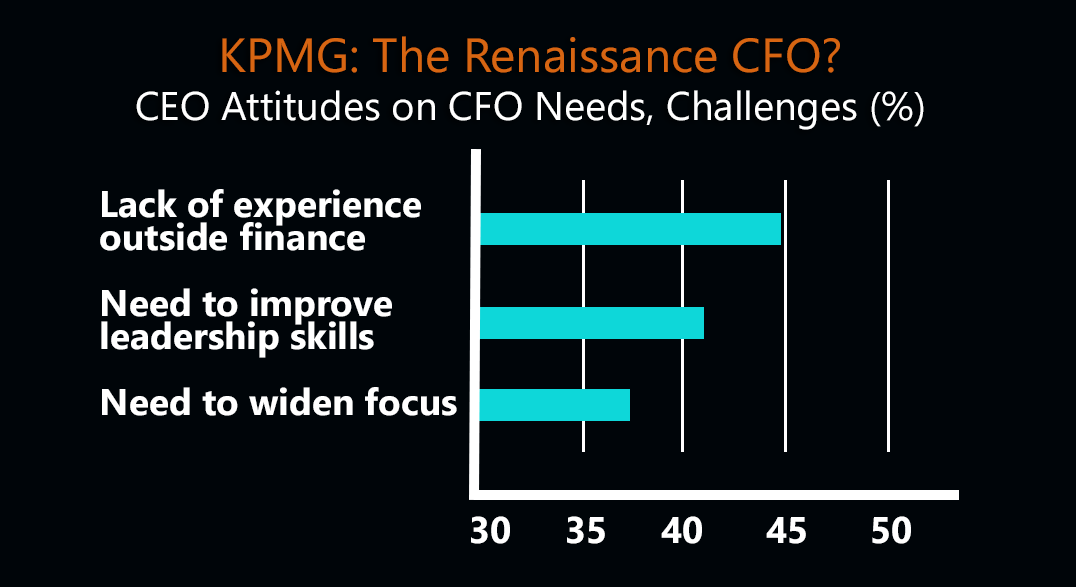 The Renaissance Approach to Finance
Fortunately, the KPMG survey also showed a lot of positive trends in how CEOs see the CFO. For example, 81% think the greatest strategic value a CFO can offer is their ability to apply financial data to achieve profitable growth – typically through effective budgeting, planning and forecasting. A "renaissance CFO" could handle many other functions, but they're most likely to earn those opportunities by first proving how they can make the most of the information at their disposal.
KPMG isn't the only one suggesting CFOs will have to spread their wings to remain relevant. In a recent post on the Wall Street Journal, Deloitte's CFO talked about the way organizations will want to see financial executives in the future:
"The biggest change I see coming is the expectation for CFOs to act as the chief catalyst officer. By that I mean CFOs who can operationalize the strategic plan and get it done just like a business unit leader, but from the CFO seat. We're already seeing CEOs and boards looking to hire not just CFOs who can be strategic leaders, but who can also execute the strategy."
Again, this starts by taking competitive advantage of trusted data and insights from the right financial tools, from existing Excel spreadsheets to more advanced corporate performance management (CPM) software. Armed with the best possible information, finance executives will be in a much better position to be a catalyst and change agent.
To some extent, this all boils down to remembering what the word "renaissance" really means. The literal definition is not about doing many different things, but simply "rebirth," doing things differently based on the availability of new, objective data and insights.
By applying data to business growth in breakthrough ways, CFOs may experience not only a rebirth within their own careers, but for their organization and industry.