With volatile market conditions, slim interest margins and a race to deliver digital products and services, it's time for FP&A digital transformation in the banking and credit union industry.
Legacy on-premise budgeting solutions or simple spreadsheets create siloed data, endless folders full of Excel spreadsheets, outdated historical data and pose risks to compliance and data security. As a result, FP&A professionals spend a lot of time chasing after numbers instead of analyzing them, hampering their ability to drive agile planning and timely, strategic decision-making.
Between 2010 to 2019, there was very little change in the amount of time spent gathering data and administering the FP&A process (77% vs. 75%) and the amount of time spent providing value-added analysis (23% vs. 25%).
In the post-pandemic world where prime rates and even business models can change overnight, banks and credit unions need to decide if they want to survive with the status quo or thrive with quick and accurate decision-making capabilities. For many, the answer will be clear: It's time to invest in an FP&A and extended planning solution for banking and credit unions that will build resilience, agility and executional alignment into financial as well as operational planning processes.
This guide will outline best practices for modernizing core FP&A and extended planning processes to help your bank or credit union choose the right solution built for and owned by finance teams in financial services.
Best Practice 1: Connect Financial and Operational Data To Eliminate Silos and Create a Complete View of the Business
Accurate, timely planning and decision making starts with the right data. Unfortunately, banking data is often stored across a variety of separate systems, including core banking, enterprise resource planning (ERP), general ledger (GL), asset liability management (ALM), funds transfer pricing (FTP), human resource information systems (HRIS) and fixed asset systems. If your bank or credit union has grown through acquisition or completed a recent merger, you may have multiple versions of each system, compounding the challenge. To cut down on time spent gathering and administering data from all these different sources, start by integrating them all into a single source of truth. This single, central data model should contain all the data you need to facilitate your financial planning, analysis and reporting processes in one place—no chasing required.
Best Practice 2: Automate Your Workflow Management Processes To Make Time for Analysis and Collaboration
FP&A professionals can't afford to be spending their time manually tracking tasks, managing team member progress and verifying the accuracy of their data. Not only are these manual processes tedious and inefficient, they are error-prone and often result in a lot of unnecessary back and forth.
To refocus time on high-value activities while keeping workflows on track, automate processes such as emailing out spreadsheets, manually aggregating spreadsheet data and following up with people.
When you automate workflow management with an FP&A and extended planning solution, your team can spend more time analyzing and collaborating with increased confidence in the accuracy of their data and plans.
Best Practice 3: Incorporate Scenario Planning Into Your Process To Be Agile and Prepared for Change
With intense pressure to react to real-time market indicators, FP&A teams are under strain to analyze "what-if" solutions in hours rather than days or months. To quickly adapt to market changes, enable scenario planning within your planning templates and say goodbye to countless and disconnected Excel models.
Connected scenario planning capabilities support fast, agile changes to key drivers such as prime rates so that you can see immediate impacts on margins and profitability. To facilitate better what-if and scenario analysis, leverage an FP&A and extended planning solution that supports multiple versions of plans. This way, your bank or credit union will never be caught off guard by a rate adjustment—or a pandemic—ever again.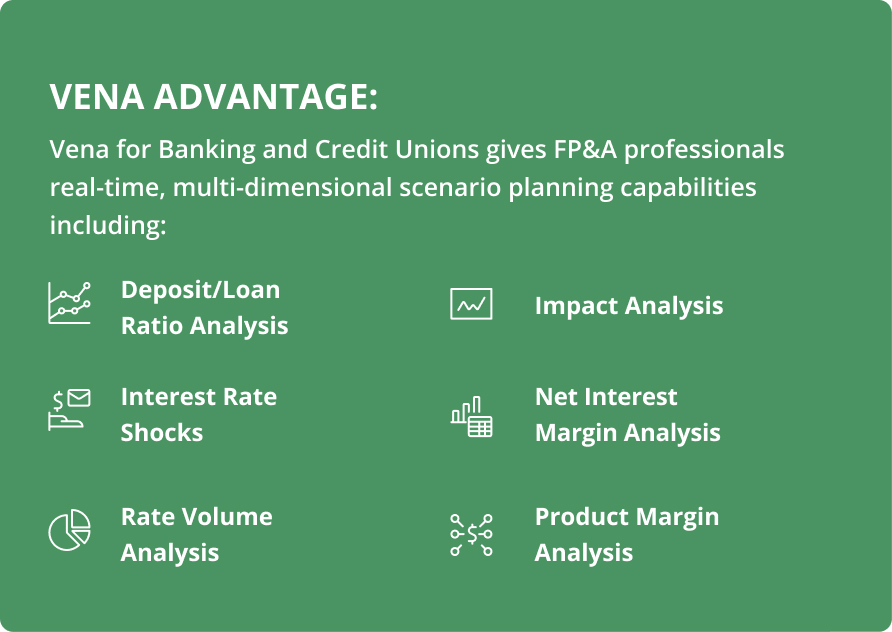 Best Practice 4: Use Pre-Configured Logic and Templates Built for Banking and Credit Unions To Quickly Start Driving Agility and Growth
Banking and credit unions have unique planning and regulatory needs—but most planning systems aren't built with banks and credit unions in mind. A one-size-fits-all financial planning system usually only offers basic budgeting modules, even though banking financials are anything but rudimentary.
A complete planning platform owned and operated by finance can help you manage key banking indicators, such as interest rate assumptions, calculation logic and run-on/off planning across your portfolio of lending and deposit products. With a complete planning solution pre-configured for banks and credit unions, you can leap ahead of the competition who are struggling to make generic solutions fit complex banking logic.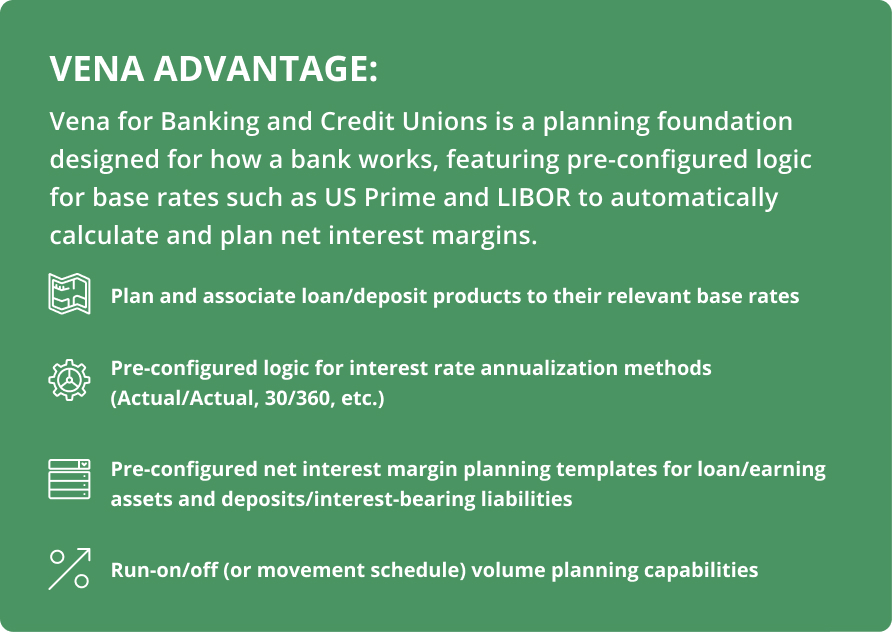 Best Practice 5: Support Your Team With Software Everyone Will Want To Use To Plan With Intention Across the Business
Move away from centralized budgeting and get users from across the organization involved in planning to help increase accuracy and accountability. To get everyone engaged, use an FP&A and extended planning solution that connects data, processes and people in a way your team wants to work.
If onboarding and change management is too complicated, your team won't trust the solution, or use it, and will resort to using their own offline, disconnected Excel models. Maximize engagement and ROI by selecting an FP&A and extended planning solution that is user-friendly, intuitive and has everything your team needs to get on board.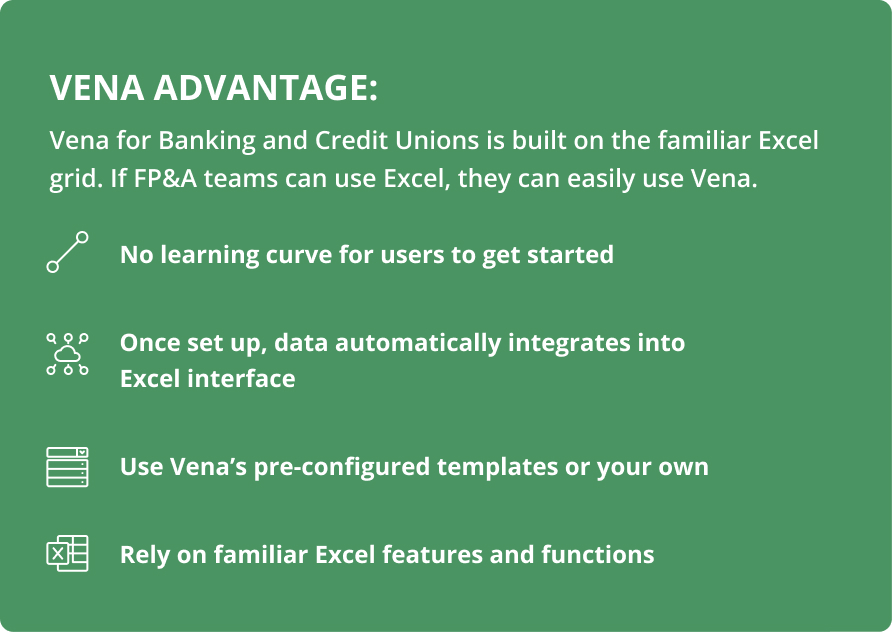 More FP&A and Extended Planning Criteria To Consider for Digital Transformation for Banking and Credit Unions
In addition to the five best practices for FP&A and extended planning solutions, here are a few more features and tips to consider to make the right choice.
Presentation Power
Review dashboards and decision-ready reporting capabilities to ensure you'll have all the insights needed to make quick and accurate decisions.
Onboarding Process
Make sure you can get the solution up and running quickly—without a lengthy setup—and that it's easy for users to adopt.
Ability To Scale
The right solution should grow with your bank or credit union. Can it support other business processes or will you need multiple-point solutions for complete planning?