Smart, predictable and rapid revenue growth is great news for any business, but for SaaS firms it's a matter of survival.
Last Spring, a popular startup publication called Hackernoon presented a video interview with Kees de Jong, a seasoned angel investor who has learned a lot about what makes software-as-a-service companies (SaaS) grow — or fail to grow, for that matter.
As a serial entrepreneur himself, de Jong said it was only looking back in hindsight that he realized the often competing goals of growth versus profitability have some very logical solutions. It's just that emotions can get in the way sometimes.
"The people crying, the systems going down, almost going bankrupt…" he recalled. "We were growing out of cash, because when you grow you never have money and you can grow to death."
In other words, leading a SaaS startup is a lot like running any small business, in that you're faced with a series of choices. It's the nature of those choices where the difference may lie. As De Jong puts it in the piece:
Extending the lease of your office and making sure that your key core customer is happy aren't the same thing — they don't deserve the same attention. Both problems may be urgent, however one defines your future while the other is a little hurdle on the way to growth.
Of course, those are just two examples of what may be on a SaaS founder's radar at any given moment. There's also the question of whether some customers' happiness is more urgent than others, and how you best measure it in the first place.
This assumes you even have a wealth of customers to weed through. Especially in the early days, SaaS firms are often fighting an uphill battle to be recognized against established or fast-moving competitors with much larger marketing budgets. Once you actually land some customers, what's the best way to monetize them — through a subscription to the cloud-based service itself, training and integration services, or a combination of those things and others?
The only way to make any of this easier is to put a plan in place as early as possible; one that combines the right talent, technology and tactics to ensure predictable revenue is not among the many unknowns a SaaS firm needs to think through on a daily basis. This post is about what it takes to reach that position, how to stay there, and the unique challenges SaaS companies face along the way.
1. Success is measured by a different yardstick
It was ugly for Jeremy Thomas and his team, even though they'd done what any good startup would do. Back when his firm — a cloud-based book publisher called Inkshares — was just getting off the ground, the company turned to a venture capital executive for some advice. In a post on Medium that has been cited many times since, Thomas was incredibly candid about what happened next:
"The advice we got was that revenue is unimportant. User growth and retention is what matters. If we focused on revenue growth, we wouldn't spend aggressively, and we'd fail to "own the market,'" he wrote. "We accepted and implemented this growth-over-revenue approach for about 9 months in 2015 after closing our Seed round. It almost killed us as we entered this tough fundraising environment."
Thomas calls this thinking a "disease" in Silicon Valley. It may make sense if attracting VC money is your primary goal, but not if you're trying to create a viable business with a long-term future ahead of it.
Not all VCs think this way, of course. In fact, Right Click Capital's Garry Visiontay recently posted a column on StartupDaily that warned against the allure of "traction" — the idea that growth in and of itself is a virtue.
"You probably believe that if you can show potential investors active users, registered users, website traffic, and demonstrate momentum in the market adoption of your product, then you're ahead of the game and on the path to success," he said. "We zone in on business revenue, in particular the month-on-month (MOM) revenue over previous months or years. If these figures don't form part of the pitch deck, it is usually an indication that either the business is still pre-revenue or the founders are trying to hide their traction results."
Besides MOM, startups building a business on the cloud could be tracking a lot more in their dashboard — including things that may go well beyond the EBITDA or EPS that's common in traditional financial statements. For a mobile app maker, the lifetime value (LTV) of the average customer might be key. More enterprise-oriented firms might focus on annual contract value (ACV) or customer acquisition cost (CAC). Losing customers on a regular basis might mean churn is a critical metric for still others.
Getting ahead of all this has already lead to the transformation of the CFO role in many large organizations. Even in startups, where founders might initially take on the CFO role themselves, it means managing both financial and non-financial data in a more sophisticated way. It doesn't mean you have to throw away spreadsheets, but it will mean adding the right tools to augment them.
But first, let's get a better handle on what kind of revenue we're really talking about.
2. A dollar's value depends on where it comes from…and where it goes
He calls his blog "Both Sides of the Table" because he's been both an entrepreneur looking for money and a VC deciding whether or not to dole it out. Brad Feld is one of the leading authorities in the startup space, and last summer he asked a question in his headline that might have sounded odd, at first: 'Should startups care about profitability?'
Despite a culture that tends to celebrate failure and nurtures an optimism that success may be just a few quarters away, Feld says he's adopted a far more pragmatic stance as an investor.
"When I look at an income statement I start by focusing on the revenue line. I want to understand how many units the company is selling, whether this is increasing over time and how well they're doing at retaining the customers that they do acquire," he wrote, adding that there's a difference between revenue and what he calls quality revenue. "Is it one product line or multiple? Do 20% of the customers make 80% of the revenue or do the top 3 customers represent 80% of the revenue? Is the revenue dependent on a concentrated set of distribution partners or platforms that put future revenue at risk?"
If VCs are asking these questions, entrepreneurs should be doing the same, but even earlier in the process of launching and bringing their company to market. Getting the answers may not be as easy as it sounds, however.
Even though startups are often praised for being more agile and dynamic than large corporations of the past, it's still possible for critical information about data related to quality revenue to remain hidden in silos across marketing, sales or other functions.
The other risk among high growth SaaS companies is trying to market and capture the best customers by throwing everything at the wall and seeing what sticks. A lot of successful entrepreneurs have come up with great product ideas through a commitment to experimentation, for example, but that doesn't mean the same approach works well in running a business.
Take it from Greg Poirier, an entrepreneur with a CRM integration firm called CloudKettle, who was pretty blunt in a blog post about ensuring every marketing dollar achieves the maximum impact:
"Most growth hacking tactics measure outputs instead of outcomes. Say you run a campaign to gain free trial signups for your SaaS product. What are you going to do with 100 new free trial signups? How many of those 100 trials become paying customers? How do those free signups drive revenue? Marketing goals should always align with revenue goals. Growth hacks rarely consider outputs in terms of generating revenue for your company in the long term."
So what would an ideal picture of a revenue-oriented SaaS startup look like? We're getting closer.
3. Alignment is always a challenge but even more so at high speed
No matter how they imagine their future as a larger organization, most growing SaaS companies probably want to avoid the situation — a fact of life in so many corporations — where inter-departmental friction has become so bad that nothing ever seems to get done.
This is by no means an inevitability, of course. In fact, there's a great article on SaaScribe that gives some practical tips on how sales and marketing departments in particular could work more collaboratively. Some of the ideas there include "closed loop" reporting, where every dollar can be tracked back and attributed to something the team did, or reporting on the percentages of revenue that have come from inbound versus outbound sources.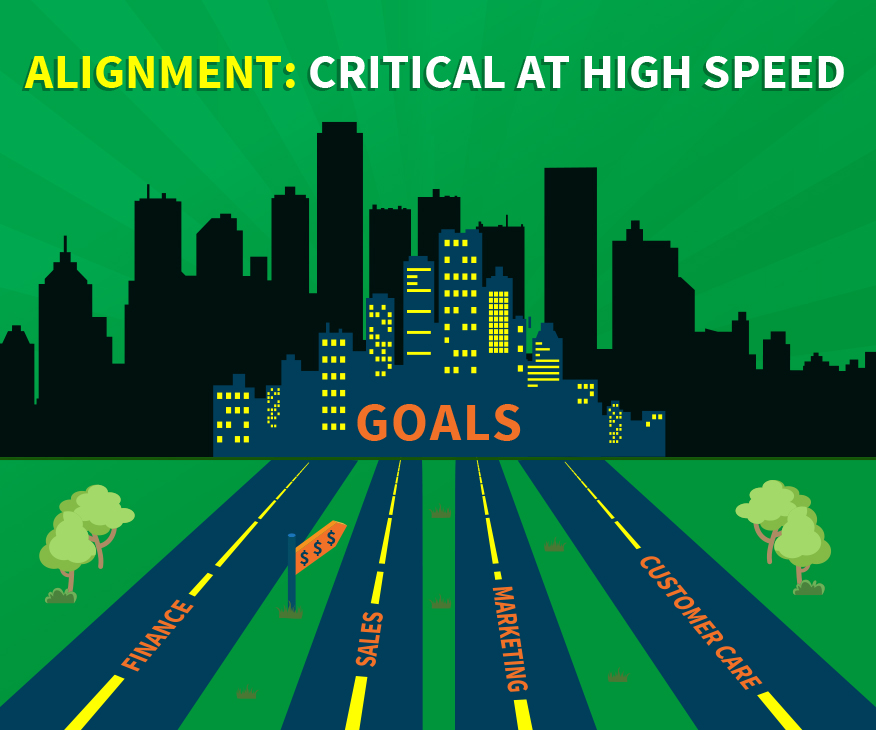 Don't stop there, though. Consider the inputs and impact on revenue that will come through the work of the customer service side of the business, the IT department and so on.
This, incidentally, was the thinking behind the recent launch of Vena's Revenue Performance Management (RPM) solution. We've been talking for several years now about CFOs forming more strategic alliances with CMOs, CIOs and sales execs. It only made sense to create something that could ease the otherwise-onerous task of pulling data from marketing automation software or tools like Google Analytics, then cross-referencing it with insights from Salesforce.com and other CRM systems, or customer satisfaction metrics like Net Promoter Scores.
When you can weave those disparate data sources together — along with others like support software and so on — you start to get a real sense of how different departments' metrics can influence each other.
Once that starts to happen, working more collaboratively on common goals — like growing AAR, reducing churn and CAC or maximizing LTV — becomes a lot easier. Different lines of business will still have specific things they need to track – ideally with tools like our RPM software to summarize specific KPIs with personalized dashboards — but when it comes time to look at shared resources and how they should be allocated, everyone needs to be on the same page.
Final Thoughts
When you have a holistic view of all revenue generating (or influencing) departments, you'll be in a good place to heed Glenn Wisegarver's advice. The CFO at marketing SaaS firm Moz, Wisegarver wrote on Forbes about startups that fail to recognize the potential fragility in their business performance:
"Given the addictive nature of deferred revenue, it is critical that management appreciates its potential volatility. Management should continually revise its forward-looking forecast and model what-if scenarios to understand the range of outcomes," he wrote. "Ideally, companies should include forward-looking variables whenever possible (i.e. deal funnel volumes by stage, bookings, etc.). From there, the what-if scenarios should be supplemented with clear action plans and trigger points. Finally, management needs to have the fortitude and courage to implement difficult measures when warranted."
This comes down to constantly monitoring, reviewing and understanding your objectives and what shapes them. It's coupling the right RPM software with a focus on the right priorities, and bringing together people who can imagine what your company might look like in five years, not just what it looks like today.
To some extent, there has never been a better time to build a business on cloud computing. The technology has evolved to a point where it can be trusted and managed effectively to offer all manner of services and applications. The devices to access cloud-based resources keep getting smaller, faster and overall better than the generation that came before them. Yet it remains one of the few areas in which innovative founders can take a good idea and launch something that disrupts the most entrenched incumbents in a particular market — or create entirely new markets.
Being successful in SaaS, however — not just launching a startup but building an enduring company — means managing a solid business. For that, you need revenue you can count on. And you can only count on revenue when you have the right data, people and tools to know where you're at, and where you're headed.