Do your legacy systems use on-premises data servers? If so, it may be time for your organization to move your data to the cloud.
From 2019 to 2020, data breaches decreased by nearly one-third, from 1,479 to 1,001 reported cases. Experts cite cloud migration as one of the key factors. A decrease in data breaches is one reason to migrate from an on-prem to a cloud-based data center.
💡Key Takeaways:
You have two options for data storage, on-prem servers or a cloud-based solution. Increase agility with on-demand IT resources that enable files, data and applications to be readily available, whether an employee is in the office or working remotely.

Enhance data security, reduce IT costs, support scalability and facilitate digital transformation when you use cloud-based data solutions.

Cloud-based data centers are more environmentally friendly. They reduce energy usage by eliminating the need to house servers in temperature-controlled environments.

Source: YouTube
What Is a Data Center?
Data centers are large groups of computer servers networked together for remote data storage. There are two types of data centers:
On-premises (or on-prem)

Cloud-based
Cloud-based data servers are either public networks or private servers owned by the organization that uses the server. Sometimes private servers are third-party service providers who maintain servers privately for the organization.
10 Reasons To Store Your Data In the Cloud
For decades, businesses worldwide only had access to on-prem servers. In today's digital age, we can access zettabytes of storage space available on the cloud.
The wide open storage space of a cloud-based data repository isn't the only reason to move your data to the cloud. Check out these 10 reasons we recommend for making the switch.
1. Increases Agility
The current global economy requires business agility. This entails flexible, on-demand IT resources that keep pace with your competitors and rapidly changing business dynamics.
When you move data to the cloud, more than 99% of the data, files and applications you need are available on demand.
That is especially essential for firms with remote or hybrid work models. Crucial data is as close as logging into the cloud solution from the nearest computer or laptop.
2. Enhances Data Security
According to recent studies by Tech Beacon, 34% of business executives state that data privacy and security have become one of the core responsibilities of cybersecurity teams. The rise in cybercrime drives these changes.
By migrating data to cloud servers, you implement IT infrastructure best practices to improve data security and big data visualization to thwart malicious hacking attempts. Cloud solutions gives teams the tools necessary to implement a strict security approach to data collection, storage and access.
But don't make the mistake of thinking the cloud itself is what makes your organization's data secure. Security comes from how it enables organizations to implement data security governance, protocols and compliance policies.
3. Reduces IT Costs
Experts projected that by the end of 2020, the cloud market value would reach $500 billion. Not only did it meet these expectations that year, but it also did in 2022. Furthermore, researchers discovered that 72% of organizations have at least one cloud-based application in the tech stack. Reduced IT costs are why we see this increase in cloud adoption.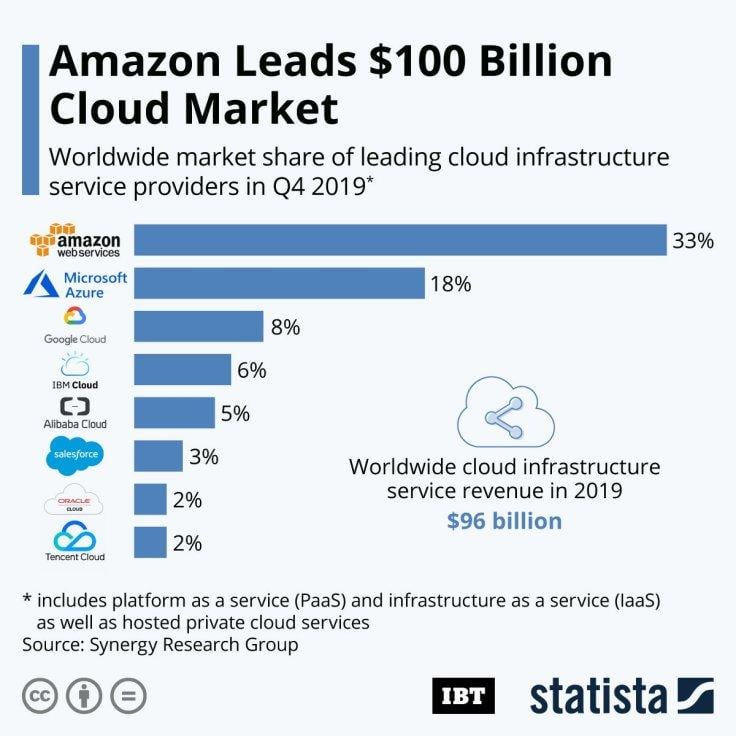 Source: International Business Times
Companies embark on cloud migration to reduce costs to their IT infrastructure by eliminating rigid on-prem assets and unnecessary hardware. On-prem data centers require additional space, temperature-controlled environments and personnel to maintain the physical servers.
4. Consolidates Data Centers
While reducing the operational costs of eliminating on-prem data centers is one reason to move data to the cloud, consolidating data centers provides a single source of truth (SSoT) for your firm's data. This central database enhances data security and data accuracy while also improving efficiencies.
5. Supports Scalability
Migrating data to the cloud allows your firm to scale to meet your operational needs. Since most cloud applications offer a "per user" option as part of their monthly subscription costs, you won't have to purchase a specific number of software licenses. Add or delete users when necessary.
For example, accounting firms often face seasonal workload increases around tax time. CPAs can ramp up their cloud-based services for increased staff onboarding and client data storage needs.
6. Improves Data Backup and Recovery
Attempting to back up data on multiple mobile devices and computers can be time consuming, tedious and fraught with issues. Cloud-based data solutions improve your data backup and recovery by automating backups in the background of any device you set up. Store data on easy-to-recover and keyword-searchable online databases.
7. Facilitates Digital Transformation
According to IBM, only 20% of organizations have moved all workloads to the cloud. These companies are undergoing digital transformation due to the more recent advancements in cloud computing, creating incremental value out of existing assets.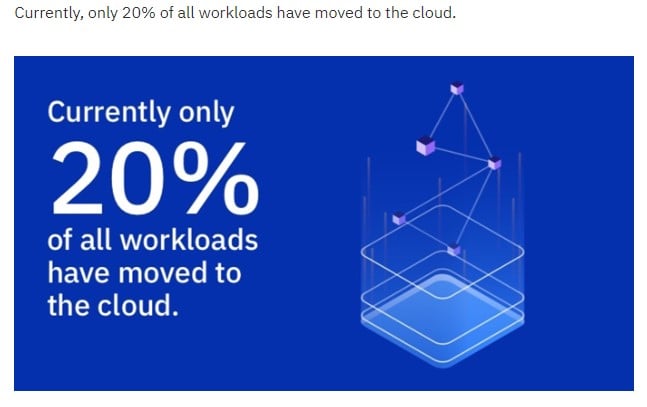 Source: IBM
You can digitize your core functionalities, including SAP, CRM, data analytics and more. If you are migrating from legacy systems, it will increase your teams' productivity and unlock potential new revenue sources.
8. Environmentally Friendly
Moving your data to the cloud creates less carbon than a physical on-prem server. We already mentioned the cost savings of not housing on-prem servers.
However, for the same reasons cloud services save money, it also is better for the environment. For example, you reduce energy usage when you are not maintaining temperature-controlled rooms for servers.
9. Real-Time Integrations and Automation
You will find that most cloud-based platform developers design their services to integrate seamlessly with other systems. These "works well with others" functionalities mean time-saving integrations. For example, you can connect a cloud-based CRM with your cloud-based budgeting and forecasting software to make automating invoicing, following up with clients and other essential tasks easier.
10. Accelerates Growth
Organizational growth today requires integration. Whether by expanding organically or through a merger or acquisition, organizations that move data to the cloud can integrate new assets into legacy systems more easily. This enables rapid scalability when needed using flexible data management services and auto-scaling functionality.
Organizational Growth Today Requires Integration
Vena Complete Planning enhances financial leadership and growth. Bring data from your existing systems and stop worrying about data integrity. Your data will remain synchronized and fluid in our Excel-based platform built for Microsoft 365 with Power BI Embedded.