Former Vena CEO Don Mal reveals why FinTech represents such a pivotal and enabling yet still misunderstood market.
A recent headline on Bloomberg.com sounded almost deliberately confrontational: Banker Beware: Meet the FinTech Insurgents.
What followed, however, was a video recap of a thoughtful discussion with startups who are offering various kinds of digital products for the financial services industry. It was a good example of how everyone — from traditional financial services firms to CFOs — is still trying to figure out if FinTech represents a competitive threat or the potential solution to some long-standing industry challenges.
Earlier this year, Chris Skinner attempted to properly define FinTech on the Financial Services Club blog:
Fintech is a new market. It is 21st century finance. It is the new form of banking, and is related but very different to the old form. Some of the old form players will metamorphose into these new digital FinTech players. Some, not all. Some of the new players will take over the markets of the old incumbents. Some, not all.
American Banker, meanwhile, recently pointed out that the term FinTech has a surprisingly long history, but suggested that the best way to conceptualize it is "innovative technologies and startups pushing the financial services industry to improve."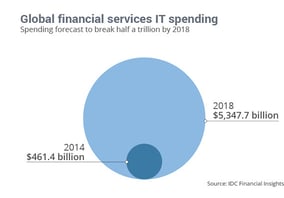 That sounds about right. According to IDC, global FinTech spending is expected to grow at an exponential rate over the next three years, from $461-million to $5.4-billion, a direct reflection of the impact those investments will have on the financial services industry (see figure).
With these trends in mind, here are a few ways to think about how FinTech can be such a catalyst to change in the financial services sector we know today:
Data-Driven Approaches to Risk Assessment:

Financial services has always been about data, but until recently – and in some cases, still – a disproportionate number of processes to manage it have been highly manual. FinTech firms are standing out by their use of machine learning, social media reviews and other ways to make better decisions about lending and investing,

according to the Economist.
FinTech is more than just a buzzword. If all goes even remotely as planned, it could become a case study in how technology can be truly transformative for the entire financial services sector, one that fuels virtually every other the world over.
Don Mal is the former CEO of Vena Solutions. A proven leader in the corporate performance management (CPM) space, Don's experience spans decades of general management and executive leadership positions at successful companies in the financial technology sector.