According to benchmark research from PwC, corporate accountants are finally spending less time on data gathering and more time on insightful analysis.
The business world has always had a need for skilled accounting professionals but until recently, an inordinate part of their role has been a matter of manual data collection – essentially copying and pasting – from different source systems, departments or other entities. After four years in school and countless hours of professional accreditation and development, it's easy to see how frustrating it must be when half your job involves clicking CTRL-C and CTRL-V.
Fortunately, times are changing and the role of corporate accountant is shifting.
The shift, according to a recent article in Financial Director, is that accountants now focus less on simply gathering data and more on performing advanced analytical tasks with that data. The article cited findings from the PricewaterhouseCooper 2015 Finance Effectiveness Benchmark, which showed that the average finance professional now spends about 50 percent of their time on analysis versus data gathering, up from 36 percent three years ago (see figure).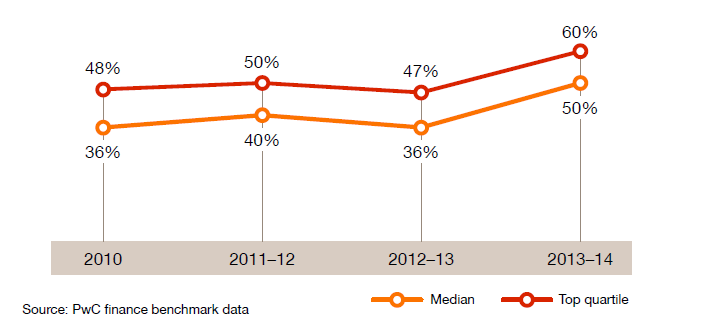 Brian Furness, finance partner at PwC, told Financial Director that "traditional" bookkeeping activities are in decline as companies begin to place more of a premium on automation and real-time analytics. We now have the capability to automate the basic data-gathering functions and put a larger proportion of our manpower into more advanced thinking.
"The best finance professionals today are producing actionable information, not circulating numbers that are likely to be out of date as soon as they're released," Furness said. "In business today, internal data is being spliced with data scraped from the Internet or pulled from specialized external sources, and not always by the finance department."
This shift in labor has led to a concurrent change in finance technology. While you obviously still need skilled accountants on your staff, it's now equally vital to also have the right finance software to help you do more than simply collect information. Analytics have become a key differentiator in business – if you have better tools for crunching the numbers than your competitors today, you'll be well positioned to get ahead tomorrow.