Albany, NY (March 29, 2016) – Vena Solutions, the fastest growing provider of cloud-based corporate performance management (CPM) software, is proud to announce that Nucleus Research has named it a market leader in its annual CPM Value Matrix report. High marks in usability and functionality established Vena as a CPM leader, alongside other vendors including IBM, Oracle and SAP.
The primary driver behind Vena's leadership – and its main competitive advantage – is its use of native Excel as an interface into companies' performance management data. The company credits its intuitive application design along with Excel's familiarity, flexibility and widespread use for the high adoption and rapid implementation of its solutions.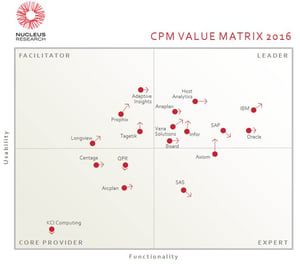 "We're obviously very proud of our leadership and the validation we continue to see for our Excel-based approach," said Don Mal, CEO of Vena Solutions. "With Nucleus as the latest example, more and more customers, industry analysts and even competitors are taking notice."
As Anne Moxie, research analyst at Nucleus and author of the report put it, "Excel has an undeniable foothold in financial processes and Vena has developed a solution that can use this effectively while enabling enterprise-wide collaboration and efficiency."
Additional drivers behind Vena's leadership position – a function of usability and functionality – include its:
• Broad Functionality and Applications – across finance and accounting, including budgeting, planning, forecasting, financial close management, reporting and regulatory disclosure;
• Smart, Rapid Implementation – including a dedicated, expert team of consultants and starter-kits to provide proven best practices alongside the solutions themselves;
• Feature-Rich Product Roadmap – with upcoming innovations ranging from new data discovery and analytics to mobile dashboards and web grid integration for cloud applications such as Office 365.
Added Moxie, "Nucleus expects that Vena will continue to experience success as customers look for usable and flexible solutions that will allow for easy adoption."
Vena turns Excel into an enterprise-class business solution with a centralized database and features including workflow, version control and a detailed audit trail. With Vena, hundreds of leading global brands now get
trusted numbers and insights – fast – without sacrificing the significant investments they've already made in Excel templates, models and templates. They use Vena for corporate performance management (CPM) applications including budgeting, forecasting, financial close and reporting, in addition to managing business drivers and KPIs outside of finance. Vena is the fastest growing cloud CPM vendor, and the only one to embrace – not replace – Excel spreadsheets.
The post Vena Solutions Named Leader in Corporate Performance Management appeared first on Blog | Vena Voice | Vena Solutions.