Have you ever started working on an important financial model and thought, "I'm just gonna do this all in Excel."
If the answer is yes, you're definitely not alone—and that's because Excel is the universal language of business. Even after more than three decades on the market, Microsoft's iconic spreadsheet program remains the #1 choice for finance, operations and executive teams everywhere due to its flexibility, familiarity and superior ease of use.
But when you start using Excel to scale your key planning processes—such as budgeting, forecasting, reporting and ad hoc analysis—that's when things get a little more complicated.
Excel is a powerful tool, but it's not designed to function like a comprehensive business planning application. Version control problems, data integrity issues and tedious manual aggregations will really slow you down if you're wrangling dozens of workbooks via email. As your business continues to grow, you're going to need a solution to help you plan efficiently, confidently and in collaboration with cross-functional teammates. You probably won't want to abandon everything you love about Excel though—and that's how Vena can help.
Vena is the only Complete Planning platform that marries enterprise-class functionality with the comfort and flexibility of Excel. Our Growth Engine technology features a native Excel interface, so you can use the tool you already know to do things you've only imagined. Instead of reverting back to spreadsheets outside of an existing planning tool—which according to BPM Partners is something 82% of finance teams do today—Vena gives you the best of both worlds.
Curious to know how it works? Here are three ways Vena makes business planning better with Excel:
Mapping Your Excel Workbooks To a Centralized Cloud Database
There are times during a planning cycle when business requirements change, forcing you to adjust your numbers on the fly and work with new assumptions. Let's say, for example, that you're in the middle of budget approval season and your company wins a big deal that wasn't expected for another year. Now you've got to increase operating costs to service this spike in demand—and update the squeaky-clean budget you'd just worked so hard to finalize.
In that situation, here's what you'd need to do if all your processes lived in Excel:
Open up your department budgets and manually key in the changes to specific operational line items (headcount budget, materials cost, etc.).
Copy and paste the new figures into your balance sheet and income statement, then update your cash flow statement accordingly (ouch!).
Ensure your budgeted numbers reflect the new updates by triple-checking your inputs and re-confirming your calculations.
Email the updated workbooks to stakeholders across the business and secure executive approval all over again.
This could take days or even weeks depending on the size of your business. And with multiple versions of the same workbook floating around, it's tough to make sure your teammates are working from the same set of numbers. By the time you've sorted it out, there might be even more budget updates on your plate—making it difficult to pivot quickly and keep your business on track for success.
Vena solves this problem by providing one central planning database that maintains data integrity between all your unique budget templates. Dynamic mappings back to Excel ensure that as soon as a cell is updated, those changes are applied automatically across your entire dataset. Now, instead of constantly wondering which version of your budget is accurate, stakeholders can rest easy knowing that Vena is their one source of truth.
Let's take another look at the same example from above. Here's what the process would look like with Vena: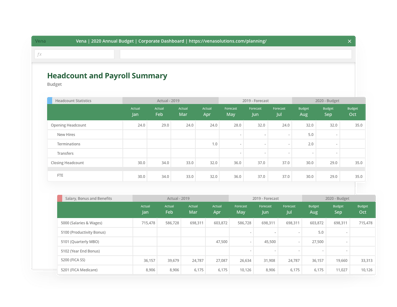 You adjust the line item details in your department budgets in Excel.
Vena goes to work on the back end. Dynamic mappings ensure that your cash flow statement, balance sheet, income statement and corresponding budgets are updated and aggregated automatically based on your new inputs.
Stakeholders and administrators are notified of the changes instantly, then prompted to review and approve. Audit trail functionality allows them to see exactly who changed what, complete with additional comments regarding why the changes were made.
By eliminating the need for tedious manual data inputs, Vena frees up time for you to look toward the future of your business. Think about this for a second: What could you achieve today if you had more time to focus on tomorrow?
Detailed Analysis Right in the Excel Interface
If you've ever looked at a revenue forecast and wondered why you landed on that number, you might've opened Salesforce, your ERP and an offline Excel model to better understand the details. This highlights another common issue with business planning in Excel alone—it's great for organizing financial information, but it's hard to provide the right context when you're drawing from multiple data sources.
Vena connects the dots thanks to seamless integrations with your source systems, including your ERP or GL, CRM, HRIS and more. You don't have to juggle Excel with your data sources to find the detailed numbers you're looking for because Vena pulls them in for you and presents them right in your spreadsheets. Excel's existing analysis functions stay the same as you've always known, but now you can just click on a number and use Vena's drill down tool to see account-level inputs—adding a new dimension of detail to any report you can imagine.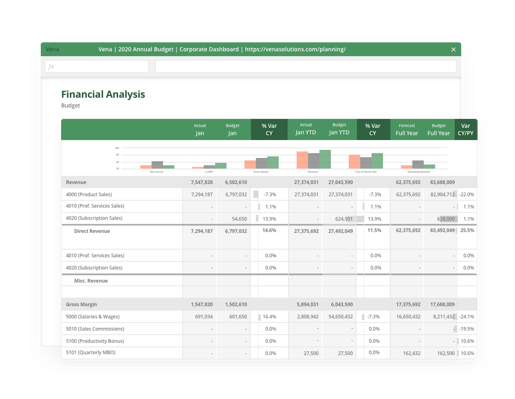 With that kind of power at your fingertips, you'll be able to:
Perform quick, easy analysis of financial and operational metrics
Proactively identify opportunities for cost savings or strategic investments
Ensure transparency across departments and hold budget owners accountable to their numbers
Help management understand how you landed on your reported totals—ultimately allowing them to make informed, data-driven business decisions
This will also help you keep Excel a lot cleaner and easier to navigate. So, if you're copying and pasting from source systems and struggling with 100-tab workbooks, Vena might be what you need to make your planning process a little less stressful.
Purpose-Built Excel Templates, Plus the Freedom To Customize Your Own
Ask any finance leader who's ever implemented a planning solution and they'll tell you that usability should be one of the most important factors in your vendor choice. There are plenty of great solutions out there, but they can often be rigid, clunky and difficult to adopt across the business. If your teams are working in Excel and uploading files to a planning solution afterward, ask yourself: Are you really making the most of the tool you spent months rolling out?
With Vena's Excel interface, you don't have to force your teams to learn an unfamiliar platform. This will maximize adoption across the business, greatly reduce the learning curve and accelerate your time-to-value. Plus, everything you've already mastered in Excel—such as graphing, charting, formulas, shortcuts and more—doesn't have to change when you make the move to our solution. You can even map your existing workbooks right to our central database and leverage Excel's flexibility to build new templates and use cases on your own.
Alternatively, if you're looking for a little more guidance, you can also take advantage of our purpose-built templates and solution configurations, which cover a range of business planning processes from FP&A to financial close management. Check out this table below to learn a little bit more about the endless possibilities with Excel and the power of Vena.
| | |
| --- | --- |
| Solution Configuration | Use Cases |
| | Budgeting, Forecasting, What-If Analysis, Financial Reporting, Management Reporting, Dashboards |
| | Cash Flow Modeling, Workforce Planning, CapEx Planning, Sales and Revenue Planning |
| Beyond Planning | Financial Close Management, Consolidations, Account Reconciliation, Tax Provisioning, Incentive Compensation Management, Project Management |
Excel at More With Vena
As we all lead our businesses through this era of finance transformation, there's one thing we know for certain: Excel is here to stay. So instead of looking to replace a tool you'll probably just fall back to anyway, it's time to think about ways you can embrace your Excel expertise with Vena.
Automated aggregations. Analysis right in Excel. Purpose-built planning templates and the flexibility to customize your processes. No matter how you choose to approach your company's unique growth journey, you'll always be well-equipped with a scalable solution that's naturally comfortable.