Accessibility or a11y (a common short for accessibility with 11 letters between A and Y), is an important aspect of every business, but it is often overlooked when it comes to the design, implementation and digital experiences of products and services. This means that accessibility work is usually done in the later stages of the planning process rather than in the early stages. When you consider what barriers and biases might exist for some in the early stages of development to integrate accessible design into your processes, not only will this save you from making costly mistakes, it will also make your products and experiences usable by everyone.

At Vena, we believe that accessibility should be for everyone and that's why our employee resource group, Va11y, is striving to close the gap in accessibility knowledge at Vena and put accessibility at the forefront of everything we do and make at Vena. And Va11y ambassadors have been quick to rally behind their efforts. There are Va11y ambassadors in many departments across Vena and they are key players in driving a11y considerations into their regular planning, design and developmental processes.

In this blog, we'll be highlighting Vena's product and technology department and find out what they've been up to in terms of accessibility.


Incorporating a11y Standards Into Developer Checklists
Graham Brown, Software Developer and Va11y departmental ambassador says, "There are people working today to get the internet to remote communities and third world countries. You can basically picture accessibility work the same way."

Working behind the scenes with Danii Shen, a Software Developer at Vena and Vally's other ambassador in the department, they developed an Accessibility (a11y) Guide & Best Practices for all developers and have advocated for incorporating a11y standards into the team's developer checklists. They've also been exploring automated testing of a11y to make sure our product is always up to standard.

"I was taught to write accessible code at the start of my coding career and I've done it no other way since. But I didn't truly grasp the importance and impact of a11y until I realized how big the role of a developer can be in controlling the universality of the web. The power of the web comes from its accessibility to everyone regardless of disability and that's a responsibility I don't take lightly here at Vena," says Danii.


Accessibility as a Process
Luckily Graham and Danii aren't alone in their accessibility efforts. A subcommittee has formed to ensure better implementation of a11y into developmental practices. Their passion to take a11y into our product development seriously and move it forward is already breaking new ground.

"Tech is the equalizer of our generation. My goal is to build tech that is truly an equalizer by ensuring it is accessible to all. I think developers and tech builders should have a Hippocratic oath too: to strive for full accessibility in what they build," says Shahin Imtiaz, Software Developer Co-op at Vena and chair of the subcommittee.

With that in mind, Shahin explains that accessibility should not be reduced to a feature. It's important to look at it as a process and that's why they started an a11y front-end subcommittee to build this process right into the core development principles at Vena. The subcommittee does the work to internalize the importance of accessibility for all and follows up with tangible goals and action.

Looking ahead, they will continue their a11y coding projects that are making a difference for the whole company. They plan on doing more presentations and workshops in the department's professional development days and to invite experts to speak regularly on accessibility.


Accessibility Best Practices
Vena's design and development teams have also been working tirelessly on a huge cross-team accessibility project, their new component library called Kardia. With this opportunity to standardize all user interface elements across the Vena platform, they are seizing the chance to bake accessibility and best practices in at the start. And that flows into the design process as well.

On the design front, they are paying close attention to elements such as contrast, colour, size, copywriting, focus states, tap targets and other considerations to ensure designs are suitable to the needs of any and all people.


Innovation Days
The a11y initiatives are also making their way into "Innovation Days" at Vena. On these days which happen twice a month, the development team is encouraged to work on projects they feel passionate about and that could be of benefit to Vena. In the last few months, a few projects have focused on improving the a11y in our product.

Navya Gupta, Software Developer Co-op at Vena, worked on improving accessibility for Vena during one of these days. "We added aria-labels to some elements in Vena web pages. Aria-labels provide an accessible name to elements when there is no visible label, enabling screen readers to read the label for people who have accessibility issues," she explains.

Rohit Bansal, another Software Developer Co-op at Vena who worked alongside Navya said, "Accessibility is important to us because we believe everyone should be given equal opportunities. Our goal is to make each feature readable by screen readers and tabbable by keyboard. It might be a small thing, but hopefully it will make a difference in people's lives."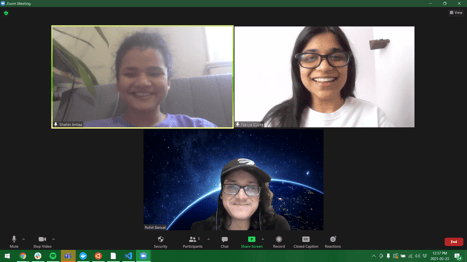 Va11y is Vena's very own accessibility group, aiming to actualize barrier-free access to Vena for everyone, no matter their unique needs or learning style. Learn more about Va11y as well as Vena's Accessibility Plan and Policy here.