Companies of various sizes in a myriad of industries that implement computerized accounting and budgeting software require specific features to meet the needs of their organization. Some have integrated supply chain management, MRP, CRM or other software to address requirements unique to their industry or operation.
Some companies have committed additional resources and effort to implement a more "purpose-built" system with greater security and other enterprise-level factors, including multi-entity capability, multi-user and additional features teams cannot easily accomplish with a more basic spreadsheet-based solution.
Several solutions are available, including several in the small to medium-size (SMB) market. These systems perform some of the more basic functions. However, most of them fall short of delivering users with essential capabilities and tools and should contain the following must-have features.
💡 Key Takeaways:
Exhaustive analysis requires comprehensive data. FP&A solutions in any size organization require several features to ensure better business insights.
Top features your budgeting software must have include data importing from multiple institutions, custom report creation and real-time expense tracking.
Ensure your budgeting software enables your team to export data to Excel or choose an Excel-based software for budgeting.
Mobile and web-based access, customizable alerts and projected balance and cash flow reports are a few more features you should look for in budgeting software.
Your budgeting accounting software should offer a simple interface where true data populates effortlessly, making it immediately available following the accounting period close.
8 Must-Have Budgeting Software Features
Budgeting software for small to medium-sized businesses is more advanced than personal budget applications and, for one obvious reason, the scope of use. Exhaustive analysis requires comprehensive data.
It's something even smaller companies cannot get from limited budgeting software, such as those offered for personal finance. FP&A solutions in any size organization require several features to ensure better business insights.
The forecasting and budgeting software your organization uses must offer specific features for improved business decisions. Here are a few must-have features.
1. Custom Report and Real-Time Tracking
Customizable reports enable your team to do everything from checking company assets and investments to comparing spending, cash flow and net worth. Your organization must be able to use these custom and robust reports to check expenses in real time.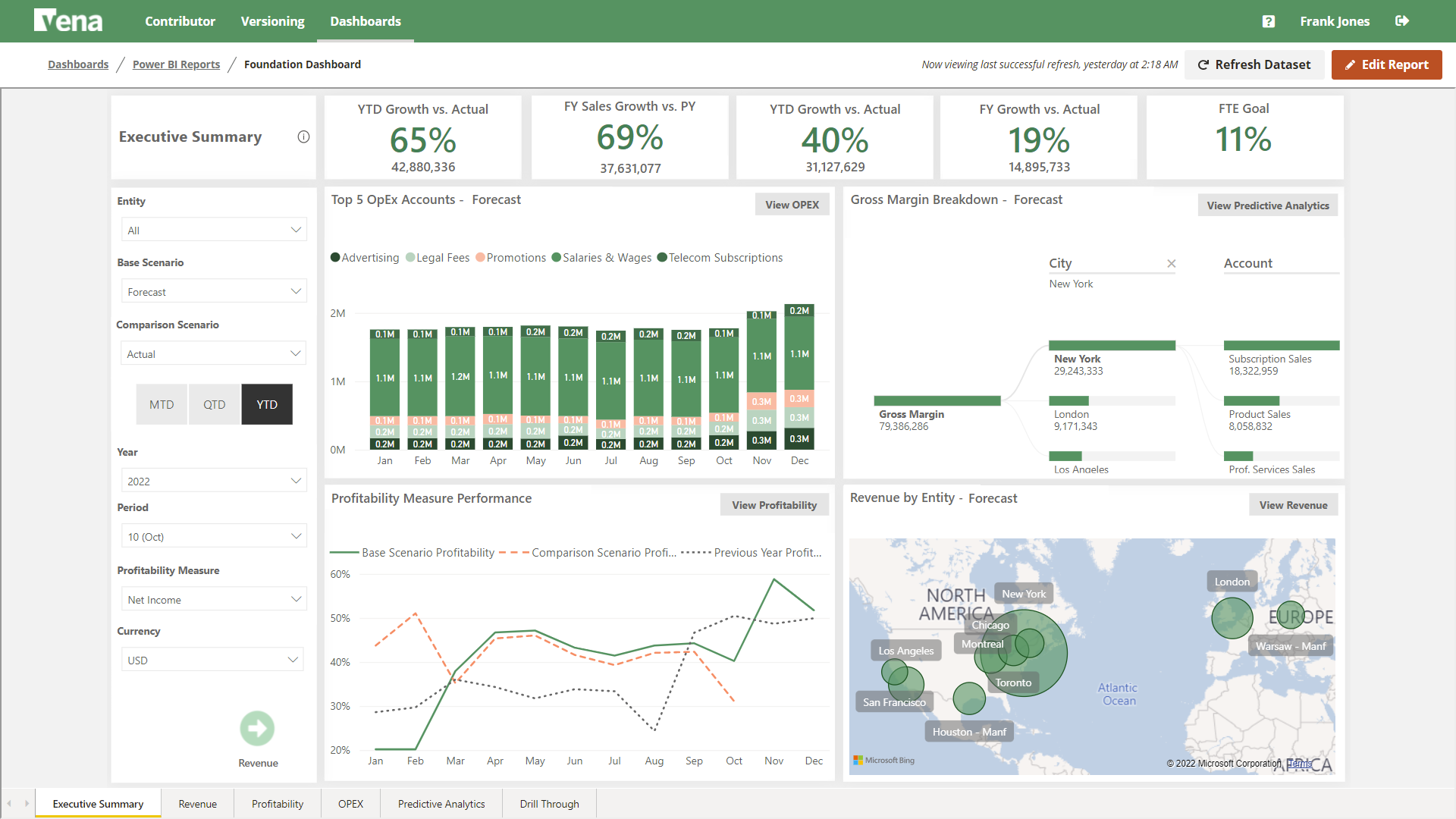 Source: Vena and Power BI: Storytelling Like Never Before | Vena (venasolutions.com)
2. Excel Data Exporting
Currently, 84% of organizations use Excel, even when their company offers an FP&A solution. Ensure your budgeting software enables your team to export data to Excel or choose an Excel-based software.
Many users just think natively in Excel, the default software for practically every financial institution over the last 20 years. They can sort, filter and pivot data intuitively. Good budgeting software should enable your teams to view and export the data in whatever format best suits the company and its staff.
3. Mobile and Web-Based Access
Companies and individuals alike use budgeting software to ensure insightful cash flow spending and allocations. However, this means users require this information readily available in the palm of their hands.
More than 63% of budgeting software users have at least one budgeting app with 55% using a full-service banking app they use on their smartphone and many more than that use two or more. So, when choosing a solution, make sure it features mobile and web-based access, especially if you use remote or hybrid work models.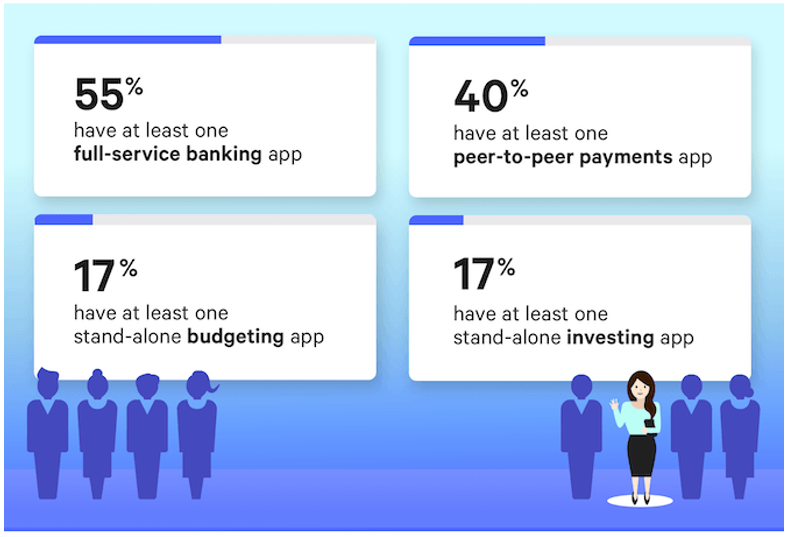 Source: 4 Ways to Remove Friction from Your Fintech Apps/Solutions (telerik.com)

4. Customizable Alerts
Finance professionals must have their budgets available at all times. However, it's draining to have to check it consistently. Customizable alerts (and push notifications for mobile) help to reduce overspending and improve cash flows. Your budgeting software should also notify you when you've hit specific benchmarks established by the organization's decision makers.
5. Improved BI
Using the business intelligence your team gains from monitoring the budget strategy throughout the fiscal year allows you to maintain periodic budgeting. This can help you monitor the company's true results from operations to compare with the predefined budget, make budgetary adjustments (reforecast) or adjust operations.
6. Simplicity and Usability
Ease of use is more essential than many of the other features that made our list. Budgeting software with the most advanced features may be ineffective if they're too complicated to use. Not only do you want the data to be accurate and reliable, but your solution must be simple for all users to understand.
7. Straightforward UI
The budgeting accounting and ERP software you choose should offer a simple interface where true data populates effortlessly in the budgeting software and is immediately available for the analysis process following the close of the accounting period.
Also, make sure that the solution you choose integrates with the latest finance and budgeting apps for mobile users. We also recommend seeking out tools that offer a straightforward and easy-to-use dashboard and user interface (UI).
8. Ease of Access to Reports
Reports must be readily available and with minimal effort, both visual and alphanumeric. All budgeted financial statements—including those with a minimum balance sheet, income statement and statement of cash flows—should be easily accessible. They must also reflect the actual financial statements built by the FP&A accounting software you use for more accurate reporting.
Harness the Power of Your Financial Data
The features of Vena's Budgeting Software for FP&A professionals will drive better business decisions using our Complete Planning platform that integrates seamlessly with Excel, Microsoft 365 and Power BI Embedded. Enable faster insights with end-to-end reporting and analytics. Share smart, scalable insights across your entire organization—with powerful and time-saving budgeting and forecasting tools to help you cut budget cycle times and plan with confidence.