HR data visualization, on a real-time dashboard, can generate insights into how your people affect your bottom line. Whether or not the Great Resignation will accelerate or subside in 2022, it's still essential to track and monitor your most valuable asset—your workforce—to support data-driven decision making in HR.
We're uncovering 10 HR insights you can instantly generate by visualizing your people data—including a few employee well-being insights in the spirit of International Day of Happiness (March 20) that impact your bottom line—in Power BI, the only AI-powered, end-to-end reporting and analytics solution in the marketplace. By slicing and dicing data you've collected along your organization's employee journey, you can monitor employee health and performance, track how these insights affect your bottom line and ensure you have the talent for your company's objectives of today and tomorrow.
What can HR data visualization do for your bottom line? Let's explore 10 insights by following the employee journey, from candidate sourcing to employee separation.
1. Candidate Sourcing
The first question: If you know a hiring manager's ideal start date for a role, do you know how soon you need to begin sourcing candidates for that position? (We'll circle back to this.)
If you're sourcing talent through referrals, internal transfers, your talent acquisition team and external agencies, you can determine which sources are most effective and which are least effective. If you track the source of hire, performance ratings and employee tenure, you can determine which recruiters source the best employees and which external hiring agency sources the employees who leave your organization the fastest.
Making a low-quality hire is more expensive than hiring no one, so identify which sources produce the best hires and higher retention likelihood.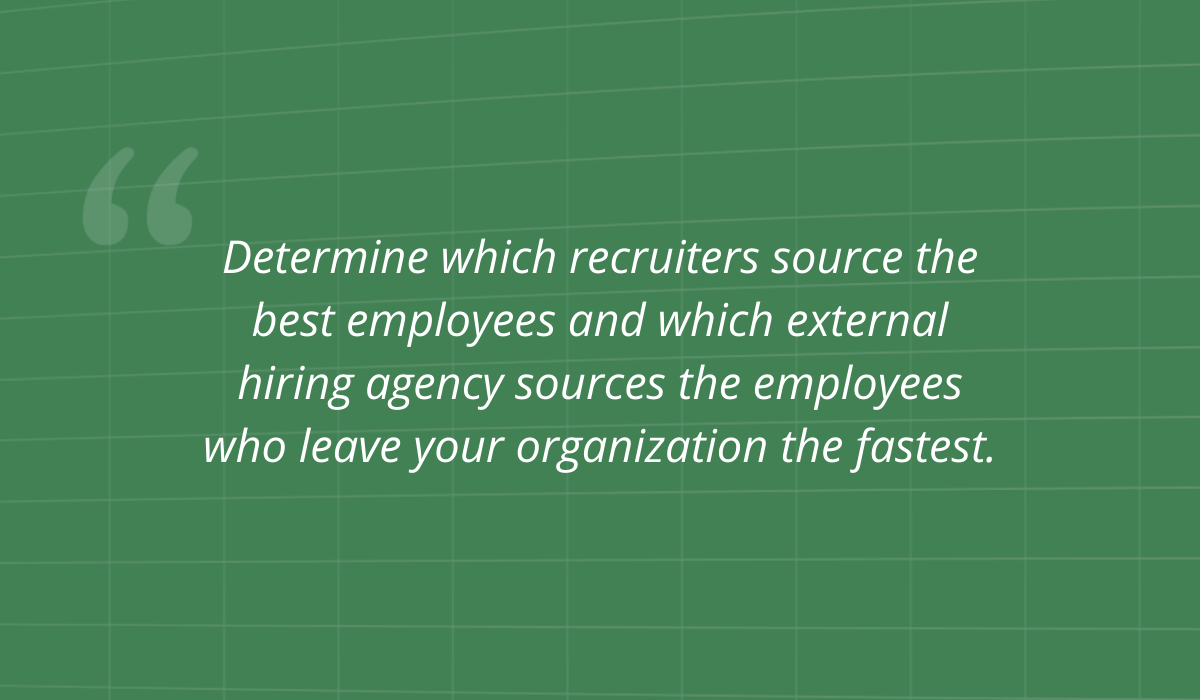 2. Talent Acquisition
How are you turning candidates into employees? As your talent acquisition team moves candidates along your hiring funnel, you can monitor the pass-through rates and the average number of days of each hiring stage—from preliminary phone screenings to onsite or remote interviews, to the assessments and finally the offer period.

When thinking about candidates who don't become employees, you can analyze those reasons through your candidate data. Monitoring your candidate rejection rate may help you find causes behind potential candidates not completing applications, say if there was a recent change in your online process. Tracking candidate experience scores could indicate the likelihood that a candidate who isn't hired will re-apply to your company in the future. And for candidates who receive an offer from your company but decline, that's another data point you can follow to see how many declined and why.

Every second one of your teams awaits incoming talent—especially so for a backfill—means lost productivity, so analyze your hiring performance to discover any outliers, trends or biases keeping the best people from joining your company.
3. Training, Learning and Development
They've signed the contract—what comes next? As you onboard new hires through training and regularly deploy learning and development programs to all staff, you can measure the effectiveness of your programs for people onboarding, enablement and leadership development.

By analyzing hours spent, program costs, budget and performance target scores, you can optimize training expenses by comparing employee performance improvement against the time and money spent on each program.

You can also look for any correlations between onboarding experience and employee retention or employee performance. If you collect information from new employees on differences between job description expectations and job responsibilities, training sufficiency or their relationship with their manager, you may find patterns that inform you in optimizing training expenses to improve employee performance and retention.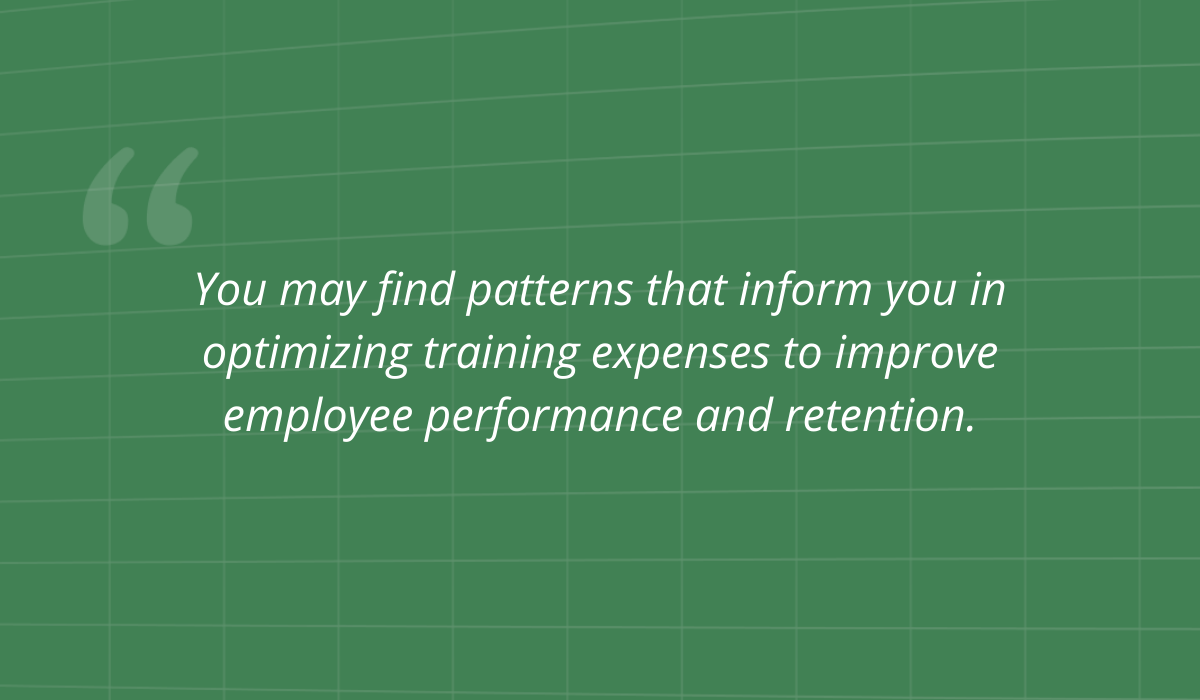 4. Diversity, Inclusion and Belonging
What people data do you collect? To slice and dice information collected along your organization's employee journey, you need to know through which demographic parameters you want to analyze your people data.
Here are some parameters:
Age group
Gender
Geographical region
Function
Department
Tenure
Contract type
Education level
Ethnicity
Sexual orientation
Religion
Disability
Family Status
Remember that some parameters can only be disclosed voluntarily by employees and candidates. But with more demographic parameters to analyze your people data through, you can generate deeper HR insights around how to bridge variances of employee experience on belonging and inclusion. Focusing on these areas can improve employee performance and retention.
Check out this video of Power BI Embedded, the only AI-powered, end-to-end reporting and analytics solution in the marketplace—now directly embedded into Vena's Complete Planning platform. You'll learn about scenario analysis, decomposition trees, predictive analysis and more.
5. Headcount
Who are your people and how many do you employ?
With the volatility of salary expenses, having an overview of your workforce to quickly view actuals, budgeted and forecasted headcount, attrition and retention—all filtered by month and year—helps you plan better. Whether you're planning for growth or downsizing, having instant access to a real-time overview of your people will help you create more accurate HR budgets and forecasts when workforce planning.
6. Total Rewards
Now that we're on to salaries—what else does your workforce want? That's why collecting deeper demographic data can better align your salary expenses, benefits and total rewards with the desires of your employees (and candidates).
Remember to ask your people through surveys and to never make assumptions about what they desire in compensation. Do they need parental leave? Which observance days are important to them? What health benefits do they need? Are they interested in stock ownership? You also need to compare your compensation package offering against your industry benchmarks to remain competitive.
With more data around total rewards sentiment available, you can better manage incentives to learn which types of compensation will best improve employee performance and retention.
7. Employee Performance
How do they perform? You can track productivity by department, role, individual employee or leader.
By assessing performance reviews and scores, you may uncover opportunities to raise productivity. Perhaps one department of your company needs more leadership training. Maybe the employees of one particular role at your organization don't have the resources they need to perform well at their job. Is there one demographic that receives a significantly lower rate of promotion when compared to all employees?
When you collect data behind individual performance, you can generate peer-to-peer performance learnings to help identify lower performers who need additional support and top performers to promote. And when monitoring promotions, you can see status elevations by job change, transfer or lateral movement. By discovering areas of performance improvement and promoting the right employees, you can raise organizational productivity—and ensure the most deserving employees receive a raise themselves.
8. Employee Engagement
Do you regularly ask your people about their experience at your organization? Conduct a survey on their employee experience regularly and monitor the results from poll to poll to help determine if your organization's initiatives to increase engagement resonate.
If you analyzed one department's feedback on their confidence in their managers and whether or not those employees would recommend working at your company to a friend, perhaps there's a correlation with that department's performance. If that department scored the highest amongst all your teams, that department's job openings could receive higher candidate referrals. Don't forget to consider your company's Glassdoor ratings as an external source, too, when collecting employee engagement data.
Employee engagement affects performance and retention, so measure the efficacy of your engagement improvement efforts and their respective costs.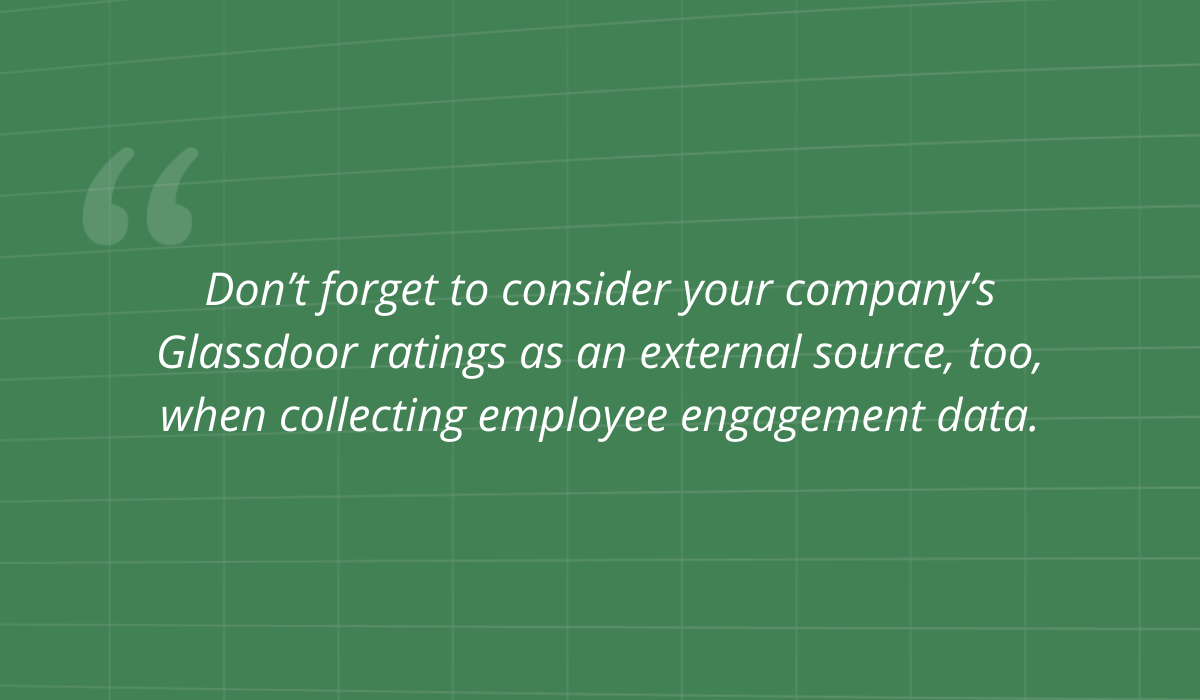 9. Employee Retention
What level of tenure tends to exit your organization at a higher rate? Do you meet your retention target rates?
By tracking your retention rates against your targets and industry benchmarks, you can learn which of your teams retain their employees longer, which need improvement and your average employee tenure—by role, function, team or department. You can also uncover which employee demographics exit fastest and which times of the year your company sees the highest seasonality of employee attrition.
Hiring can be expensive and timely, so monitor your retention rates to avoid exceeding your hiring budget.
10. Employee Separation
Why are your employees moving on? As your people depart, you can analyze their sentiment (compensation, growth or relationship with manager) as well as how your organization would categorize the separation (involuntary, voluntary non-regrettable or regrettable).
As positions open, track—by role—your average time to hire and average time to fill. Those insights answer that first question we posited in the employee journey: If a hiring manager provides an ideal start date, do you know how soon to begin sourcing candidates for that position?
With that insight, you can plan ahead to minimize the number of days a hiring manager lacks the talent they need for their team. This ensures your organization has the workforce for your company's objectives of today and tomorrow.
Now, could you plan even better, by predicting when an employee will depart and begin sourcing candidates even before they resign? Well, if you're tracking and monitoring employee tenure by role, it's possible.
HR Data Visualization with Power BI Embedded
With Power BI Embedded—the market's only end-to-end reporting and analytics solution—now directly embedded into Vena's Complete Planning platform, you can integrate AI-informed data strategies into company-wide business intelligence, enabling instant insights at scale for you to work smarter and faster—without requiring additional Power BI licenses.
Using out-of-the-box interactive dashboards, you can turn data on your most valuable asset—your people—into real-time, actionable insights for every one of your users in their data-driven decision making. As you drill into your collected HR data, you should be able to visualize and review your unbiased data against baselines, generate insights and make proactive decisions about your people to impact your bottom line.