If you are considering a new FP&A automation solution, you've probably already been taking transformative steps toward enhancing your finance department's operational performance.
Whether you're hoping to move from a world of legacy on-prem systems and inefficient Excel or Google Sheets spreadsheets or looking to replace your current FP&A system, this complete guide will assist you as you prepare for your FP&A purchase.
According to a report published by PwC, 60% of executives say digital transformation is currently the most crucial growth driver. As a finance professional, finding the right FP&A automation software is your digital transformation tool.
To ensure that you have the information you need before purchasing FP&A software, we'll cover how to assess your current situation to know which features your solution must have and the trends shaping the future of FP&A automation.
We've also included a checklist of things you should consider asking to ensure you find the right FP&A software solution that checks all the boxes for your unique needs.


💡 Key Takeaways:

Many companies have yet to fully embrace FP&A automation. However, advancements in this technology drive the future trends of FP&A automation to enhance operational efficiencies.

Trends shaping FP&A automation in 2023 include AI and machine learning adoptions, more integrated FP&A processes and driver-based performance management.

When researching which FP&A automation software is right for you, check to see whether it can identify bottlenecks in current processes and enable continual improvement.

Your FP&A software solution should be able to evaluate lead time, be easy to use, scale as needed, integrate with legacy systems and offer top-notch security.

Approximately 82% of finance teams that already have planning software still use offline spreadsheets for core FP&A processes.
Assessing Your Current FP&A Processes
We cannot overstate the significance of the role of FP&A in an organization's growth. However, many companies have yet to fully embrace FP&A automation.
Some aspects (i.e., strategic planning and budgeting) are viewed as some of the most essential roles, ignoring the rest. In turn, forecasting and analysis are often an afterthought.
The thought process is that time gets wasted as teams try to gather baseline data. A proper FP&A requires a strategy that ensures you can access information beyond just baseline data.
Assess your current FP&A processes, address the pain points of inefficient protocols and evaluate which automation solutions your organization needs to optimize your FP&A methods.
FP&A automation streamlines forecasting and budgeting tasks to help teams improve their productivity. Advancements in FP&A technology are driving the future trends of FP&A automation to further enhance operational efficiencies.
Trends Shaping the Future of FP&A
Uncertainty was the name of the game, so to speak, in 2020. In 2021, the financial sector had to learn to adapt to what analysts quickly dubbed "The New Normal."
In 2023, we are working to navigate through "The Next Normal" as organizations work to not only recession-proof their operations, but also provide for agile forecasting based on trends and unforeseeable circumstances.
As we move into the future of FP&A automation, financial professionals will experience relief when manual tasks are automated and more time for analysis is possible. The only challenge initially will be adoption as people learn how to use the new system.
That's why software and IT professionals recommend looking for an Excel-based solution—finance teams are simply more familiar with its interface. Besides Excel integration, here are a few of the trends impacting FP&A automation the most:
Extended FP&A (xP&A)
Technology in FP&A (AI/ML, RPA)
FP&A digital transformation (scenario management, integration and

predictive analytics​

)
Integrated business planning
FP&A business partnering
An increase in T-shaped FP&A professional​s
As you can see from the chart below, these ten trends shaped the FP&A automation market in 2021. Experts agree they will continue into 2023 as a push towards more digital transformation adoption in all sectors and industries.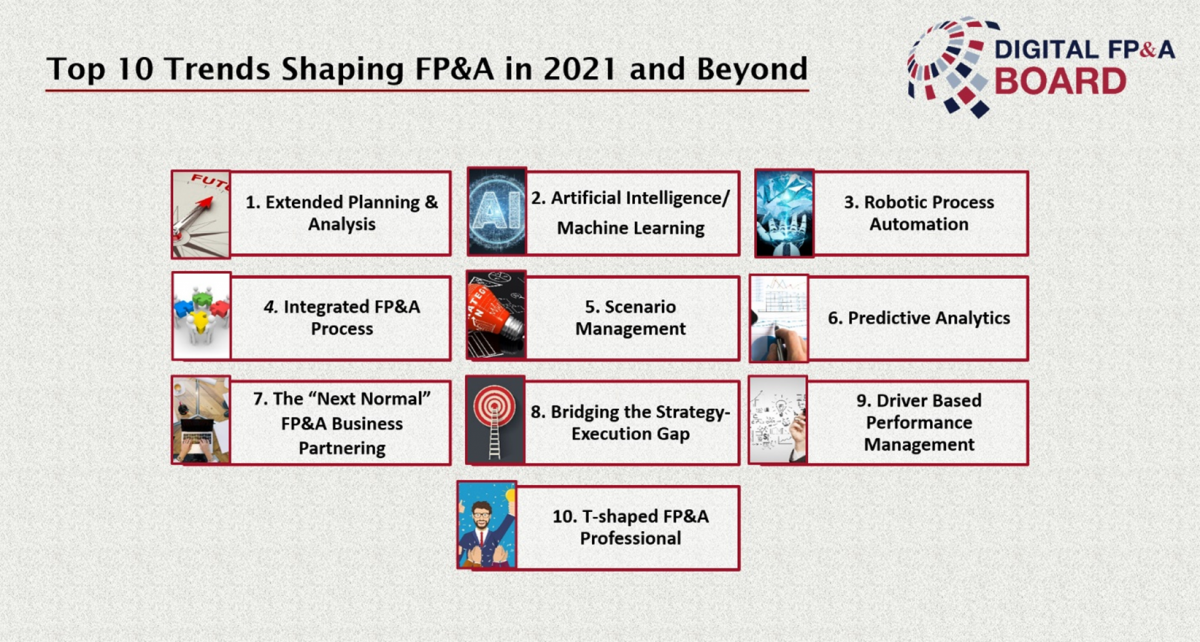 Source: FP&A Trends
Your Checklist for Evaluating Your FP&A Automation Solution
Now that we have covered why you need to assess your current FP&A automation solution and the trends impacting the integrations of this software, let's review some of the must-haves your FP&A automation program should feature.
Here are some questions to ask when considering the ideal solution for your organization:
1. Does It Identify Bottlenecks?
Bottlenecks create inefficiencies that finance teams cannot find a workaround for without the help of automation. If updating forecast models with actual data takes too long or team members make avoidable errors, your current system creates bottlenecks.
Easily resolve these inefficiency issues with FP&A technology. Here is a list of FP&A responsibilities that automation will make more efficient:
Financial modeling: Automation makes updating financial models easy with just a few clicks to accommodate changes in your organization's business trajectory.
Financial forecasting: Forecast the company's health with data from the financial models mentioned above.
Asset evaluation: Monitor your organization's cash runway use to ensure that the company invests it in ways that direct overall business growth.
Financial health metrics: FP&A-affiliated teammates stay on top of an organization's financial health thanks to available financial metrics and ratios. FP&A technology makes this data readily available for analysis.
Department cost efficiency: Keep track of department spending no matter how large (or small) an organization you manage. Use the company's cash and runway statements to determine each department's budgetary allotment.
Budgeting: FP&A teams must work with department heads to generate budgets for each department and the company as a whole. FP&A automation places this information at the fingers of the decision makers who need it most.
Internal report creation: Maintain consistent business reports that accurately reflect your organization's financial trends over several periods.
2. Does It Check the Boxes on Your Wishlist?
Much like discovering which bottlenecks impede your productivity, it is critical to be clear as to what an ideal FP&A automation solution looks like and whether it has what you need and want.
Put together a wish list of about three to five benefits that'll make your work life faster and easier. With your newfound extra time, you can spend more time analyzing data instead of collecting it.
You'll find that the more you use the FP&A automation software, the more comfortable you will become using it and the more confident you'll be in trusting the data to be accurate.
If integration is your concern, add to your wish list that you need a system that will not create unnecessary or lengthy downtime.
3. Have You Checked the Software's Recommendations and Reviews?
By now, you have probably made a list of programs you are considering. Now is the time to ask yourself, what are people saying about the FP&A automation solutions you are researching? If you are not sure where to start, we recommend:
Polling members of your team
Asking on social media platforms (i.e., Twitter, LinkedIn, Reddit, etc.)
Inquire on a forum for FP&A professionals
Join a Slack community
Talk to someone in the firm's IT department and ask them for recommendations on things to look for that will integrate without issues with your organization's current IT infrastructure. Ask them if there are any provisions the software must fulfill to meet the minimum system requirements.
Check product reviews. See how many stars the product has earned and whether people recommend the program to someone in their industry.
Pay close attention to reviews with one or two stars. Note the pain points the software did not resolve (or made worse) and compare that to your organization's need in FP&A automation.
Lastly, ask for a demonstration of the product. See if you can review how the software will work with your current tech stack without fully committing to one solution.
4. How Long Does Integration Take?
You don't want to choose the ideal solution only to find out it will take six months before the system is ready for users. The onboarding process is crucial to digital transformation.
Ask yourself, what will complete integration cost the company in downtime? Will implementation get outsourced to a third-party contractor? If so, expect delays and consider doubling what timeframe they quote you.
If you find a solution that takes weeks or months to fully integrate, note that it's worth the time to research other options. Also, look into whether you can import the company's existing models into the system or if your team will have to recreate them.
Plan for failure because it's better to plan for the worst in this scenario. That way, you are prepared financially and professionally for issues. Consider whether reverting to your old systems will be expensive if the system integration does not work or the project stalls out.
5. What Kind of Learning Curve Should Your Team Expect?
Before you commit to an FP&A automation solution, you must know what the learning curve will be and how long adoption will take.
A solution that takes two or three weeks to implement but months to comprehend is not ideal for operational efficiency. Consider these questions to ask during your buying process:
Is it developed to work in Excel or will your team have to learn a new system
Does it use a scripting language your staff will already know?
Will your teams need to evaluate job applicants based on whether they have previous training on the software?
The best FP&A automation software is flexible and agile—not a box lacking transparency.
6. Is It Easy To Use?
FP&A automation should make life easier for your team, so it's vital to understand how the tools you are considering affect the daily functions of their jobs. Month-end, quarterly reviews and year-end activities should not be cumbersome once the integration is complete.
We recommend learning how your FP&A solution choice will change daily operations in the following ways:
Browse case studies on the developer's website
Read third-party reviews from Capterra, G2 or similar entity
Ask professional networks, colleagues or FP&A community boards about their knowledge of these solutions
You should consider whether the ease of use translates to faster, more efficient reporting. For example, the Kansas City Chiefs could obtain reports 95% faster than their previous manual processes using Vena's agile FP&A technology.
7. What Is the Documentation Quality Like?
At some point, you will need to consider how the program manages documentation. Financial statements, contracts, vendor agreements and other legally binding paperwork require secure storage on a platform that offers the latest in malware and ransomware detection.
Your solution must offer robust document collection, storage and management in a central database so your team can access data quickly and easily.
Most companies will post this information on their websites (search for the term "knowledge base" or similar). You can also opt for a separate platform, such as Zendesk.
Ask yourself these questions to help you evaluate the document management process of your FP&A solution:
Is the database easily searchable?
Are unknown and unfamiliar terms clearly defined?
Does it show you a step-by-step process of how features work?
Are there videos or images of the software that supports the text?
8. Do They Offer a Dedicated Support Team?
If you are purchasing an FP&A automation solution, you are also buying a customer support team. That's why you must consider the quality of the support you will be buying.
Ask these questions when speaking to someone regarding your choice in FP&A automation tools:
What level of support does the support team deliver?
Do you have to schedule a call?
Are there alternative communication methods (i.e., Slack, email, etc.)?
Does each account get its own dedicated account representative who knows your account history and how your organization uses the tool?
Does the tool require training, and if so, does the support team offer that training (or training videos, webinars, etc.)?
Are members of the support team FP&A experts?
Customers want a professional, knowledgeable and friendly support staff invested in the success of your team and your organization at large.
The best way to get answers to your questions is by talking to an existing customer of the program. If you do not know anyone who already uses the FP&A software you are considering, speak to a sales representative regarding customer testimonials.
9. Will It Scale With the Needs of Your Business?
Next, we will cover scalability, and you need to know how your solution must grow with you and your company. Review these questions and consider how they apply to how your finance professionals will use your FP&A automation solution:
What happens if your organization changes ERPs?
How many system integrations does your software choice have? Is it limited to only one?
Does it integrate with Google Sheets and Excel?
Does it require that your team work within Excel for optimal functionality?
What happens if your company processes change?
Does your software offer you the flexibility to execute these (and other) changes?
Do you anticipate onboarding new staff that require extensive system training?
Will you require applicants to possess specific skill sets?
Does your FP&A solution facilitate data sharing and transparency?
Will you need to email files between different executives?
Once you have a firm grasp on how your FP&A technology solution will scale with you according to market demand, it's time to evaluate your firm's legacy systems.
10. Does It Integrate Well With Legacy Systems?
Connections and integrations are likely more critical factors for you to evaluate in the various FP&A solutions you research. According to a Battery Ventures survey, 15% of respondents believed the lack of integrations is their most significant issue with their existing FP&A automation solution.
A solution with more integrations is more future-proof and agile—and its integrations affect your buying decisions. The more source systems your FP&A automation software can connect with, the better.
Why? Let's review some of the reasons:
You may need to change systems as your business grows
Additional integrations make your solution more powerful as you add to your organization's tech stack
FP&A solution providers can integrate whenever new software comes out
For integrations the provider does not offer, chances are, your FP&A technology solution will be able to add it
11. How Does This Solution Actively Solve Your Pain Points?
Do you want to be able to experiment with how you use a solution? If that's the case, make sure you do not get FP&A software that locks you into a specific method.
Take the "Glove Test," meaning see how close a fit your choice of FP&A is to your legacy systems, current or upcoming processes and future software integration. Does it fit like a glove?
Here's a list of things to help determine if your solution passes the "Glove Test."
Review your lists of pain points and bottlenecks
Place them into one column of a spreadsheet
Rank them
List features that will solve each pain point and the benefits of the software solution in the next column
By creating this spreadsheet, you give yourself and your team of decision makers a quick overview of each solution and how it solves your more significant pain points. It also reveals which FP&A automation software lacks what it takes to overcome these pain points.
12. What Quality of Life Improvements Should Be on the List?
The duties of an FP&A professional are vital to the financial wellness of an organization. Your choice of software should ease the burdens of your team's daily tasks. Similar to how you included data on your list of bottlenecks and pain points, add data to your wish list.
Here are a few things to consider:
Review your wish list and record each item in one column
Rank them
Match the benefit(s) of every solution to the items on the wish list in the next column
This information will help you narrow down the FP&A automation solutions on your list.
13. What Does the Connectivity Framework Look Like?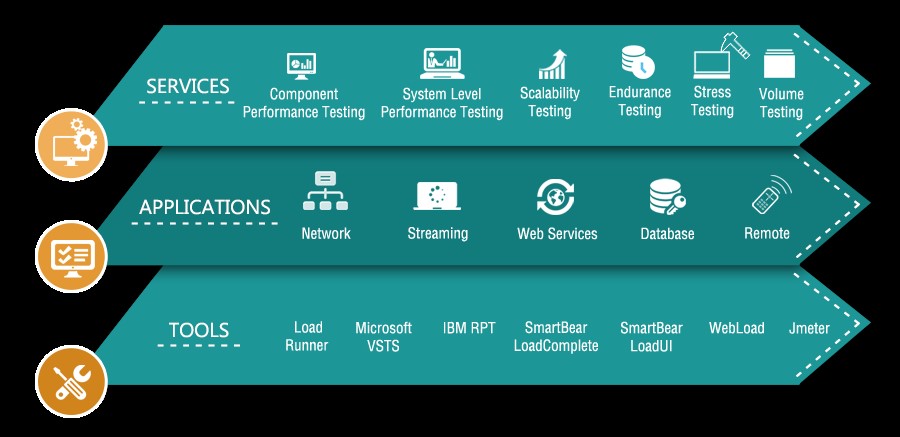 Source: Tecple Global

When choosing FP&A software, ensure it is easy to connect to new systems. Ask sales representative the following questions during your initial consultation:
Do they offer APIs you can use to load data?
If not, are there features within the system that allow data integrations from pre-built connector sources?
Does setup require an expert, or can a layperson do it?
Is the code base up to date compared to other industry standards?
Never hesitate to ask your representative for a demonstration of their software. If they are as invested in your organization as they should be, they will provide you with a clear view of how their program will connect to your existing framework.
14. What Level of Security Does It Offer?
Along with checking for integrations, you must also check for security protocols. Data is the lifeblood of an organization's revenue stream, and protecting that data requires diligent effort and compliance with data governance regulations. Here are some questions for you to discuss with a representative:
Does the program offer a security one-pager or document you can review?
Can you set permissions by user for functions such as view, edit and delete?
Does it have other role-based permissions?
Does it offer audit trails you can view while using the software?
Can you set accessibility using multi-factor authentication (MFA)?
Is your data backed up should anything happen to the server?
15. Does It Work With Excel?
Approximately 82% of organizations that use complicated FP&A software end up using Excel, anyway.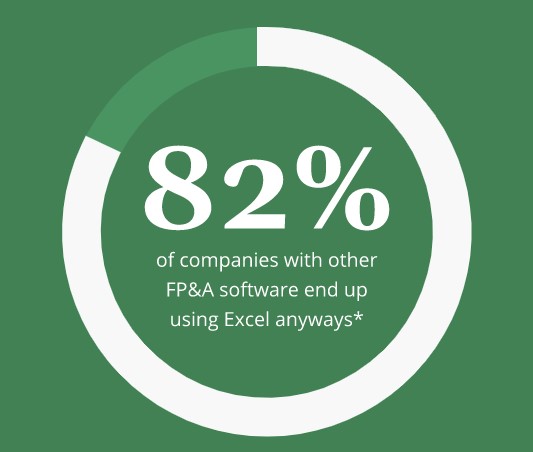 It helps to share tools with other departments or offices under the company's infrastructure as you grow your organization and the office of the CFO as a strategic partner to the company at large.

That said, finding the FP&A software solution non-finance people in your firm can easily adopt is a challenge.
Let's review how your company's non-finance stakeholders can use this solution. Ask yourself, does it work with Excel or Google Sheets?
Departments outside of finance use these programs for data storage, collection and management. When your FP&A automation technology works with Excel and Sheets, you foster interdepartmental collaboration.
Does your solution use Excel's scripting language?
LAMBDA is the new wrapper for Excel's scripting language that lets you write various types of programs in Excel. Chances are that you and your team already know Excel's scripting language and can adapt easily to new features, add-ons and integrations.
That said, be clear on whether your FP&A automation software requires your team to learn a new scripting language or if it uses LAMBDA, Excel or Sheets.
16. Do Users Need Special Skills?
Another thing to discuss with a sales representative is whether their company's FP&A tool requires a special skillset. If it does, this should set off some alarms.
The reason is that you will require specialized training, as will anyone else without the skills necessary for being a proficient user. Also, if the software does require special skills, this will limit your options within the talent pool.
We suggest reviewing the following three outcomes that we have seen in FP&A teams that adopt tools requiring a highly-specific niche set of skills:
You onboard new talent and train them only for them to leave to another organization that can pay them more money
You eat consultant costs, which demand a lot of time and is financially expensive
Your company hires someone with the skills required to operate the program, forcing you to spend more for payroll than you budgeted for (not to mention they could also leave you for a higher-paying position at another organization)
Instead of dealing with those hassles, we recommend choosing an FP&A automation solution that leverages what you and your team already know. Ensure that the user interface (UI) is easy for non-technical people to use. That way, everyone across any department can access the data they need.
Build the Excel-Based Interface Ideal for Operations With Vena
Microsoft Excel is the most commonly used spreadsheet-based planning tool organizations use worldwide. That's what makes Vena's software the ideal solution for FP&A automation because of our Excel-based interface, making it one of the easiest and most adaptive FP&A software available.
Measure, track and store the data you need for easy and accurate forecasting and budgeting reports. Store, share, edit and analyze your organization's financial data and be the key to driving better business decisions.