Learn how to build the agility and resilience you need to plan for anything


Vena is getting ready to host Excelerate Summit 2023, our fourth annual global virtual conference for finance and operations professionals, business leaders and budget owners. Taking place May 9–10, the virtual live and on-demand conference experience features 30+ speakers, inspiring keynotes and sessions and 20+ hours of CPE/CPD live discussions, workshops and training.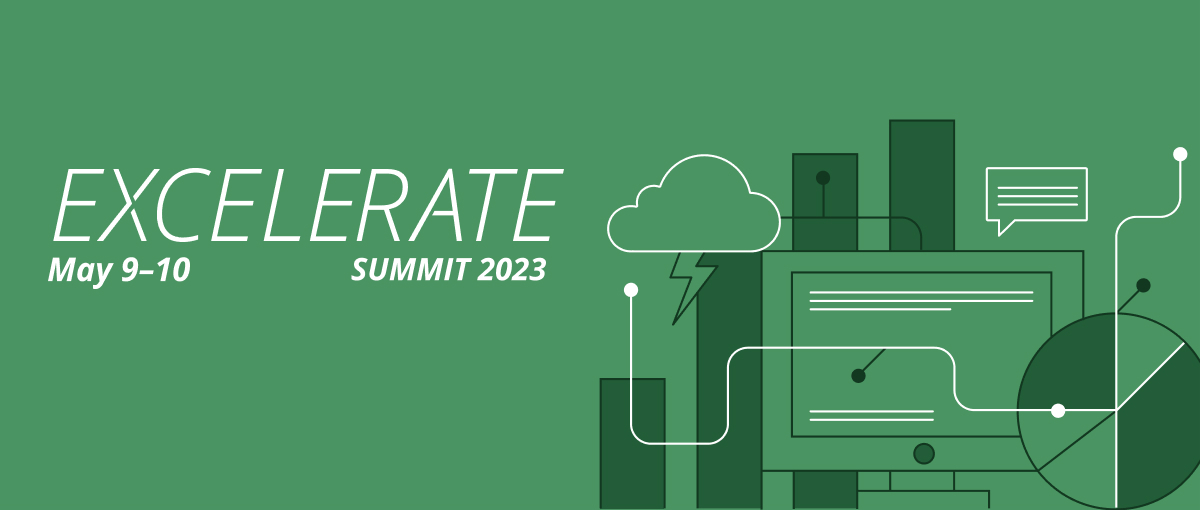 What's Different This Year?
Unlike other industry conferences, we're laser-focused on giving actionable advice finance professionals can use to navigate the current business environment. We're inviting our community of 5,000+ professionals to come together to learn how to excelerate their planning productivity, agility, resilience and their organization's financial intelligence so they can plan for anything.
Attendees gave last year's event 4.4 stars out of 5


Excelerate will offer attendees the opportunity to:
Engage and learn from finance peers, Vena Experts and executives, and finance and business leaders from organizations including Microsoft, Kansas City Chiefs, OpenAI and more
Earn up to 22 CPE/CPD credits through live discussions, workshops and training
Learn Excel and Power BI best practices and access templates for rolling forecasts, what-if analysis, workforce planning and more
Learn how to empower your organization to adapt to current market realities with important strategies, best practices and technological innovations

You can also look forward to insights from Vena keynote speakers, with sessions that have been designed to inspire you to build winning teams, stay ahead of technology innovation and drive growth, resilience and agility within your organizations.
Excelerate Summit's Exciting Lineup of Speakers
Joining the speaker lineup this year are Austin Wiseman, Finance & Accounting at OpenAI, Nicolas Herman, CFO at Microsoft Canada and Mitch Holthus, Voice of the Kansas City Chiefs.
Other speakers include:
Hunter Madeley, CEO, Vena
Melissa Howatson, CFO, Vena
Purna Duggirala, Chief Excel Officer, Chandoo.org and Microsoft MVP
Howard Dresner, Chief Research Officer, Dresner Advisory Services, LLC
Speakers from 6Sense, BetMGM, Citrin Cooperman Advisors LLP, Fluence Technologies and more




Feedback that makes us blush a little 😊

Attendees can earn free CPE/CPD credits through live conversations, interactive workshops, product demonstrations and training presented by Vena Academy.

Sessions and panels will cover:
Strategies for high-functioning finance teams
The new tech empowering finance-led innovation
Practical applications of AI and automation in FP&A
Latest trends in FP&A, AI, extended planning and performance management
Managing cash flow in complex business conditions
Agile revenue forecasting
Unlocking opportunities with finance systems and operations
The Vena Product Roadmap
Introduction to Vena Complete Planning and Insights
Best practices for workforce planning, cash flow management, Microsoft Excel and more

Excelerate's jam-packed agenda includes multiple opportunities to learn, connect and grow with Vena Experts and Partners, Microsoft leaders and technology enthusiasts who will all be on hand to help you plan for anything—all while virtually networking in a global community of professionals.


More feedback that makes us blush a little 😊



Save your free seat for Excelerate Summit 2023 today.

For the latest Excelerate Summit 2023 news, follow us on LinkedIn, Facebook, Instagram and Twitter @venasolutions.