Powerful keynotes, CPE training and new product announcements among VenaNOLA highlights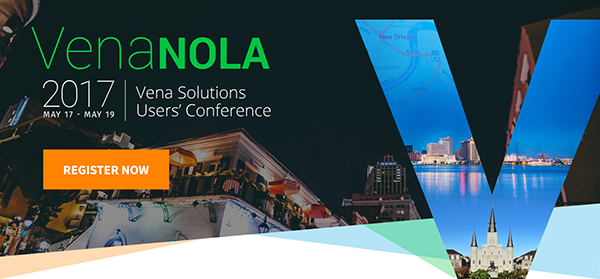 This release originally appeared on Marketwired.
Powerful Keynotes, CPE Training and New Product Announcements among VenaNOLA Highlights
ALBANY, NY– (Marketwired – Jan 17, 2017) – Vena Solutions, the fastest growing provider of cloud-based corporate performance management (CPM) software, today unveiled details of VenaNOLA, its 2017 users' conference. The event takes place May 17-19 in New Orleans and includes keynotes by industry influencer Nick Castellina, vice president and principal analyst at Aberdeen Group, and local hero Lt. General Russel L. Honoré, leader of relief efforts in the wake of Hurricane Katrina.
"We are thrilled to announce VenaNOLA and can't wait to host a top-notch event that's both compelling and fun-filled," said Don Mal, CEO of Vena Solutions. "New Orleans is a world-class destination and as the Big Easy, it's a fitting location given Vena's renowned ease of use."
"We've been an enthusiastic Vena client for a couple of years now, and we've really been looking forward to an opportunity like this," said Jessica Karsies, financial analyst at Berkshire Hathaway HomeServices. "It's shaping up to be a great forum to share ideas and learn from each other… and to get even more value from Vena."
The VenaNOLA agenda consists of keynotes, CPE-accredited educational seminars, customer panels, one-on-one strategy sessions and more. The conference kicks off with an optional day of training on May 17, with two distinct tracks for new and power users. For the full agenda, visit www.venausersconference.com.
"We've carefully designed the program with all our users in mind," added Mal. "With opportunities to network and learn from peers and industry influencers, participants will walk away with best practices and lessons they can apply as soon as they return to the office."
Details at a glance:
What:

VenaNOLA 2017 (Vena Users' Conference)

When:

May 17-19, 2017

Where:

Royal Sonesta New Orleans

How:

Register online at

www.venausersconference.com

Early Bird Prize:

Register by Jan. 31 for a chance to win an Apple Watch
For more information visit:
About Vena Solutions
Vena turns Excel into an enterprise-class business solution with a centralized database, workflow, detailed audit trail and more. With Vena, hundreds of leading global brands now get trusted numbers and insights — fast — without sacrificing their favorite spreadsheet software. Our customers use Vena for corporate performance management (CPM) applications including budgeting, financial close management and reporting, and automating other spreadsheet-driven processes beyond Finance. Vena is the fastest growing cloud CPM vendor, and the only one to embrace – not replace – Excel spreadsheets. Visit us at www.venasolutions.com.