Until recently, Software as a Service (SaaS) was rapidly expanding across the globe as companies realized the novel ways they could scale their business with SaaS tools.

With recent economic headwinds forcing companies to delay or reevaluate their investment in software tools, the SaaS industry has transitioned its focus to sustainability rather than growth.

But even amid a challenging environment, growth is still possible.

"The FED is predicting a slowdown in growth in the second half of 2023 and the first half of 2024. Most would think that the SaaS market would be negatively impacted by this potential recession, but if it leads to a decrease in interest rates – it may spark a much-needed boom in the industry with an increase in funding, hiring, and overall growth," says Felipe Cepero, Customer Success Manager at Vena. "The SaaS market is resilient and will continue to grow—even in the toughest markets."

In this article, we'll explore the state of SaaS and how the market is changing by looking at key statistics and benchmarks.

We'll also look at the toughest challenges facing SaaS companies today, as well as solutions for overcoming them.
Key Stats
1. In 2022, the global SaaS market reached $261.15 billion.1
2. The North American SaaS market represented 44% of the global market share in 2022, at $114.91 billion.1
3. The U.S. has the largest SaaS market share among all countries, with over 17,000 companies.2
4. Salesforce is the largest SaaS company in the world, with an enterprise value of $199.48 billion as of June 2023.3
5. In a 2022 survey where SaaS companies were the largest segment of respondents, 73% said their organization spends too much time manually planning and budgeting.4
6. Nearly 90% of IT professionals surveyed note that automation is key to managing SaaS operations, but 64% say they lack the resources to automate.5
7. Three out of four IT professionals surveyed say they want SaaS solutions capable of insights-driven automation.5
SaaS Market Growth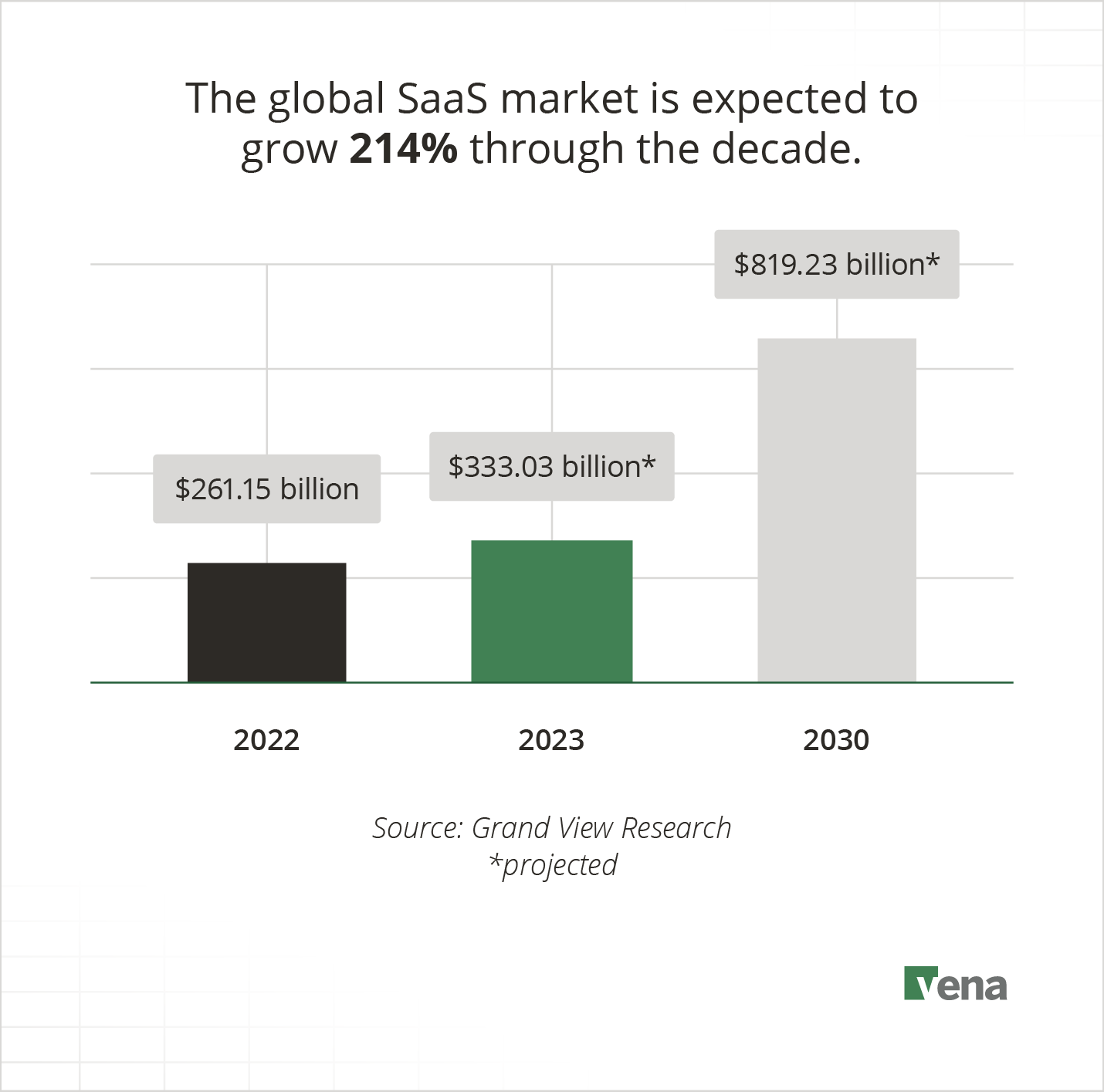 Despite recent market slowdowns, the global SaaS market is expected to grow 214% through the next ten years.
While North America currently dominates the SaaS market share of both companies and customers, the global market is projected to grow rapidly over the next decade.

8. The global SaaS market will grow 28% YoY to a projected $333.03 billion in 2023.1
9. The global SaaS market is expected to grow to $819.23 billion by 2030.1
10. Revenue share for software (compared to services) was more than 84% of the SaaS market.1
11. From 2023 to 2030, the expected compound annual growth rate (CAGR) for the global SaaS market is 13.7%.1
12. The Asia Pacific SaaS market is expected to be the fastest-growing region in the next decade, with a CAGR of 16.1%.1
13. In a 2022 survey, 86% of respondents said their hybrid cloud or multicloud tool investments would increase, and 95% said their success depended on those and other SaaS technologies.6
14. The median growth rate for public SaaS companies as of March 2023 is 22%.7
15. Among private SaaS companies, the median growth rate as of March 2023 is 35%.7
16. As of March 2023, B2B private SaaS companies with annual recurring revenue (ARR) of less than $1 million reported the highest median growth rate at 51%.7
17. The largest B2B private SaaS companies with ARR of over $20 million had the lowest median growth rate as of March 2023, at 27%.7
SaaS Revenue
SaaS is the biggest expenditure for businesses' cloud services. In light of slowed market growth, businesses are being prudent about managing that spending.

So what does this mean for SaaS revenue?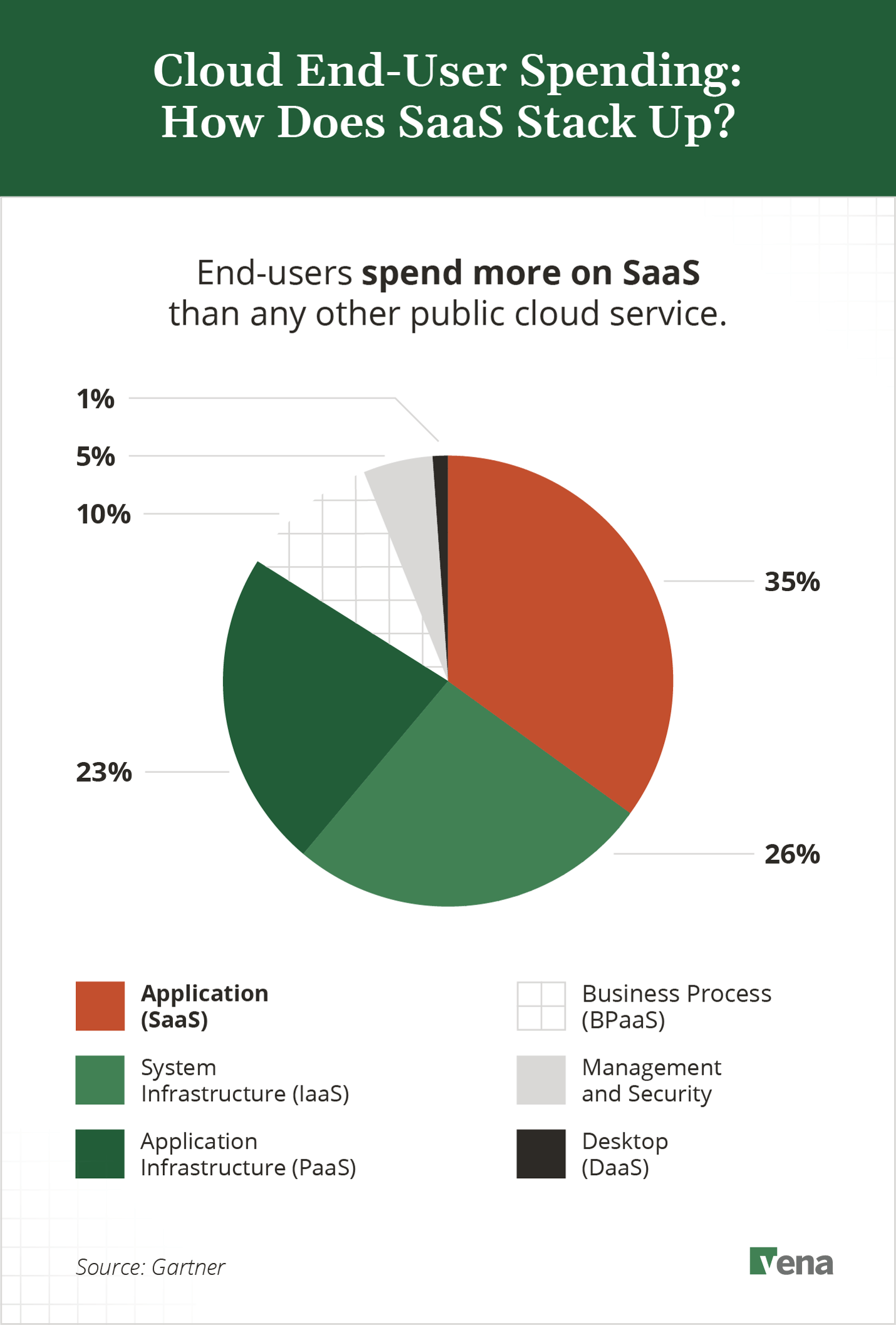 SaaS tools are the largest spend area when it comes to businesses' cloud services and therefore an area many companies are looking to reduce. In light of this, SaaS providers will need to guard their revenue carefully.
These statistics explore SaaS revenue for both public and private companies.

18. Large enterprises that employ more than 1,000 people accounted for over 60% of global revenue in the SaaS market in 2022.1
19. Private cloud companies accounted for 43% of global SaaS revenue in 2022, the largest market share among SaaS market segments.1
20. Public SaaS companies have an average of 36,000 customers.10
21. End-user SaaS spending is projected to hit $208.08 billion in 2023, adding up to 35% of all end-user public cloud spending.11
22. According to a 2020 survey, 39% of SaaS organizations surveyed use a value-based pricing model to take advantage of the solution flexibility SaaS offers. Meanwhile, 24% copy their competitors' prices.12
23. 68% of surveyed SaaS companies discount their prices in fewer than one-quarter of all deals, and 29% admit to "very little discounting" from their sales teams.12
24. Private SaaS companies' median net revenue retention rate is 102%.7
25. There are 175 SaaS companies with valuations greater than $1 billion and a collective value of almost $622 billion.13
26. The average ARR per professional services employee at SaaS companies in 2021 was about $160,000, around $10,000 less than in 2015.14
27. Enterprise SaaS companies with more than $20 million ARR have the highest median ARR per employee at $176,678.8
28. SaaS companies with less than $1 million ARR have the lowest median ARR per employee at $30,177.8
Adoption and Churn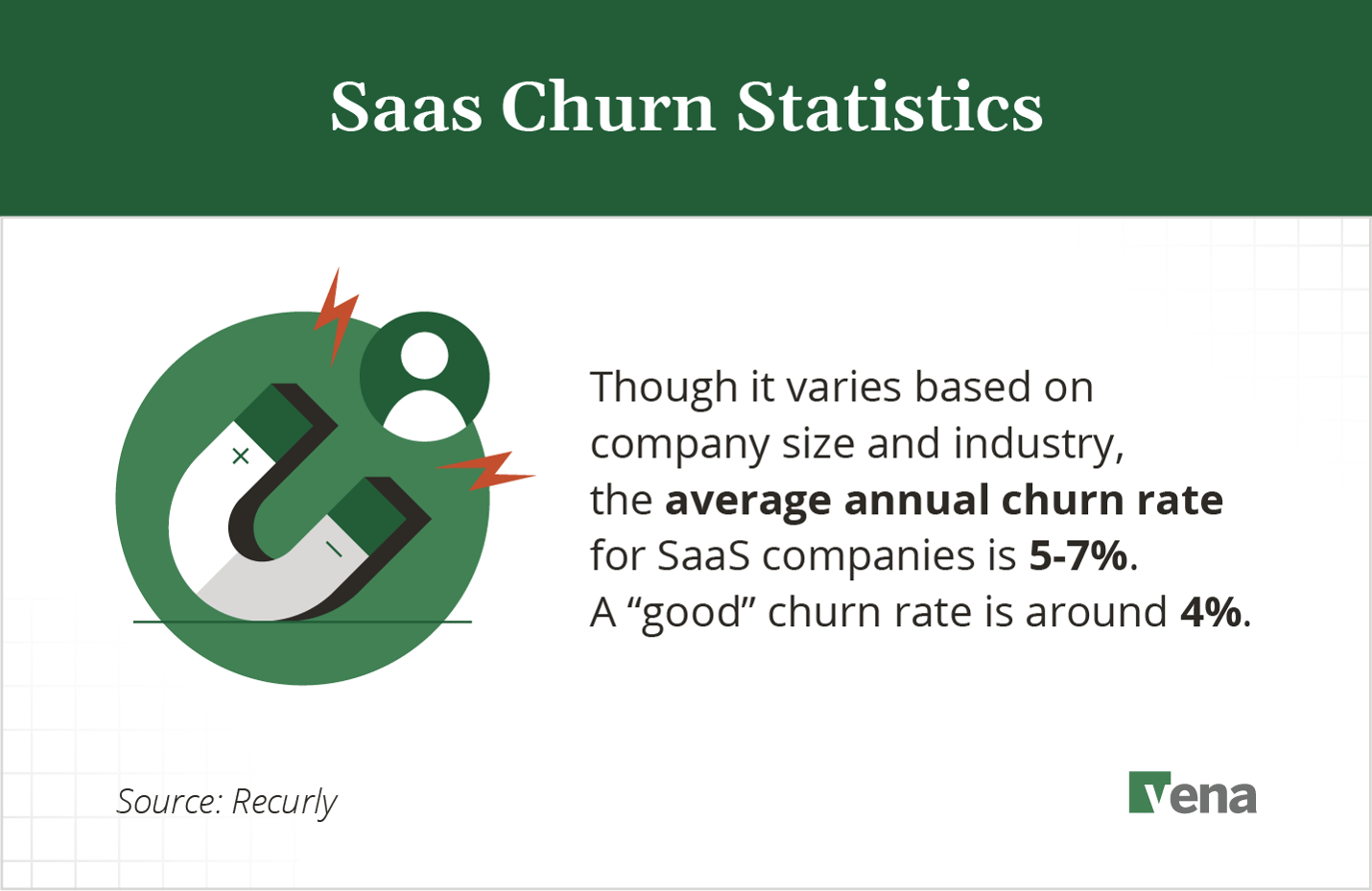 As their customer base tightens their wallets to cope with a challenging economic environment, one of the biggest challenges SaaS companies are facing in 2023 is churn.

"The SaaS industry is quite interconnected—SaaS companies sell their services/products to other SaaS companies. As SaaS companies pull back spending the impact is felt in the entire industry from both a churn basis and a lack of net new deals," says Felipe.

Churn (in both revenue and customer accounts) is a key KPI for SaaS companies to keep an eye on, especially in a down market. But reducing churn is especially tough if you don't know where it's coming from.

Let's examine some statistics around SaaS adoption and current churn rates.

29. The average annual churn rate for SaaS companies is between 5-7%.15
30. In a 2022 survey, 54% of respondents said that company leaders and decision-makers changed their views on technology after the COVID-19 pandemic, leading to new adoptions of SaaS software.16
31. Companies used an average of 130 SaaS apps in 2022, an increase of 18% over 2021.5
32. The growth rate of SaaS apps slowed slightly in 2022, as 40% of IT professionals combined redundant applications.5
33. In a 2022 survey, 50% of respondents said they plan to increase the number of cloud providers they use in the next two years.6
34. In a 2022 survey, 29% of respondents indicated that they would change at least one of their cloud providers in the coming two years.6
Top Challenges for SaaS Businesses
SaaS businesses face significant and often shifting challenges, like—most recently—the unpredictable nature of venture capital funding. Company and user security, workforce management and revenue planning are also core challenge areas for SaaS companies.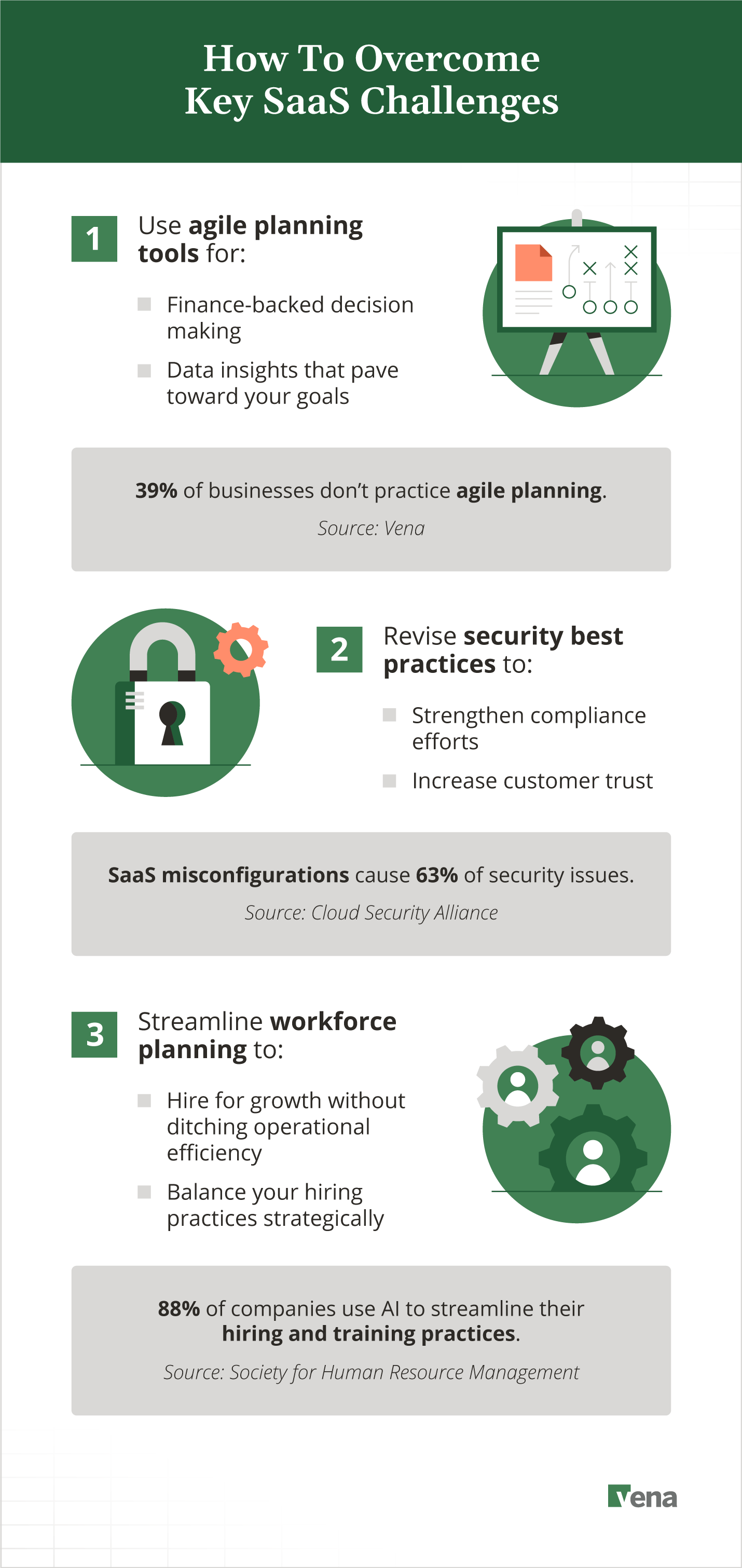 Let's break down some of these challenges in detail.

Revenue Planning
With costs and economic projections constantly changing, companies face steep challenges in planning revenue allotment for the future.

SaaS predominantly works on recurring revenue, making it easier to predict revenue in the short term. However, challenges appear with the uncertainty of whether customers will renew their contracts.

Let's review some important statistics surrounding SaaS revenue planning.

35. Venture capital funding to tech companies saw a 53% decrease from the first quarter of 2022 to 2023.17
36. Financial data is more than 3x more influential than customer data in influencing decision making among businesses surveyed, which included SaaS companies.4
37. Sales data only has half the influence of financial data in decision making according to businesses that Vena surveyed, of which 13% were SaaS firms.4
38. In a 2022 survey of business leaders and finance professionals across industries including SaaS, 39% said their businesses don't practice agile planning to prepare for the future.4
39. 41% of respondents, including those from SaaS businesses and firms in other industries, said they weren't drawing on organizational data to influence decision-making, and even more disregarded sales, employee, and customer data for the same purposes.4
40. 55% of survey respondents, including SaaS businesses as well as other companies, said their organizations aren't using scenario modeling before making forecasting adjustments.4
41. 60% of respondents noted that finance decision-makers don't have a seat at the table for strategic planning discussions, and only 28% said they have the final say in those decisions.4
42. The median spend of ARR on research and development costs is 22%, the highest revenue spending.9
43. Median costs as a portion of ARR other than R&D include selling (16%), administration (15%), customer success and support (11%), and marketing (10%).9
44. Equity-backed SaaS companies, on average, spend 70% more on administrative costs, 61% more on research and development, and 44% more on marketing than bootstrapped ones.9

As SaaS companies navigate a tough market, it becomes all the more important for them to improve the efficiency of their budgeting and forecasting efforts so they may can respond to market changes in a more agile way.

"When SaaS leaders are budgeting they must take into consideration how sticky inflation will be in North America, as it has a deep impact on their business efforts," says Felipe.

To generate insights more effectively, SaaS finance teams should:


Use agile planning tools. Almost 40% of businesses don't practice any kind of agile planning, which leaves them vulnerable to fickle changes in the rapidly shifting business landscape. Agile planning helps businesses forecast more frequently and employ scenario modeling to shape forecast adjustments.
Put their data to use. Many companies don't use the full scope of data they have available. The more data you use to paint a picture, the more detailed that picture becomes—meaning you have a clearer idea of what to project for all stakeholders involved.
Claim a seat at the decision-making table. It's crucial for SaaS companies to give teams like sales, marketing, and customer success clear visibility into key metrics like pipeline, recurring revenue, and churn to help them understand what's happening in the business. Making financial data available across the business and giving finance teams the opportunity to lead conversations about that data can help to spotlight trouble areas as well as opportunities.

Security
SaaS companies manage sensitive data in almost every application. This makes them targets for nefarious actors who want to damage or steal that information.

A lack of knowledge and resources among customers can lead to software misconfigurations that cause vulnerabilities. Those vulnerabilities can lead to potential reputational damage for SaaS firms stemming from mishandled security incidents.

Here are the top SaaS security statistics shaping how companies think about data safety.

45. SaaS misconfigurations cause as many as 63% of organizational security problems.18
46. 43% of organizations surveyed can tie at least one security issue to a SaaS misconfiguration.18
47. According to 35% of companies who responded, the main issue with SaaS misconfigurations is too many parties with credentials to change SaaS security settings.18
48. 46% of organizations surveyed only have the bandwidth for monthly or more infrequent checks for SaaS misconfigurations, and 5% never check for them.17
49. In the last year, 43% of IT professionals surveyed implemented a SaaS app that stores sensitive information.5
50. 42% of IT professionals surveyed have trouble securing SaaS user activities.5
51. In a 2022 survey, 59% of respondents reported that offboarding employees was a top SaaS concern.16
52. Insider threats where former employees still have access to SaaS apps account for 22% of security problems.19


SaaS companies should consider the following priorities to mitigate security incidents and preserve their reputation:


Strengthen compliance efforts. Since the adoption of new SaaS applications involves third-party integrations, you risk exposing your business to new compliance complications with each new partner. Strict compliance blocks you from many security and legal complications while showing your customers that you mean business.
Communicate with your customer base. Customers will want to know the reasoning behind your security upgrades, as well as any effects they may have on the customer's day-to-day. Let your customer base know why they can feel confident about the tools they're using.
Upgrade authentication measures. IT and security teams should monitor their access and password policies to protect user identity, as well as how many users have access to certain info. If the info is irrelevant to a certain department, that department probably doesn't need access.
Workforce Planning
Staffing is one of the largest spend areas for SaaS companies. Companies worry about hiring the right balance of employees as well as straddling the line between hiring for growth and prioritizing operational efficiencies.

SaaS companies that favored explosive hiring in 2021 are now feeling the brunt of the economic slowdown, to the tune of more than 93,000 tech layoffs in 2022, and the 150,000 layoffs and counting so far in 2023.

"For the longest time, SaaS organizations were overlooking the efficiency of their sales unit. In an effort to continue to grow at high double-digit figures, they were adding headcount to their teams," says Felipe. "Now, with the industry slowing down, the importance of workforce planning and revenue planning has become essential. It is not enough to grow, it has to be done at a reasonable cost."

To manage their workforce with efficiency in mind, SaaS companies should consider the following:


Don't risk efficiency for the sake of growth. Instead, focus on both — SaaS businesses need to know how to manage hiring for growth while prioritizing operational efficiency. Unified data via connected systems (such as your ERP or GL and HRIS) helps paint a more complete picture for both efficient and effective growth planning.
Balance your hiring needs. The balance between hiring strategic and operations-focused employees is an important one to strike. Too many strategic focused employees and you risk falling beind in critical areas like product innovation. Meanwhile, too many operations-focused employees may signal you're not operating efficiently and are solving problems by adding headcount.
Be creative with training protocols. If your company operates globally, you might encounter cultural or language barriers that make work difficult for employees who don't understand them. Focus on hiring people with the skills you need, then train them for the skills you want.
FAQs
These are some of the most frequently asked questions about the SaaS industry, current trends, and benchmarks.
Is the SaaS market oversaturated?
The SaaS market is competitive, but with a projected 14% CAGR through 20301, it is not oversaturated. Over the next decade, there will be rapid growth across the global industry, particularly in Asia Pacific.
What's the fastest-growing segment of SaaS?
The SaaS supply chain segment is expected to grow rapidly1 in the next decade. This is thanks to the integration of SaaS with emerging technologies like artificial intelligence and robotic process automation (RPA) that help realize inventory levels in real-time and make realistic demand and delivery forecasts.
Prepare Your SaaS Company for Anything With Better Financial Planning and Reporting
Even in a down market, SaaS companies can thrive—especially if they take this opportunity to renew their focus on operational efficiency. After all, many of the tech giants we know today such as Microsoft, Slack and Square were established during a recession.

To react with appropriate speed and purpose to changing market conditions, SaaS finance teams will want to keep a close watch on their expenses and gross margins. We're a SaaS company ourselves so we know just how important it is to be able to accurately forecast revenue streams and SaaS churn rates, report on key metrics and move with agility.

Learn more about how Vena supports SaaS companies with Intelligent Planning software that helps them manage revenue planning, budgeting and forecasting and reporting and analytics—all within the Excel interface finance knows and loves.


Sources
1. Grand View Research (2023). Software As A Service (SaaS) Market Size, Share & Trends Analysis Report By Component, By Deployment, By Enterprise-size, By Application (CRM, ERP, Content), By Industry (BFSI, Retail, Healthcare), And Segment Forecasts, 2023 - 2030. Retrieved from https://www.grandviewresearch.com/industry-analysis/saas-market-report
2. Fortune Business Insights (2023). Software as a Service (SaaS) Market Size, Share & COVID-19 Impact Analysis, By Deployment Type (Public, Private, and Hybrid), By Application (Customer Relationship Management (CRM), Enterprise Resource Planning (ERP), Content, Collaboration & Communication, BI & Analytics, Human Capital Management, and Others), By Enterprise Type (Large Enterprises and SMEs), By Industry (IT & Telecom, BFSI, Retail & Consumer Goods, Healthcare, Education, Manufacturing, and Others), and Regional Forecast, 2023-2030. Retrieved from https://www.fortunebusinessinsights.com/software-as-a-service-saas-market-102222
3. Yahoo Finance. Salesforce, Inc. (CRM). Retrieved from https://finance.yahoo.com/quote/CRM/
4. Vena Solutions (2022). The State of Strategic Finance. Retrieved from https://www.venasolutions.com/resources/state-of-strategic-finance-2022
5. BetterCloud (2023). The 2023 State of SaaSOps Report. Retrieved from https://www.bettercloud.com/monitor/the-2023-state-of-saasops-report/
6. Microsoft (2022). Hybrid & Multicloud Perceptions Survey. Retrieved from https://blogs.microsoft.com/wp-content/uploads/prod/2022/01/Microsoft-Cloud-Survey-Results-Final.pdf
7. SaaS Capital (2023). 2023 Private SaaS Company Valuations. Retrieved from https://www.saas-capital.com/blog-posts/private-saas-company-valuations-multiples/
8. SaaS Capital (2022). 2022 Revenue Per Employee Benchmarks for Private SaaS Companies. Retrieved from https://www.saas-capital.com/blog-posts/revenue-per-employee-benchmarks-for-private-saas-companies/
9. SaaS Capital (2022). 2022 Spending Benchmarks for Private B2B SaaS Companies. Retrieved from https://www.saas-capital.com/blog-posts/spending-benchmarks-for-private-b2b-saas-companies/
10. SaaStr (2021). The Average Public SaaS Company has 35,000 Customers. Retrieved from https://www.saastr.com/the-average-public-saas-company-has-customers/
11. Gartner (2022). Gartner Forecasts Worldwide Public Cloud End-User Spending to Reach Nearly $500 Billion in 2022. Retrieved from https://www.gartner.com/en/newsroom/press-releases/2022-04-19-gartner-forecasts-worldwide-public-cloud-end-user-spending-to-reach-nearly-500-billion-in-2022
12. OpenView (2021). Pricing Insights from 2,200 SaaS Companies. Retrieved from https://openviewpartners.com/blog/saas-pricing-insights/
13. Latka (2022). Top Private SaaS Companies Valued at Over $1B. Retrieved from https://getlatka.com/report/top-private-saas-companies-valued-at-over-1b
14. Statista (2023). Average revenue per employee of professional services within software as a service (SaaS) companies worldwide from 2015 to 2021. Retrieved from https://www.statista.com/statistics/936949/saas-professional-services-worldwide-revenue-per-employee/
15. Recurly (n.d.). What is a good churn rate? Retrieved from https://recurly.com/research/churn-rate-benchmarks/
16. Torii (2021). The State of SaaS Visibility and Impact Report. Retrieved from https://www.toriihq.com/visibility-and-impact-report
17. Crunchbase (2023). Global VC Funding Falls Dramatically Across All Stages In Rocky Q1, Despite Massive OpenAI And Stripe Deals. Retrieved from https://news.crunchbase.com/venture/global-vc-funding-falls-q1-2023/
18. Cloud Security Alliance (2022). SaaS Security and Misconfigurations Report. Retrieved from https://cloudsecurityalliance.org/artifacts/saas-security-and-misconfigurations-report/
19. Security Boulevard (2022). SaaS Security in the Great Resignation. Retrieved from https://securityboulevard.com/2022/06/saas-security-in-the-great-resignation/