Sales and Operations Planning (S&OP) is an integrated planning processes that coordinates supply, demand and financial planning of an organization. S&OP supports executive decisions regarding the approval of viable and profitable material and financial plans.
S&OP uses global aggregate demand as a starting point and compares this projected demand with the supply of available resources, such as machinery, labor and the capacity of materials. The analysis and trade-offs presented in sales and operation plans enable management to understand and make like-minded decisions about what actions the company should pursue.
💡Key Takeaways:
S&OP is part of both tactical and strategic business planning. Tactically, S&OP creates operational plans approved by senior executives and strategically uses insights to make business decisions.
The key difference between S&OP and IBP is that IBP begins at the executive management level and encourages the company to think of the company overall rather than optimizing specific operations, such as S&OP.
The role of finance in S&OP includes avoiding common S&OP challenges, keeping up with technology trends and facilitating the integration of AI and machine learning to simplify processes through automation.
Old S&OP processes take weeks and advancements in FP&A technology mean S&OP planners must carefully consider how to streamline processes within their organizations using these advancements.
Tactical and Strategic Advantages of S&OP
S&OP is part of both tactical and strategic business planning. Tactically, the S&OP process creates production plans approved by senior executives and used to develop master schedules and material requirements plans (MRPs).
Strategically, insights into how demand will change in a particular region or product line may indicate the need to increase (or decrease) operational capacity and labor force. It will also provide data for business decisions, such as supplier management and cash or asset allocation, to name a few.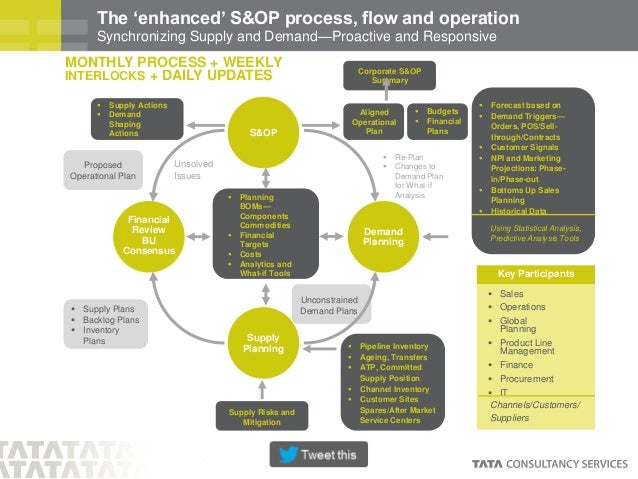 Source: RecipeNomad
S&OP vs. IBP
Synonymous solutions with often slightly different processes have emerged over the years. Integrated Business Planning (IBP) and connected planning are two examples.
Source: YouTube

The key difference between S&OP and IBP is that the latter begins at the executive management level while any level of management can initiate S&OP. IBP encourages the company to think in terms of the company's overall health and well-being rather than optimizing specific operations, such as S&OP.
The S&OP process considers a planning horizon of 18 to 36 months, considering short-term weekly plans, medium-term monthly plans and sometimes annual plans beyond one year from the planning date. IBP provides monthly visibility for measuring the organization's progress against business strategies and objectives in the long term, meaning greater than 36 months.
The Role of Finance in Sales and Operations Planning
Finance teams integrate forecasts into their S&OP processes to improve business decision making. Here's how CFOs use insights from S&OP to improve operations at their organizations:
Avoiding S&OP Challenges
S&OP is an enterprise-wide process conducted regularly with participants from finance, marketing, sales, operations and other applicable teams. The main challenges to avoid in S&OP are:
Developing recurring reports to support decision making.
Preparing analysis to recognize changes in supply or demand that require management approval.
Developing a concise presentation of the decision criterium on the decision's impact on KPIs, such as supply chain costs, customer service and revenue
Planning for new product introductions or product closeout due to merger and acquisition (M&A).
Converting large data sets from various systems into actionable, decision-support data for accurate reporting.
Improving Resource Management
Most companies use enterprise resource planning (ERP) software to improve their resource and material planning. (You can configure ERP software to plan and manage specific operational challenges.) Nevertheless, some managers continue to use spreadsheets for S&OP partly due to the extensive availability of software for spreadsheets.
Unfortunately, spreadsheet technology does not take advantage of modern advancements such as artificial intelligence (AI), and there are limits to the amount of data it can handle. Additionally, using spreadsheets alone can pose data security risks.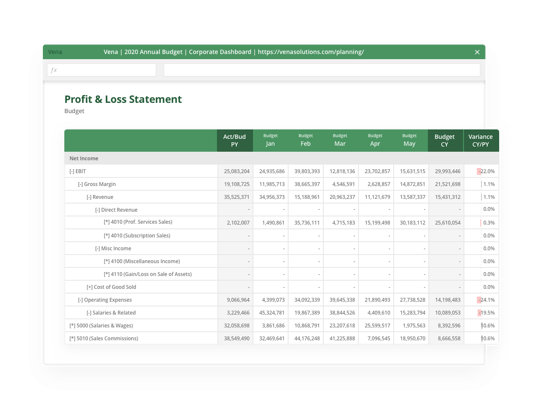 Source: Vena

S&OP, Machine Learning (ML) and AI
Organizations use AI and machine learning (ML) technology more today than they used to and with greater success for S&OP decisions. Several spreadsheet-based applications use IoT technology to improve the outcomes of S&OP.
For example, IT teams could use IoT in predictive maintenance. They could also use these programs to provide executive management with insights to ensure operational continuity.
The Evolution of S&OP Processes
Manual S&OP processes take nearly a month to collect, analyze, merge and report on the data needed for a company's S&OP decisions. Fortunately, with automation tools, businesses can now make smarter forecasts and better decisions within hours.
These advancements mean that S&OP planners must carefully consider how systems work within their organizations and when to move to automated S&OP process solutions. We recommend looking for answers to questions such as:
When and how should the finance team partner with IT?
What business cases support this investment?
Should you seek outside expertise for process design and best practices?
Who are the industry leaders in S&OP?
Achieve Your Long-Term Revenue Goals with Vena's S&OP Tools
For proper S&OP, you must drive team consensus to synchronize finance and material planning objectives, assess scenarios and determine optimal sales and operations plans.
With Vena's Sales and Operations Planning Solutions, you can identify and solve S&OP concerns with a guided approach and leverage tools to gain insights.
Most people are familiar with Excel and feel more comfortable using it, however,
Excel alone does not support a holistic approach to S&OP. Manually entering and processing data in Excel could take weeks (or longer).

With Vena, we deliver a native Excel platform with powerful tools to automate processes and simplify S&OP.