As companies pursue strategies for digital transformation in finance, CFOs are the key drivers of this digitalization. Digital technologies will transform every sector by 2026 and will continue to impact the future of finance. As a result, CFOs need progressive solutions to ease the transition.
According to a Garner study of over 2,150 professionals, 69% of business leaders say digitalization projects are increasing. As more organizations adopt digitalization measures, we expect these numbers to continue to grow.
This means CFOs will be called upon to work closely with IT departments as companies progress with their digital transformations. With this in mind, here's what CFOs need to know in order to drive digital transformation within their organization.
💡
Key Takeaways:
There are several key benefits to making the digital transformation. The most prevalent include streamlined processes, better decision making, lower risks, fewer errors and higher ROI.
Roughly 93% of finance experts agree that digitalization must result in readily available data that remains centralized in the finance structure and is the default finance function.
Upgrading internal systems and avoiding data silos from legacy platforms will help financial firms overcome roadblocks to growth by providing real-time data for analysis.
Modernization of a financial firm's FinOp tools enables scalability. This scalability is essential for accounting professionals, like CPAs, due to the seasonal nature of their work.
Key Benefits of Making the Digital Transformation
To comprehend the true benefits, we must first understand what digital transformation is exactly and its impact on the financial industry.
In the video below, CEO of Third Stage Consulting, Eric Kimberling, explains what digitalization means and discusses the origins of this corporate buzzword.
According to Kimberling, digital transformation merely means the "use of technology to improve business processes." That includes anything from enterprise resource planning software (ERP) and digital experience platforms (DXPs) to cloud-based data storage solutions.
These software programs and platforms simplify the day-to-day tasks of employees and the daily operations of corporations. Here are the leading advantages of digitalization in the financial industry:
Streamlined accounting and compliance
Better planning and forecasting
Enhanced decision making
Decreased risk and higher returns
Lower costs and fewer errors
4 Ways CFOs Are Driving Digital Transformation in Finance
Roughly 93% of finance experts agree that digitalization must result in readily available data that remains centralized in the finance structure and is the default finance function.
Unfortunately, past digital transformation in finance has been unsuccessful. Approximately 39% of industry leaders state that prior efforts failed to deliver the expected benefits, and only 36% report tangible advantages to their organization.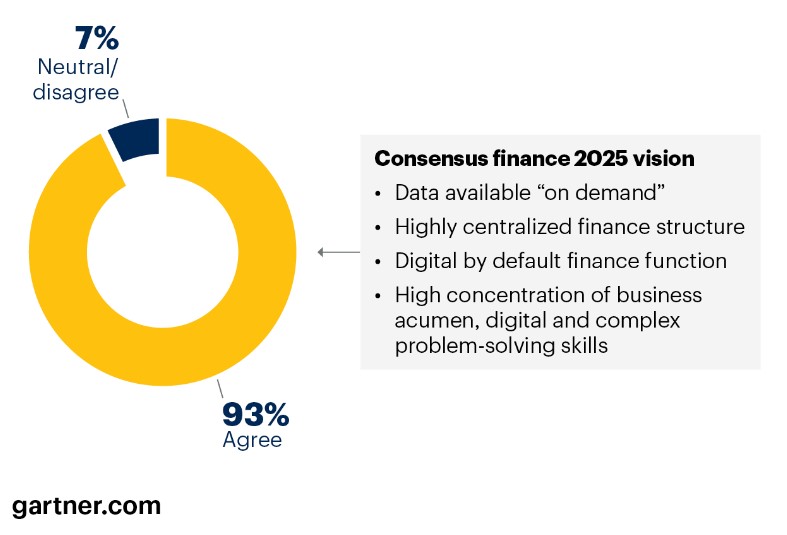 Source: Gartner
To improve the success of digitalization and automation, CFOs must commit to initiatives that will deliver the value necessary to make the transition feasible.
Here are four ways CFOs can drive a successful digital transformation within their organization:
1. Upgrading Internally Built Systems
CFOs must advocate for digital upgrades throughout the organization. That includes the company's IT tech stack, computer systems and on-prem servers, especially those that use legacy platforms.
In-house technologies, such as CRMs, CMSs, accounting solutions and billing platforms, took an initial investment to improve internal processes. Without proper maintenance and regular upgrades, these resources become sources of revenue loss, data silos and human errors.
SaaS solutions and cloud-based storage services offer flexibility and increased security, and these products publish regular updates to their software. This ensures your finance firm's digitalization platforms remain up to date.
2. Avoiding Data Silos
Legacy systems are not the only solutions that can create data silos. Organizations that use multiple digitalization programs must ensure that these systems automatically sync data.
For instance, if multiple users input information into your firm's CRM, this data must sync with your CMS, client portal, ERP, etc. That way, duplicate information does not clog the system.
Data silos create mountains of inaccurate data, creating roadblocks. Digitalization will help financial firms overcome these roadblocks to growth by eliminating data silos and providing better planning and forecasting with real-time data for analysis.
3. Optimizing Finance Operations
Financial professionals perform a vast array of duties throughout their day. Digitalization enables the automation of tedious financial tasks to optimize operations. These solutions offer new technologies such as:
Automated billing software
Expense management tools
FP&A software
AI-powered client portals
And more
It's essential to understand what financial organizations can automate and how difficult adaptation would be. The chart below from McKinsey breaks down each task based on whether adoption is possible using digitalization technologies.
Source: McKinsey & Company

McKinsey Global Institution's automation research discovered that financial firms can automate approximately 42% of its finance activities and mostly automate another 19%. Keep in mind how this automation potential improves performance.
4. Supporting Business Scalability
Modernization of a financial firm's FinOp tools enables scalability. This scalability is essential for specific sectors of finance, such as those in accounting (i.e., CPAs). This is due to the seasonal nature of their work.
Furthermore, a digital transformation in finance allows businesses to scale up or down as needed according to budget. CFOs of small to medium businesses can recommend additions to the company's tech stack that will work for them no matter how many employees work for the organization.
Tools To Accelerate Digitalization in Finance
A digital transformation in finance is not something your company can tackle overnight. Full integration into your organization's tech stack can take a year (or even longer), and wise CFOs understand that digitalization is an ongoing process.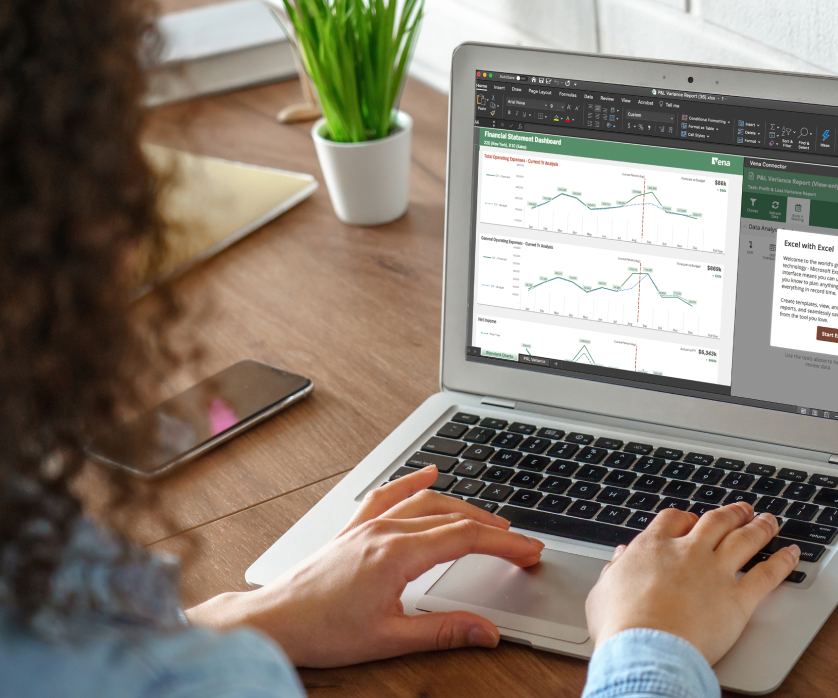 Ready to start driving digital transformation?
Vena's award-winning Complete Planning platform
provides CFOs with the tools required to accelerate digitalization. We offer a solution powered by Excel, simplifying integration and adaptation to bring data from your legacy systems to your centralized database, giving you the power of unified data.