Context helps drive change. It also helps make sense of it.
And context was exactly what Vena was looking for when we surveyed 350 business leaders and finance and operations professionals from across industries and around the globe. Reaching out as the first half of 2020 was coming to an end, we wanted to see how organizations were navigating through these changing times—and the people, processes and tools being drawn on to do so.
With that in mind, we surveyed C-suite executives, VPs, directors, managers and individual contributors. We asked questions around organizational culture, processes for agile finance-led business planning as well as technology and data to see what role each plays in helping businesses move forward through this rapidly fluctuating landscape. In doing so, we got the context we were looking for—and built a foundation for Vena's first-ever industry benchmark report.
To see how you compare to others working through similar challenges and opportunities, read The Vena Q2-2020 Industry Benchmark Report today. It's filled with eye-opening findings into agile finance-led business planning and how organizations are navigating change, with surprising key insights—including the three below.
1. Most Organizations Don't Have an Early Warning System in Place

Through weekly and monthly operational and financial reviews, with an eye on trailing and leading indicators across the business, financial professionals can put an early warning system in place and get in front of change.
In doing so, business plans can be adjusted early and teams can pivot when necessary, to stay ahead of the curve—evaluating and measuring market and business risks and taking steps preemptively to minimize the effects of change. Yet 56% of the businesses we surveyed don't have any such system in place.
An early warning system allows finance teams to stay on top of changes as they happen rather than forcing them to wait until those changes have already progressed. And it's beneficial not just in times of crisis. It also helps ensure organizations don't go too far down the wrong path even when the market itself is stable.
2. More Than Half of Businesses Aren't Operating Within an Agile Planning Process
Processes such as scenario modeling, cash flow management and agile forecasting all play a part in giving finance teams the information and insights needed to navigate change and plan for today and tomorrow. Together they help create an agile planning process that lets finance teams revise financial and operational plans quickly and confidently as well as change paths when those plans turn out to be wrong or no longer suited to the market around them. Still, only 48% of companies surveyed have an agile planning process in place.
Scenario modeling itself was more popular, though, with 60% using scenario modeling before making forecasting adjustments. But that means 40% aren't—perhaps leaving those organizations with no way to see what's coming up ahead.

3. Disparate and Disconnected Data Sources Are a Key Challenge
The right data foundation is integral to modern financial and business planning—whether in normal times or times of change. A combination of financial and non-financial data can build a base for change and drive innovation. Investment in data is also a critical first step to accessing the insights needed for data-driven storytelling and for creating a foundation of technology solutions that will help finance teams lead the way today and into the future.
But none of that is possible if data can't be accessed and aggregated in a way that makes it useful. This was the case for most organizations we surveyed, with 57% naming disparate and disconnected data as a key data challenge.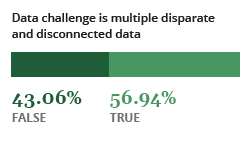 In fact, data posed as a challenge in many different ways. The professionals we surveyed also identified issues with too much data and with wrangling data. Improving data-driven capabilities was a key factor as well, with many respondents naming investments in business intelligence tools and regularly sharing KPIs as important.
More Context, More Answers
Data isn't the only challenge organizations are facing today. In the report, discover what was named as the greatest challenge to current integrated planning processes—people and culture, process or technology. Find out where companies stand in adopting artificial intelligence and how remote work is fitting into organizational culture moving forward.
Consider, as well, the four key recommendations our team of experts gleaned from the results, to help organizations use agile finance-led business planning to prepare for and navigate through times of change.
Get the full context. Read The Vena Q2-2020 Industry Benchmark Report today.