As we all continue to navigate today's ever-changing business environment, finance teams everywhere are doubling down on scenario analysis. Now more than ever, addressing those "what-if" questions and preparing your business in advance for any number of potential scenarios is one of your finance team's biggest priorities. After all, as this Deloitte report points out, "Stakeholder expectations for information and insights will increase dramatically" by 2025. Monthly or quarterly forecasting cycles just won't be enough for finance teams because you'll need to know immediately how today's business decisions will impact tomorrow. "Finance goes real time," the report proclaims—and that's why what-if analysis is so important to embrace.
Agile scenario modeling is easier said than done, though, especially if you're wrestling with spreadsheets and aggregating data from multiple source systems. Vena's Complete Planning platform makes scenario modeling simple by integrating all your data sources into one central planning hub—and now it's even easier to adjust your data models in response to change.
Our Spring '21 Product Release features a refreshed Modeler UI, which includes several usability improvements and tweaks to the modeler's look and feel. Read on to discover how Vena's New Modeler can help you perform quick, thorough and reliable what-if analysis—and ultimately give you the confidence to prepare your business for anything.
A Simplified Layout for Managing Multiple Data Models
Modeler Landing Page
The most obvious difference between the old modeler and the new one is a simpler, more user-friendly interface. We've added a new landing page where you can view all of your models in list format, instead of having to select them from a crowded drop-down menu. This makes it easy to switch quickly between the models you're working on and to add new data models when your business requirements change.
New Modeler Landing Page

Redesigned Members Page
Once you've selected a data model to work on, the redesigned Members layout displays all your modeling dimensions across the top of the page. This can help you determine which specific dimensions (account, entity, product line, etc.) are contributing to the results in your data model. You can also move quickly between dimensions and add members, remove members or edit your member hierarchy on demand. This would be particularly useful if you're gauging the profitability of a new warehouse, for example, or if your company is restructuring and you need to merge multiple business units.
New Members Page

You'll Have More Control Over Your Models With Bulk Member Movements, Saved Versioning, Data Previews and Revisions Tracking
Responding to change quickly and tweaking your models on the fly is a crucial piece of the puzzle when you're analyzing potential business scenarios. That's why Vena's New Modeler was wired for "self-service" flexibility and speed—because your finance team needs the freedom to assess your business decisions from every angle.
Bulk Member Movements
In Vena's old modeling environment, moving individual data points within your dimensions had to be done one by one. But today, with the new Bulk Member Movement feature, you can move multiple members at once and restructure your data models instantly. This is especially helpful if you have new data points coming in through an ERP integration—or if you want to start experimenting with a new organizational structure and roll-up reporting hierarchy.
New Bulk Member Movement Feature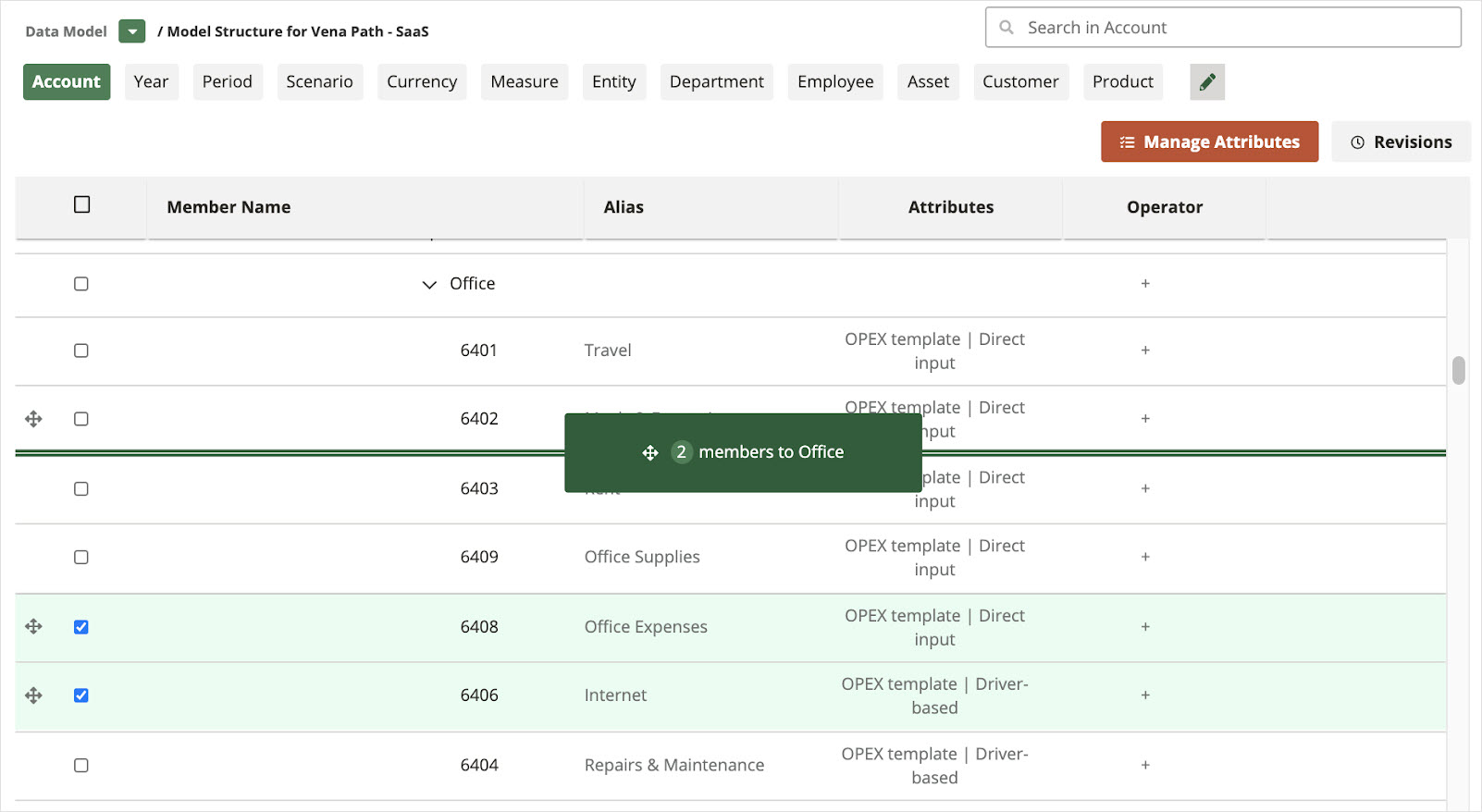 Saved Versioning
Vena's advanced versioning tool is the backbone of our scenario modeling functionality. With the New Modeler experience, we've updated the versioning tool with two major enhancements: 1) A save button and 2) a much simpler interface for selecting the dimensions to include in your analysis.
Let's say, for example, that you want to use this year's actuals as the starting point for next year's budget model—and then experiment with three different spending scenarios to chart the best path forward for your business. Instead of creating those three different budget scenarios from scratch, you could just copy your budget automatically into three versions with different names before adjusting the inputs and dimension filters. You wouldn't even have to run the scenarios in order to save them to the Vena database, which makes it easier to stay organized and keep track of your potential outcomes.
New Saved Versioning Tool
Improved Data Preview Window
In Vena's world, data points that are defined by multiple dimensions in your data model are called "intersections." Our modeler has always allowed you to preview your data before versioning scenarios, but the New Modeler experience has made the preview window a lot cleaner. Now you'll see an organized table that returns more detailed results—ultimately making it simple to ensure your data model is properly configured.
New Data Preview Window
Detailed Revisions Tracking
Much like the versioning tool, Vena's audit trail functionality is an essential aspect of our Modeler. In order to make sure your scenarios are always reliable and accurate, you need to be able to track when your teammates go in and make changes. That way, as an administrator, you'll be able to vet those revisions yourself before sharing your data models with decisions makers. It'll also help you weed out mistakes and maintain 100% confidence in your numbers—even as your what-if analysis efforts get more complicated as your business evolves.
The old modeler featured a drop down menu where revisions were listed in order. We've replaced that with a detailed table view so you can see exactly what was changed in your data model, when the change was applied, and by whom.
New Revisions Tracking Window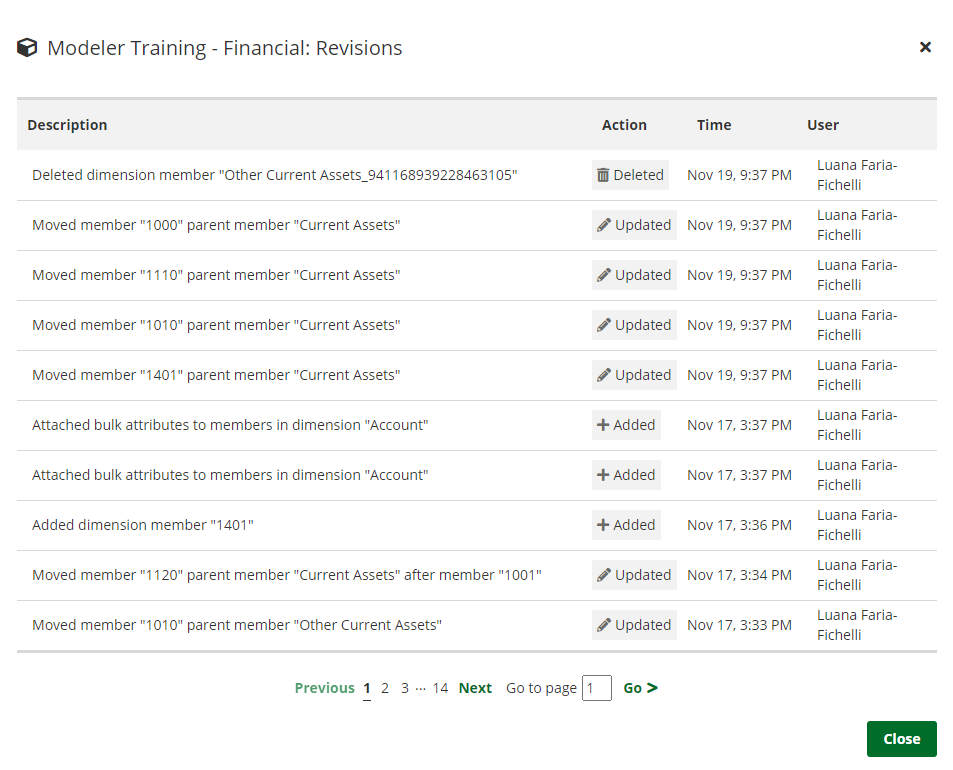 Easier Attribute Management for More Clearly Defined Dimensions
Categorizing the various members in your dimensional hierarchy with attributes (such as currency, product categories, reporting package, etc.) will help keep your data models clean. With Vena's New Modeler, you don't have to look very far to identify relationships between data points—because instead of forcing you to manage all your attributes from a separate tab, you can now add, remove, edit and search for attributes from the Members Page. Attribute filters will also help you build alternate views of your data model so you can uncover hidden insights when testing assumptions and modeling scenarios.
New Attribute Management Experience

See Vena's New Modeler in Action
As of April 13th, 2021, current Vena customers can enable the New Modeler from their Vena tenant. You can also click the link below for an interactive walkthrough of the new functionality.
It's important to keep in mind that no matter where you are on your finance team's growth journey, the need for agile scenario analysis is only going to increase. Finding the right solutions to make the job easier is crucial—because you can't make decisions today without assessing their impact on tomorrow.