According to survey data from the Association for Financial Professionals, only 57% of FP&A teams use business intelligence tools today. The same survey also revealed that data management and predictive analytics are seen as the two most important skills FP&A professionals need—indicating a gap between how finance teams think they should be doing things versus what they're actually doing.
To fill that gap and serve as strategic partners to the business, finance pros need to be effective storytellers who can quickly communicate important trends and insights to key decision makers. That's why Vena recently launched its Power BI Connector—a feature finance teams can use to supplement their core FP&A processes with world-class business intelligence and visual data analytics.
Vena's Power BI Connector adds a whole new dimension of flexible, interactive reporting to the Vena platform. Users can bring their key metrics to life with visually-striking graphs, charts and live performance dashboards.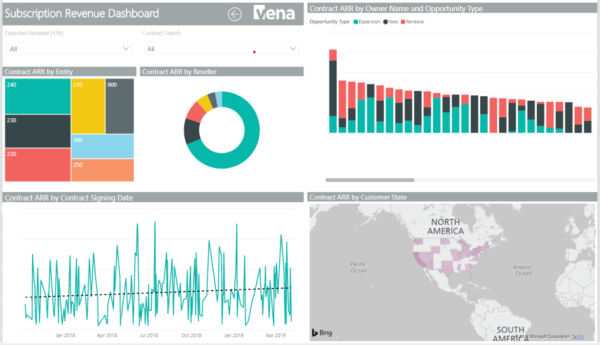 The new feature gives finance leaders fast access to reliable, easy-to-read summaries of their mission-critical numbers. Now, members of your finance team can load up-to-date financial dashboards on any device at any time, giving themselves instant, at-a-glance access to the insights they need to drive more meaningful collaboration and strategic decision-making throughout your organization.
With the Power BI Connector, technical expertise isn't required—the feature only takes a couple of minutes to set up. It immediately syncs Power BI with the same data sources that users have with Vena, so you can start crafting compelling visual narratives right away with the correct numbers.
Vena's Power BI Connector represents an opportunity for finance leaders to supercharge their visual analytics strategies. It's also scalable across other operational groups and can generate diverse reporting mediums for different stakeholders. Use cases for the feature can extend to other departments such as HR, sales, marketing and more—because finance teams aren't the only ones who rely on data to guide strategic decision-making.