The other day, I saw an event advertised online that I wanted to take part in, but it was an in-person event taking place in a different city. And I thought to myself, how is this an only in-person event? How about everything we learned from the last two years in terms of what we've been able to do with virtual connections? Yes, we're slowly returning to "normal", but it's a new version and we're still defining the parameters.

A lot has changed and the world continues to change, transforming how we work, how we do business, how we live and how we gather. This is our new normal and there are many learnings from the last couple of years we should really consider carrying forward in all aspects of our personal, professional and business lives, especially when it comes to removing the in-person and physical requirements as we look to redefine what gathering means online.

Don't get me wrong. I've missed in-person connections too. But instead of returning to them as the only option, can we think of new ways to accommodate learning, growing and connecting for everyone, regardless of where you are in time and space? But what's more, how can we continue to deliver a sense of togetherness and community in a virtual world because as the last few years have shown us, it's not only possible, it's what some of us need now, tomorrow or indefinitely.

These were the kinds of questions we were asking ourselves as we were planning our third annual virtual conference experience. We are all active participants in the ongoing evolution of strategic finance and partnering across the business. Our commitment to enabling FP&A and the entire "office" of Finance, business operations professionals and leaders to grow and thrive hasn't changed. What we're doing now is going beyond our commitment—by creating intentional moments of connection—to enable all of us to grow and thrive together anytime, anywhere, in an increasingly virtual world.
We delivered our first-ever digital conference back in 2020, brought key takeaways into last year's event and are carrying all of our learnings over to present our third annual virtual conference experience from May 9–13 which promises to be better, better never best, based on the feedback you give us. Let's take a quick look back, then, and give you the insider scoop of what you can expect from this year's Excelerate =SUM(it).
Highlights from Vena's Annual Virtual Conference 2021
Last year's Vena Nation week theme was "Strength in Numbers," which was all about
connecting attendees from all over the world to share stories of transformation, resilience, growth and innovation and to discover how to bring people, process, technology and data together to power their Plan to Grow™.

Our exciting lineup of keynote speakers captivated our audiences with their insights, experience and actionable takeaways. They explored Agile Finance, the new world of work, how to build winning teams within a people-first culture and how to master effective data storytelling and workshops.

We had more live and interactive roundtables, a brand new CFO Confidential breakout discussion and delivered the ultimate Excel Nerd experience with Excel legend Purna Duggirala (a.k.a. Chandoo), who is back this year to share best practices in data visualization using Excel charts and graphs. Make sure to check out his workshop, Data Visualization in Excel, on Tuesday, May 10 at 3 PM ET.
We surveyed business leaders and finance operations professionals across 41 different industries and asked them what they took away from 2020, what they'd done in 2021 and what was impeding or supporting their success going forward into 2022. We published our findings in The State of Strategic Finance: Vena Industry Benchmark Report 2021 and you can read all about it in this blog where you can also download the report.
What To Expect From This Year's Excelerate =SUM(it)
When we were putting together our jam-packed agenda and choosing our keynote speakers, we were thinking about how finance, operations and business executives are building teams in our new world of work and how they're also fusing connections and driving collaboration across the organization through a much-needed transformation—every single day.
So, aside from giving you the how-tos through technology, processes, frameworks and the best practices, we also wanted to commit to helping you make smarter, happier and healthier choices when it comes to your personal, professional and business growth.
This year's week-long event is all about excelerating that growth—by leveling up your technical and non-technical skills, all while virtually learning and networking in a virtual environment with a diverse community of professionals.
We also wanted you to know that you asked for more personalized learning and we listened. You provided feedback at last year's event and told us that you wanted us to meet you where you are in your learning journey by offering different levels of training. And that's exactly what we did with our thought leadership, instructor-led training and workshops.
People, processes and technology are always changing, and so are you. You can enjoy general foundational training in Complete Business Planning, Agile Revenue Planning, Excel, Power BI, change management, hiring, building teams and more. For those looking to sharpen your technical skills, you can do so in more advanced workshops. Find out how you can level up your strategic finance skills in these 10 must-attend sessions.

In our product demos, you can view complete planning in action in the Vena platform with our tailored solutions that serve all industries, with specific sessions by industry. For our customers, find out how you can power your personal, professional and business growth that goes beyond Vena's Growth Engine in our Customer Exclusive Excelerators Program.

Earn CPE/CPD credits as you learn and discover more ways to grow and prioritize your personal growth needs, whether that means joining a yoga session with our very own Pam DeMesa, or taking a coffee break with a member of Vena's executive team. Connect 1:1 with your peers or in our smaller forums. Network at scale in our Microsoft networking events where you can connect with Microsoft professionals and executives you might not otherwise meet. Need more reasons to join us? Here are 7 ways to get the most value from our conference.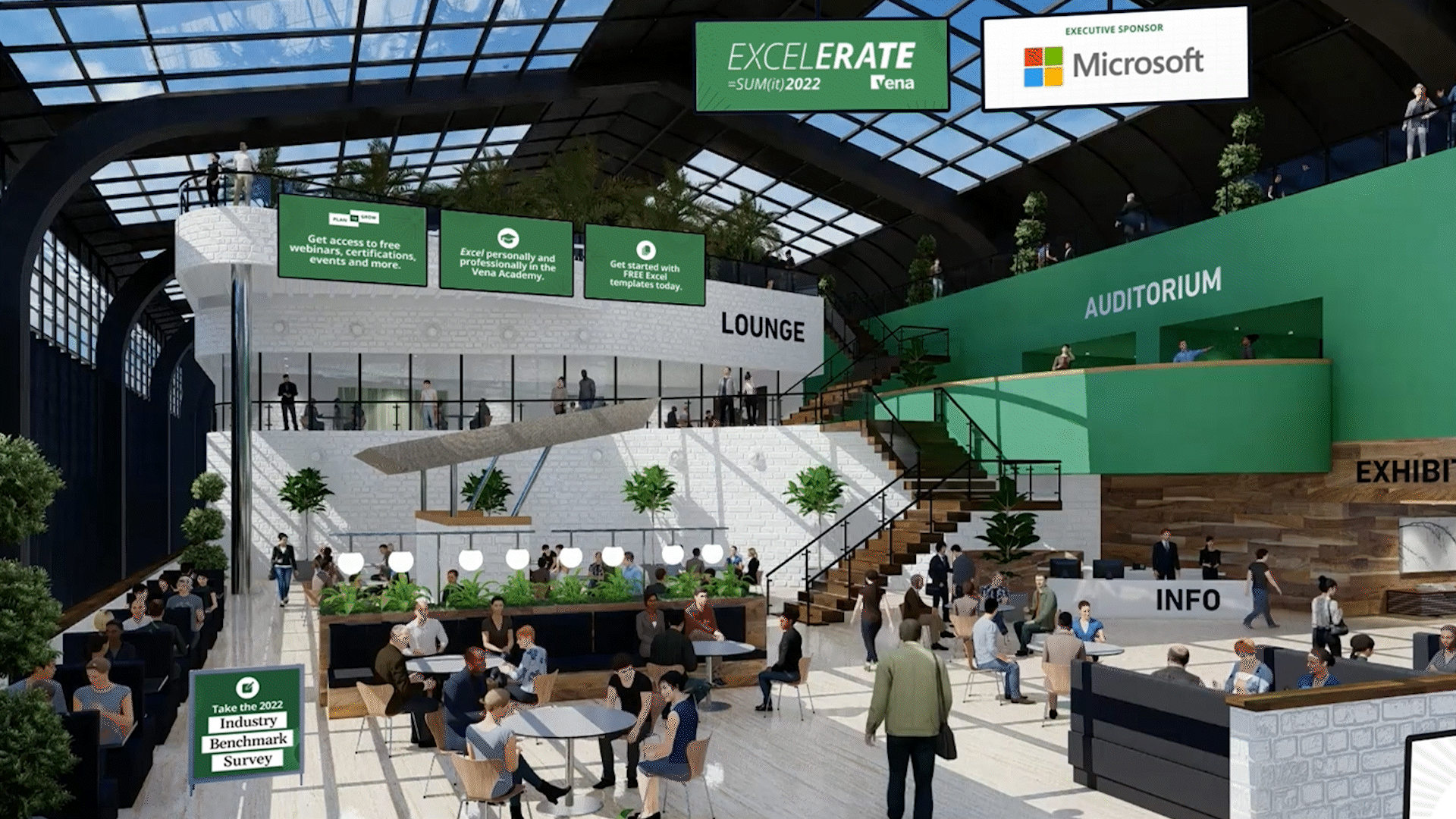 Best of all, all the content will be available for you to stream live throughout the week, or to access on demand after the conference, so we can all continue to learn, connect and grow together—in our own ways and on our own time—regardless of the fact that we're not sharing the same physical walls.

I'm looking forward to the days when hybrid events are the norm, not the exception. And in the years to come, Vena will be building and offering more ways to connect online and in person.
Did you get your free virtual ticket yet? Did you invite your teams to join us too? I'm excited to excelerate with all of you.