We've officially reached the halfway point of Excelerate =SUM(it) 2022 and what a week it's been so far.
Today's all-star lineup of speakers included Strategic Advisor and Bestselling Author Priya Parker, Vena Chief Marketing and Ecosystem Officer Allison Munro, Vena VP of Sales Shaun Jansen, Vena Solutions Consultant Nolan Southfield, Vena VP of Product Andrew Stanbridge, and a panel discussion featuring Venanites, including Senior Manager of FP&A Thomas Krolak, Director of Sales Operations Ruslan Valeev and Director of Marketing Operations Andre Proulx.
Read on for our highlights from day three of Vena's third annual virtual conference.

Missed a session? Register now for Excelerate =SUM(it) 2022 to watch all content live or on demand.
Keynote: The Art of Gathering


Speakers: Priya Parker, Author of The Art of Gathering: How We Meet and Why it Matters; Allison Munro, Chief Marketing and Ecosystem Officer, Vena

On Monday, as we all gathered once again to learn, connect and grow for our annual digital conference experience, Vena CEO Hunter Madeley kicked off Excelerate =SUM(it) with an important message about community: "Our purpose is to excelerate your growth through the power of community."
There's a purpose for gathering, but as Facilitator and Author Priya Parker explained in her keynote today as she was joined by Vena Chief Marketing & Ecosystem Officer Allison Munro for a lively discussion, there's also an "art" to gathering--and it has everything to do with how we meet and why it matters.

So what's a gathering and how is it different from a community? Priya defined a gathering as "anytime three or more people come together for a purpose with a beginning, middle and end." As she explained, people come together for a shared purpose--whether that's to identify with a community or vision. In this respect, gatherings can be seen as a tool and are shaped (think of weddings, funerals, conferences, etc.). It's significant to understand when, why and how communities come together, but it's also just as important to understand how they fall apart or dissolve.
This is something Priya learned early on in life after her parents divorced and she came to understand how conflict resolution worked through the contrasting experience of living with both her parents. And as a facilitator, she helps groups understand not only the "how" of coming together, but the "why" as well.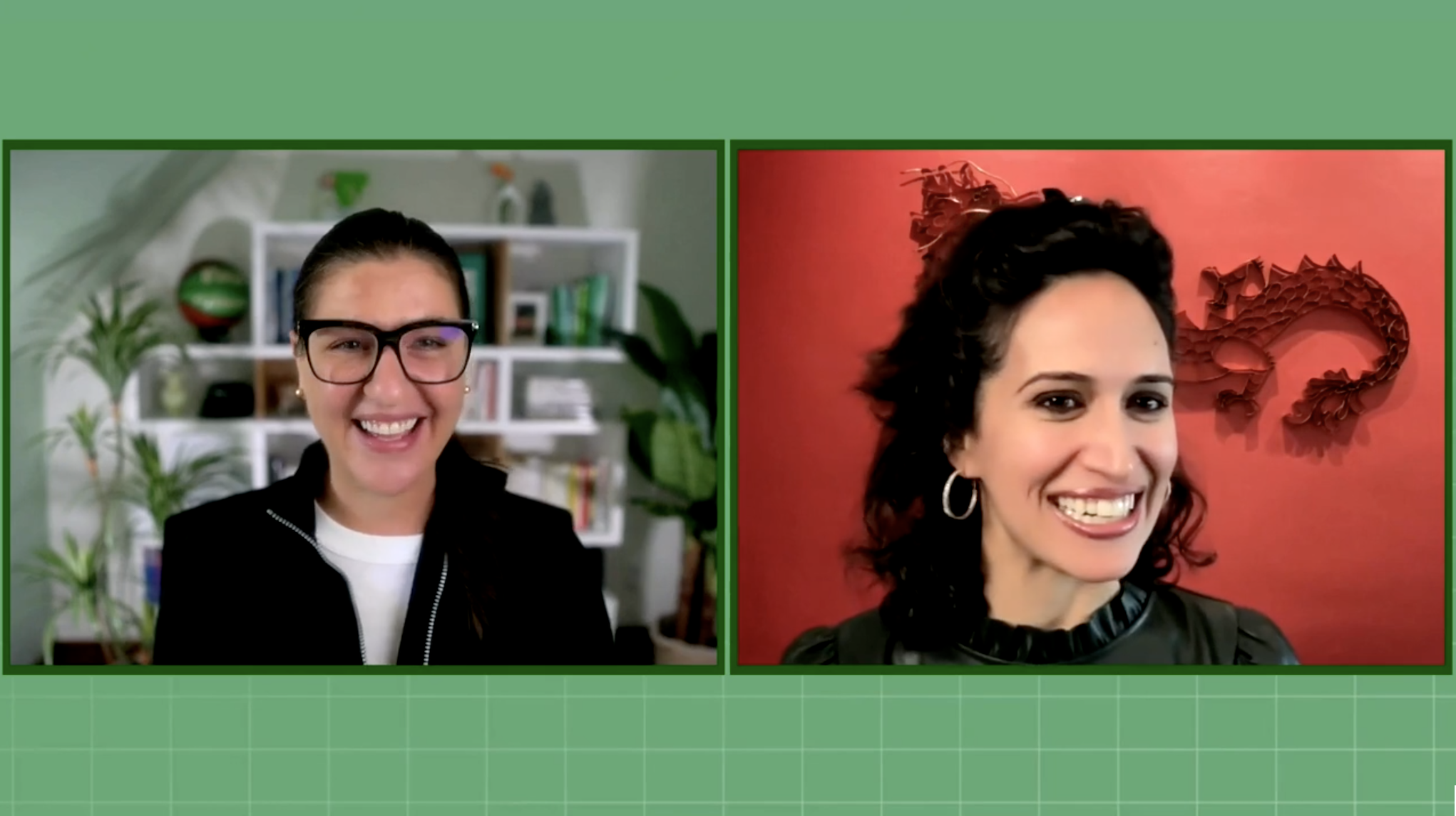 In helping people come together, Priya explains that we should consider:
What it means to "host" well
What it means to "guest" well
Then there's also the structure, journey and start of a gathering to consider:
The structure of a gathering involves:
Getting off autopilot and being intentional about how we gather
Establishing the purpose of why we gather
The journey of a gathering involves:
Assuring a purpose is obvious and shared
Creating moments in the making (What is the need at this moment for the community?)
Identifying the need/purpose of your gathering (Your community wants to come together to help you do something.)
Having your community come around and asking them for help, advice, etc.
Asking questions such as: Should only women be allowed at baby showers?
The start of a gathering involves:
Not starting with logistics
Building a temporary world
Inviting people to come to your gathering (what Priya calls the "cold open")
Addressing why you have all gathered
Then doing logistics
The Art of Gathering in a Virtual World
Priya wrote her book in 2018 and as she helped audiences understand the art of gathering, two years later, the pandemic changed everything. "It helped us see gatherings when we weren't allowed to gather anymore," said Priya. The pandemic changed the way we gathered and the form of gathering. "When we couldn't have the hardware, we went to the software for connecting."

There's still an art to gathering in a virtual world, but as the pandemic taught us, it's made us think differently about how we meet and why it matters. For instance, who we include or exclude matters for different reasons in a virtual environment.
Some of these reasons include:
More isn't necessarily better
Group size matters
When we don't know why we are gathering, we tend to over include
Great conversations happen with six people
Most of us are overbooked, in back-to-back meetings or Zoomed out
Be mindful and give people back some of their time
The art of gathering in a virtual world involves:
Helping people settle and land in the environment
Turning off mute
Connecting your guests
Using the chatbox and starting conversations
Being mindful of purpose and time
Remembering that a gathering is a temporary social contract where everyone has rights, responsibilities, etc.
Being clear about roles and terms (tell people their roles at meetings and provide terms)
Remembering that every gathering is about power
Establishing how decisions are made
Determining collectively the need and purpose of the meeting/gathering
Deciding when and how you meet
Establishing team agreements (people join groups of gathering because they want to grow, be relevant, build something they couldn't do on their own)
Protecting, connecting and equalizing your guests
Gathering becomes even more complex in a hybrid environment because, as Priya explains, a hybrid meeting is not one meeting--it's three meetings:
Virtual
In-person (deal with each other's dynamics)
Choice (mix of virtual and physical)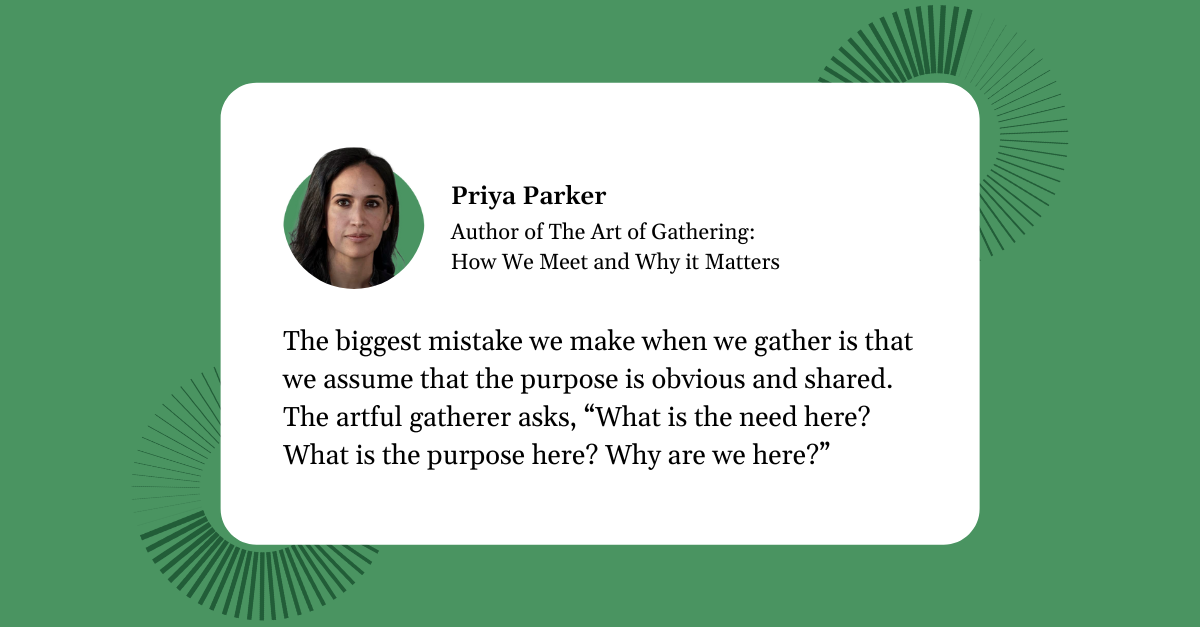 And what about the disputable voices? Conflict and confrontation is hard on Zoom, but not impossible. How can we make conflict resolution work in a hybrid environment? Here are some of Priya's tips:
Have regular confrontations that address conflict
Create a culture of normalcy around disagreements (Example: ask everyone about their "rose and thorn")
Normalise thorns (it's normal to not have things go well)
Remember that politeness is a killer of creativity
Facilitate ideation and rejection
As a leader then, what can you do to make gatherings more purposeful for your teams? Priya suggests, "Ask them. Create a safe place for them to tell the truth (in polls, surveys, etc.) then determine the shared sacred text that will work for everyone. And remember, training is a shared experience that allows a group to gel."

Which ties nicely into one of Allison's favorite quotes of Priya's, "Training changes the metabolism of a team."

But the conversation doesn't end there. What else did Allison find out about Priya's research, experiences and upcoming work? And what else can leaders and facilitators do to drive more meaningful interactions in today's world? Watch Priya's keynote on demand to catch the entire conversation.
Demo: Vena for SaaS
Speakers:
Shaun Jansen, VP, Sales, Vena; Nolan Southfield, Solutions Consultant, Vena
Vena VP of Sales Shaun Jansen asked Solutions Consultant Nolan Southfield, "What makes SaaS finance unique?" Nolan, a veteran of the SaaS industry, said it's the wealth of data. In SaaS, there are so many disparate data sources with finance data coming from your ERP and opportunity data from your CRM. The trove of disjointed data creates challenges for detailed revenue planning. Finance professionals need to bring together multiple Excel files, tie them together and slice and dice thousands of lines of data from slow, mammoth spreadsheet files. Organisations try to leverage Excel as a data warehouse, but it's not designed to do so for that volume.
Nolan said that revenue recognition in SaaS is different from other industries and that revenue recognition varies widely between SaaS organisations. One of the major reasons SaaS organisations' KPI--annual recurring revenue, churn and customer acquisition cost, to name a few--vary is that much of the revenue is subscription based. When SaaS businesses offer software service bundles and non-fixed implementation prices, that's when revenue planning becomes very difficult to forecast.
That's why businesses need a flexible, agile process to develop a scalable solution to plan subscription revenue. He demonstrated that, with Vena, you can drill down revenue by account, account group, customer group or entity and more parameters to gain a granular view and perform scenario analysis. And like every one of Vena's pre-configured solutions by industry, the SaaS pre-configured solution has AI features, including predictive forecasting and analysis.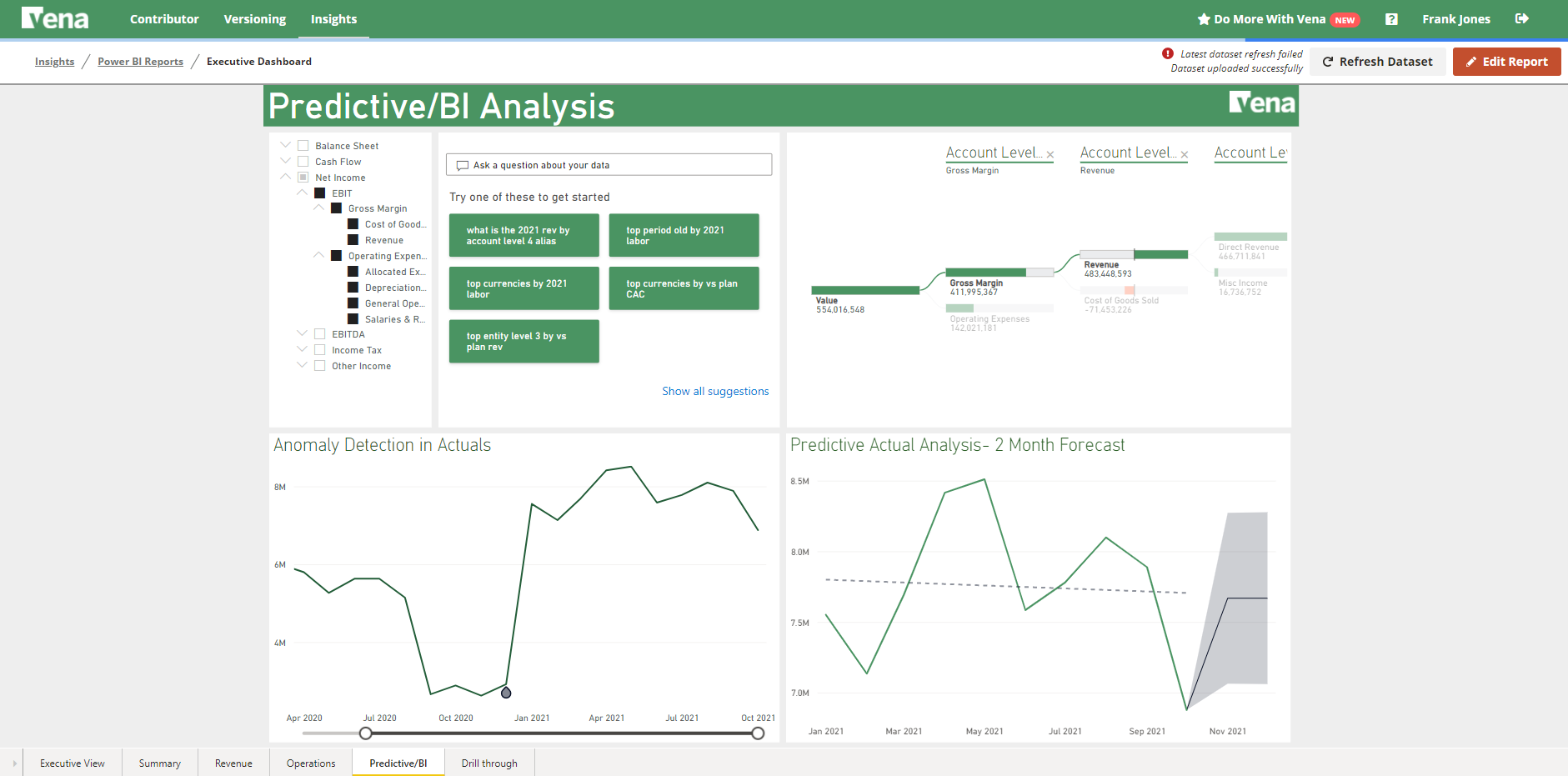 With a trove of data, Vena is the Excel-native central database that can store your wealth of data--which Excel wasn't designed for--and help you bring it together to slice and dice for generating instant insights. Nolan said, "What you're doing right now can be replicated in Vena."
On the Road to Growth
Speaker:
Andrew Stanbridge, VP, Product, Vena
Vena VP of Product Andrew Stanbridge--along with Vena experts Cindy Alberta, Luana Faria-Fichelli, Manksh Gupta, Carter Russell and Jenny Crawford--led us through Vena's latest--Spring '22--quarterly release and a pair of customer stories. Launching May 16-17, Vena customers will see enhancements to their Vena instance that will help excelerate their growth with a more seamless user experience and greater access to business insights. These were some highlights of the updates customers can expect in the spring season:
Integrations
Upload data and files in both CSV and JSON formats
Retrieve information on ETL (extract, transfer, load) jobs, templates and statuses
Manage ETL processes across different data models
Upload multiple CSV files and JSON datasets into an ETL job
Updated UI in Vena to support new ETL statuses from Public API
API documentation for developers
Modeler
Cleaner, intuitive design
Bulk move members
Bulk attach/detach attributes
Filter by attributes
Save versioning configurations
Enhanced keyboard accessibility
Automatic Calc Triggers
Faster, partial deploys
Increased data integrity
Bulk update support
Reduce data validation time
Improved logging in ETL History
Key Themes
Vena Product Managers took us through the three key themes of the quarterly release:
Faster Workflow and Budgeting Cycles
Statics Task Binding Configuration, the new, easy-to-use UI, is now available in Vena.io to simplify the template workflow and reduce the time to implementation.
Data Validation Rules enable managers to establish guardrails around what data contributors can enter, gives the flexibility of Excel to enter any logic the manager wants and reduces the back and forth that causes errors in data.
More Granular and Detailed Planning
Staging Queries enables users to pull transaction-level tables in Vena templates to do more granular, detailed and accurate planning.
Customizable Templates To Meet Multiple Use Cases
Expand & Collapse (formerly Zoom-In / Zoom-Out) expands nested member hierarchies within Dynamic Rows to prepare detailed reports tailored to your audience or investigate variances with a single click.
Agile Revenue Planning Best Practices

Speakers:
Thomas Krolak, CPA, Senior Manager, FP&A, Vena; Ruslan Valeev, Director, Sales Operations, Vena; Andre Proulx, Director, Marketing Operations, Vena; Howard Dresner, Chief Research Officer, Dresner Advisory Services LLC
In this panel discussion hosted by Howard Dresner of Dresner Advisory Services and featuring Venanites Thomas Krolak, Ruslan Valeev and Andre Proulx, the panelists discussed the benefits of agile revenue planning, sharing best practices on how to align finance, marketing and sales departments to power organisational growth.
Howard kicked off the conversation with a simple question: Why is it important to have an agile revenue process?
There was a general consensus among the panelists. Thomas, Ruslan and Andre each stated that the finance team plays a pivotal role in building out an organisation's growth journey, leading it through change and determining its future success. But when market conditions change unexpectedly, finance teams need to adapt quickly, consistently and intelligently in order to provide the right information to key stakeholders across the organisation, allowing them to make more informed decisions in the face of heightened volatility. And during such times, agile revenue planning processes are key to empowering teams to adapt with speed to unexpected events and shifts in market conditions.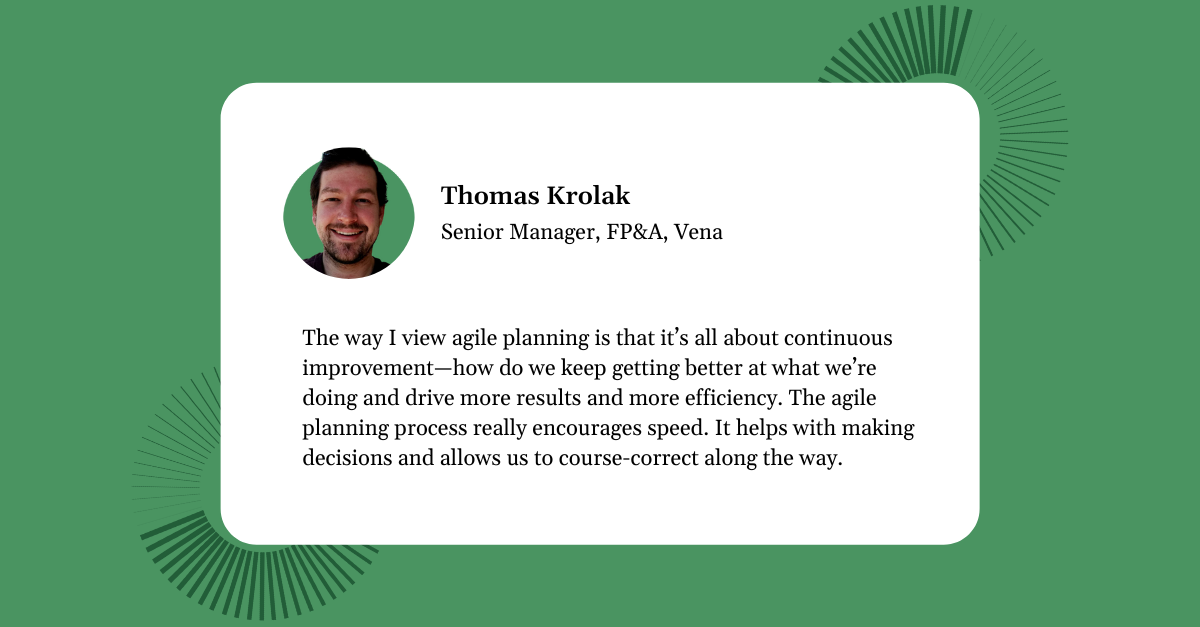 "The way I view agile revenue planning is that it's all about continuous improvement--how do we keep getting better at what we're doing and drive more results and more efficiency," said Thomas. "The agile planning process really encourages speed. It helps with making decisions and allows us to course-correct along the way."
The conversation then turned to one of the central components of adopting a successful agile revenue planning process: technology. In order to plan for today and be ready for tomorrow, finance teams require agile planning solutions that enable them to keep moving forward and building towards a successful future. However, while having the right technology in place is important, it's not the only consideration to make. "Technology should be viewed as an 'enabler'," suggested Howard. "The change agents are ultimately going to be the people within the organisation--the ones who leverage the technology to improve and transform that organisation."
This led the conversation to the subject of change management. While the panelists acknowledged that during the early days of any organisational change, people might initially feel uncomfortable, they agreed that over time the benefits would soon become apparent. "What helps [with change management] in my opinion is transparency," Ruslan said. "As long as you're transparent with your team as to why you're making the changes, that helps people feel more comfortable with it."
However, it's important to remember that agile revenue planning isn't a process that's adopted overnight. "Even when I think about my time here at Vena--it's been almost four years now--it's insane to think about the amount of change that's occurred within the finance department," Thomas explained.
"When I think about where we were when I started to where we are now, the two companies that I'm describing are like night and day. Just completely different. But what I've realised is that change happens over time--it's not like you can just snap your fingers and suddenly you're doing agile revenue planning. It truly is an evolution and it involves constant iterations and the desire to constantly make things better. It's also about the time, effort and willingness to team up and partner up that really drives that journey to agile revenue planning--and of course all of that takes time."
So what were the key takeaways from the discussion? To sum up, with the right technology, data and processes in place, you can start to identify and address any unknowns in an agile fashion--long before they run the risk of negatively impacting your business. And that's exactly why agile business planning is so important to master: it puts finance teams in the driver's seat as you plan for today and tomorrow.