Many companies tried out remote work for the first time in 2020, the switch catching some employers off guard. A few years later, it seems that the long-term effects have positively affected many employers' bottom line.
With a mix of hybrid and remote work, flexible work options can save money while improving employee productivity and retention. Employers can maximise remote work savings by reducing office space, improving employee engagement and reducing employee turnover.
Providing employees with flexible work options, such as telework and hybrid work, can save you operating costs while also increasing your business's attractiveness to employees.
Key Takeaways:
Hybrid and telework models have become the norm--and many employees now expect to be able to work from home for at least part of the work week. Offering remote work flexibility can increase employee productivity and happiness while saving money.
Employers who convert to a hybrid work environment should anticipate cost savings in areas including office space and utility costs, cleaning services and taxes.
You can also maximise hybrid work savings by reducing absenteeism, accessing a wider talent pool and facilitating virtual team building for employees.
Capitalizing on Remote Work Savings
One study found that since 2020, 60% of high-revenue companies have switched to hybrid work. While the pandemic may have facilitated an already emerging trend, many employees today expect their employer to offer hybrid work or telework options.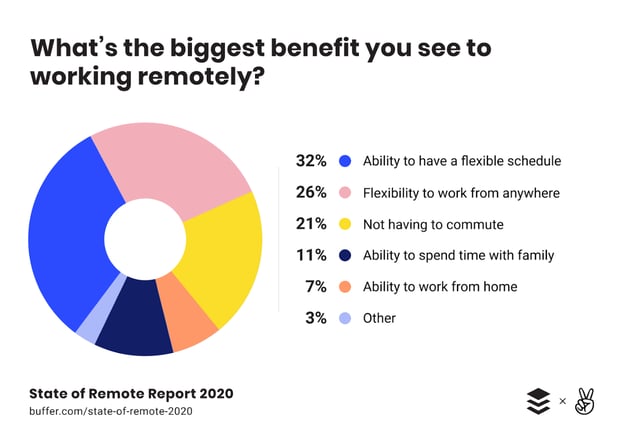 Source: Holloway
Hybrid work benefits not only employees, but also employers. Businesses can benefit from remote work cost savings such as:
1. Reducing Office Space
If you offer telework, there's likely no need for a large office space.
In a hybrid work environment, employees can choose which days to work in person, or you may assign teams certain days to come to the office. This removes the need for a large office space.
Instead, consider moving to a smaller office or renting a flexible space. In either case, reducing your operational costs is more cost-efficient than maintaining a large office that is otherwise empty on certain days.
A smaller office will help:
Lower utility bills
Reduce cleaning service fees
Minimise expenditures on communal snacks and coffee
Reduce the cost of office supplies
Some of these costs may feel inconsequential, but cutting these expenses can reduce your operational budget and save your workplace solutions (or equivalent) team time and effort.
2. Improved Employee Retention and Turnover
It's no secret that happier employees are more likely to remain in their current position.
As remote work continues to become more normalised, employees have come to expect flexible work options. In an employee's hiring market, employees are more willing to jump ship and seek employment elsewhere when their current employer mandates unfavorable return-to-work requirements.
Offering permanent telework or hybrid work options encourages your current employees to remain with the company. With a reduced employee turnover rate, you maintain consistent productivity and eliminate the need to train new staff.
This saves money in two ways.
Firstly, you don't have to search for potential new employees, dedicate resources to training them, and lose a current staff member's productivity levels should the new employee need to shadow them.
Secondly, no break in productivity otherwise occurs when one employee exits and another enters.
3. Minimised Employee Absenteeism
Absent employees can disrupt the normal workflow of your business. This can result in delayed work product, disappointed clients and other issues.
One study found that flexible work options may decrease employee absenteeism. This is because remote work:
Reduces the spread of sickness
Minimises occupational hazards
Makes it easier to return to work after an illness
Enables parents to care for their children more easily
Eliminates the inconvenience of a long commute
Even where remote work isn't available every day, teleworking at least a few days per week may increase employee productivity and reduce absenteeism.
4. Better Employee Productivity and Engagement
Happy employees are productive employees, and employees with a say in their workplace tend to be happy. Another 2022 study found that companies that allow their employees to work 80% remotely were more motivated and 15% more productive.
Source: Dollarsprout
This same study suggests that retaining productive employees can save up to $11,000 per year over hiring and re-training new employees.
5. Access to a Wider Talent Pool
When you need new employees, finding talent that fits your requirements can be difficult.
Sometimes, it may not be possible to find a local candidate. When an employee leaves unexpectedly, this can also disrupt the workflow. Allowing remote work means your new hire could reside practically anywhere.
For example, certain skilled workers may even live in another country. In that case, you could save money on labour costs due to a differing standard of living, contracting laws and labour laws.
6. Continuity in Operations
The onset of the pandemic disrupted daily life. Many businesses simply closed and were unable to adjust. A study by Yelp found that 98,000 businesses closed in 2020 alone.
For those businesses that have endured, functioning virtually provides several benefits:
Final Thoughts: Is Hybrid Work the Best Option for Your Company?
Flexible workplace options like remote and hybrid work can be beneficial, but may not be best for every employee. You may want to consider:
Not everyone thrives in a remote environment
Telework may not be suitable depending on your data privacy needs
Whether employee collaboration may be affected
Another factor you may consider is the impact of remote work on employee morale. One study found that remote workers may be more likely to leave their current jobs for a company that provides mental health benefits.
For example, coping with the stress and adjustment of switching from an in-person environment to a long-term remote system.
By helping your employees adjust to--and maintain--work-life balance with remote work, you're preventing the cost associated with high turnover while also improving employee morale.