This blog was originally published on November 19, 2020 and updated on December 6, 2021.

Whether you're expanding headcount to win customers in new territories, transforming your operating model to win in an increasingly competitive marketplace, or adapting quickly in the face of uncertainty, one thing is for sure when it comes to driving business growth--you need a plan.
But no matter where your business is on its growth journey, the road ahead will never be easy when your planning process is hindered by obstacles like tedious manual processes, complex workflows, data silos, inaccurate data and, ultimately, the inability to enable agile, well-informed decision making.
For strategic planning to really take root, you need cross-functional collaboration--from the office of finance to operations and beyond--and a complete view of business performance so your teams can do the data-driven analysis needed to move the business forward quickly and confidently. That's why we created the Vena Growth Engine--to help businesses like yours connect departments, people, processes and systems to streamline and scale your plan to grow.
In this blog post, we'll break down the seven pillars that comprise Vena's Growth Engine technology and show you how it can accelerate your plan to grow.
Read on to discover:
What Is Vena's Growth Engine?
Vena's Growth Engine is the power behind your business plans. Created by our team of experts, the Growth Engine combines best-in-class technology and methodology with the world's leading grid, Excel, to drive Vena's Complete Planning platform--making it the only planning and analysis solution robust enough for enterprise-level scalability, performance and extensibility, yet simple enough for anyone at any organisation to use.
The Growth Engine inspires innovation, enables cross-functional collaboration and gives teams the freedom to analyze financial and non-financial data with intent. Built on the foundation of seven key technology pillars, the Growth Engine has everything you need to inspire confidence, champion teamwork and cultivate enthusiasm and innovation across your business as you plan to grow.
The Growth Engine's 7 Pillars
These pillars all work in tandem to help you drive growth at scale. Keep on reading to learn a little bit more about each one.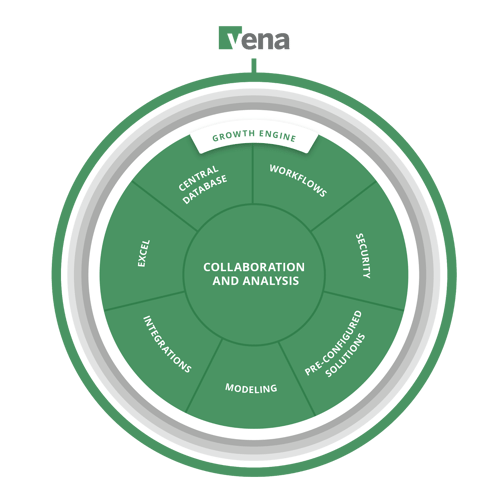 1. A Central Cloud Database
Data can be overwhelming sometimes, even for the world's most experienced business leaders and finance professionals. Digging through old spreadsheets, triple-checking your numbers and building reports manually is tedious and error prone. Process automation, especially when it comes to data consolidation and reporting, is top of mind for finance teams today. It all starts with building a data warehouse in the cloud--and that's exactly what Vena's Growth Engine enables.
Vena makes it easy to analyze data. By viewing all of your data in Excel first, including imported data from external databases, you can work from a single source of truth for company-wide information and never worry about accuracy again. The OLAP cube data structure lets you slice and dice for summarized totals, while our relational database lets you query your numbers and drill down to transaction-level details.
Let's say, for example, that you're CFO of a women's clothing company. As you plan for the upcoming quarter, you want to compare last month's sales totals for sundresses in California versus Texas. Instead of searching your inbox for copies of itemized sales reports--and then running multiple VLOOKUPs to find the values you need--Vena would run the query for you and pull your numbers in a couple of clicks.
Working from a central database is always more efficient as you chart your plan to grow. Think about this for a moment: What could you accomplish today if you had more time to focus on tomorrow?
2. Integrations With Existing Source Systems
Vena's 2020 Industry Benchmark Report revealed that 57% of finance teams are struggling with disparate data silos. Building a central database is the first step toward solving this problem, but you still need to ensure the right numbers flow in from your data sources, including your:
ERP or GL
CRM
HRIS or payroll software
If all the data you need isn't accessible in one system, it's tough to track performance and make informed decisions on the fly. You'd also have to jump between financial (and non-financial) data sources to get a holistic view of your business, which might make it difficult to uncover the story your data is telling you.
However, thanks to the Growth Engine's seamless integration capabilities, Vena connects the dots and sets your data free. Our direct ETL engine and flat-file integrations can connect Vena with any source system--in the cloud or on premise--saving you the hassle of pulling out numbers manually. With company-wide planning data at the tips of everyone's fingers, you'll be able to tear down data silos and plan smarter with cross-functional stakeholders. And with everyone working from the same set of numbers, you'll never have to worry about data accuracy again.
Learn more about how Vena can keep your entire business connected.
3. A Native Excel Interface
According to the 2020 Pulse of Performance Management survey, 82% of finance teams that already have planning software still use offline spreadsheets for core FP&A processes. This really isn't surprising, because Excel is the universal language of business. It's flexible and easy to use, but it gets clunky and hard to manage as your business needs grow--leading to version control issues, data integrity problems and time-consuming manual entries. If you've ever had a workbook crash when you're racing to get month-end reports out, you understand why Excel alone isn't meant to serve as a database.
But what if you could have the best of both worlds? What if you didn't have to sacrifice the comfort of Excel to level-up your growth journey with the database functionality you need? Vena leverages an Excel grid interface, so you can use the tool you already know to do things you've only imagined. With the world's leading grid inside of the world's most complete planning platform, everyone at your organisation can experience the joy of finance. Instead of forcing you to adapt your processes and learn a rigid, unfamiliar platform, Vena brings you the best of Excel--but without all of its usual pitfalls.
4. Modelling and Analysis
The power of the Growth Engine really shines through when you model and analyze potential business scenarios with Vena. Interacting with your database from the comfort of Excel means you don't have to flip between templates to see your budget, actuals, forecasts and unique models. Vena's enterprise-level modelling engine lets you challenge your forecasts on-demand and confidently measure how specific variables--either internal or external--will affect your long-term outlook. All you have to do is input the assumptions you want to model so Vena can work its magic and apply them to your datasets in seconds. There's also no limit to the models you can build in Vena because you'll always be able to update them as your business drivers, revenue assumptions and reporting needs evolve.
If you don't have the flexibility to model new scenarios when you need to, it's hard to adjust course when business conditions change. And if you aren't always ready to answer "what if" quickly, it's tough to stay on track and help leaders make data-driven decisions. That's why scenario modelling is such an important part of our Growth Engine. Vena makes it simple to test best-case, worst-case or any scenario you can think of so you can better understand how today's choices will impact tomorrow.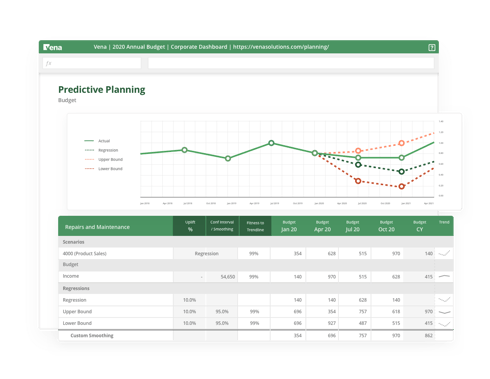 5. Customizable Workflows
Is that board report approved yet? Has everyone submitted their budget entries? Is Joe almost finished with that variance analysis?
Finance leaders ask these questions a lot, but getting answers quickly isn't always as simple as it sounds. Every organisation's planning process has a lot of moving parts and ensuring it all runs smoothly can be the difference between success and failure.
Like you, we value teamwork and transparency here at Vena, and that's why a visual workflow designer is baked into our Growth Engine. Instead of constantly chasing your colleagues down for progress updates, Vena makes it easy to:
Assign tasks to teammates based on their specific role or department
Track and audit the status of those tasks with real-time progress dashboards
Formalize the review and approval process with managers
Set up automated email reminders so nothing falls through the cracks
Repeat, refine and build scalable workflow processes--because Vena grows right alongside you
6. Pre-Configured Solutions
Rolling out a planning platform isn't easy, but the Growth Engine makes it easier with pre-configured solutions. You'll always be able to customize Vena to meet the specific needs of your business--and even use your existing Excel templates, if you wish--but you don't have to build it all yourself. You've got enough on your plate already, and the last thing you need is for your implementation to take longer than it needs to.
Pre-configured solutions accelerate your time-to-value. They include purpose-built templates and data models, pre-defined business logic and source system connectors to meet your industry-specific business requirements.
7. Security and Compliance
At Vena, we will never stray from our commitment to keeping your data safe, and we're not just talking about network security and encryptions here. Our platform is still supported by best-in-class data security, but the Growth Engine takes it further with complete auditability, user-level security permissions and transparency and control over your data, completely integrated with the Vena and Excel interface
Let's say, for example, that you're rolling out a bottom-up budgeting process and you want your regional department heads to take ownership of the numbers they're responsible for. With Vena, you can apply user-based security permissions to individual cells in your template so contributors can only alter the values relevant to them. And if there's sensitive data you don't want certain employees to see--such as salary information, for example--you can restrict access by removing those cells from their view.
With Vena, only the right people have access to the right data. Other security features include:
Audit trails: So you can track and verify any changes made to your templates
Validation rules: To prevent data entries above or below certain thresholds
Check out this datasheet to learn more about Vena's advanced security features.
How To Put the Growth Engine Into Action
With the Growth Engine's seven technology pillars behind you, you'll always be prepared to take on the future with confidence. But in order to accelerate your growth journey and make the most of our platform, you need to understand what your goals are so we can work with you to achieve them.
If budgeting and forecasting are slowing you down, Vena Finance-Led Planning configuration will help automate manual processes and drive efficiency across your business. If you want to dive deeper into your data and support workforce planning, revenue planning, capital expenditures and more, our Extended Planning use cases can open those doors for you. You can even look Beyond Planning and streamline consolidations, account reconciliations and financial close with Vena. No matter where you are on your growth journey, Vena's Complete Planning solution is always here to help.
The possibilities with us are endless, but it's our Growth Engine that provides all the power. We'll help you excite your teammates, simplify your processes and take finance-led growth to a whole new-level--because that's what the Growth Engine is all about.
Preview Vena today and transform your growth journey with us.