Performance management leader strengthens executive bench, opening new Canadian headquarters to support rapidly growing team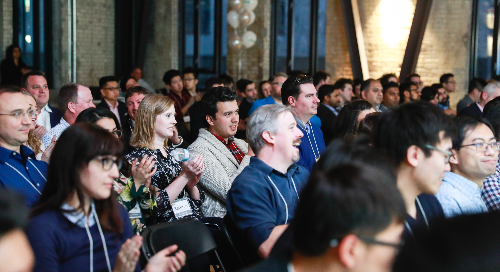 This release originally appeared on Marketwired.
Performance Management Leader Strengthens Executive Bench, Opening New Canadian Headquarters to Support Rapidly Growing Team.
ALBANY, NY & TORONTO, ON – March 8, 2017 – Vena Solutions, the fastest growing provider of cloud-based corporate performance management (CPM) software, today announced new additions to its seasoned executive team, including a chief customer officer, chief people person, chief revenue officer and corporate counsel. Vena also announced its impending move to its new Canadian headquarters in Toronto's Liberty Village neighborhood to support and inspire its rapidly growing team.
"Vena prides itself on our ability to attract world class talent," said Don Mal, co-founder and CEO of Vena. "Our latest hires are among the best of the best and highlight that our customers and employees are our top priority. We welcome this new bench strength to help propel Vena through our next phase of growth."
Vena's new hires are another key indicator of the company's momentum and recently announced record sales growth in 2016. Vena hired 86 new people and increased its product, sales and marketing teams by 60 percent in the last 12 months alone. The company's newest executive hires are:
Debbie Lillitos as chief customer officer:

Lillitos will oversee Vena's client success and development of its customer service initiatives. Most recently, Lillitos was vice president of professional services at Achievers, a leader in employee recognition and rewards software.

Tracey Mikita as chief people person:

Mikita will oversee employee engagement and the cultivation of Vena's corporate culture and values. Prior to Vena, Mikita served as vice president of human resources at FreshBooks after progressive HR and leadership roles at Wal-Mart and General Electric.

Shawn Cadeau as chief revenue officer:

Cadeau will lead sales, marketing and growth initiatives at Vena. Previously, Cadeau was chief marketing officer at FreshBooks and senior vice president of global marketing at Corel Corporation.

Gargi Chopra as corporate counsel:

Chopra brings to Vena several years of private practice and in-house experience with a specialty in technology law and corporate issues. Previously, Chopra was director of legal at Leonardo Worldwide Corporation, a SaaS firm serving the global hospitality industry.
In conjunction with the company's record employee growth, Vena also announced its new Canadian headquarters, located in the heart of Liberty Village – Toronto's tech and innovation hub. The new space will provide additional capacity to support, encourage collaboration and inspire the company's rapidly growing team, with highlights including:
Over 27,000 square feet of open concept office space.

A historic building with exposed brick and beam architecture.

Maximum natural lighting and 25-foot ceilings throughout the office.

Two rooftop patios for private work or impromptu meetings.

Stocked kitchens, private washrooms, showers, recreation areas and more.
"We're thrilled with the results of all the hard work that went into Vena's new Canadian headquarters," said George Papayiannis, co-founder and CTO of Vena Solutions. "From the character and emotion the building evokes, to the informal breakout areas, we designed every detail to give our growing team an inspiring place to do what they love."
For more information visit:
About Vena Solutions
Vena turns Excel into an enterprise-class business solution with a centralized database, workflow, detailed audit trail and more. With Vena, hundreds of leading global brands now get trusted numbers and insights – fast – with their favorite spreadsheet software. Our customers use Vena for corporate performance management (CPM) applications including budgeting, financial close management and reporting, and automating other spreadsheet-driven processes beyond Finance. Vena is the fastest growing cloud CPM vendor, and the only one to embrace – not replace – Excel spreadsheets. Visit us at www.venasolutions.com.
Media Contacts
Danielle Salvato-Earl
Kulesa Faul for Vena Solutions
(650) 922-7287
vena@kulesafaul.com
Michael A. Corcoran
Kulesa Faul for Vena Solutions
(650) 922-7287
vena@kulesafaul.com