When it comes to reporting, financial dashboards have emerged as an important part of the process. Acting as a powerful data visualization tool, a financial reporting dashboard--such as one powered by Excel--shines at showing key pieces of data, visually telling a story and purposefully informing business decisions. For financial professionals working in any industry, dashboards can be the key to effectively understanding and presenting a company's overall health and vision for the future.
Keep reading to find out how financial dashboards in Excel support reporting processes and to learn more about the top three financial dashboards and models that enhance your reporting processes.
How Dashboards Enhance Financial Reports
Essentially, financial dashboards consolidate a company's performance data into a single picture. They enable both financial professionals and decision makers across the organization to easily understand what's going on with the business.
The most effective dashboards draw meaningful data correlations, deliver actionable insights and/or highlight variances in financial trends. What's more, they show key financial performance indicators (KPIs) in real time so viewers can quickly prioritize their areas of focus and take action.
According to Khurram Chohan, CFO of TogetherCFO, "Having a clear financial dashboard is the key to making better business decisions and being able to act faster."
By providing a common visual language between finance and non-finance audiences, a financial dashboard also helps foster a culture of collaboration, transparency and accountability across the organization. And that's increasingly important because the financial planning and analysis (FP&A) team is evolving into a central hub for measuring the health of a business.
As Marjorie Adams, CEO of Fourlane, advised businesses, "Don't just track finance, every department's numbers have an impact, so collect them all."

(Check out The Ultimate Guide to Corporate Budgeting to help you better put finance at the heart of everything your company hopes to achieve.)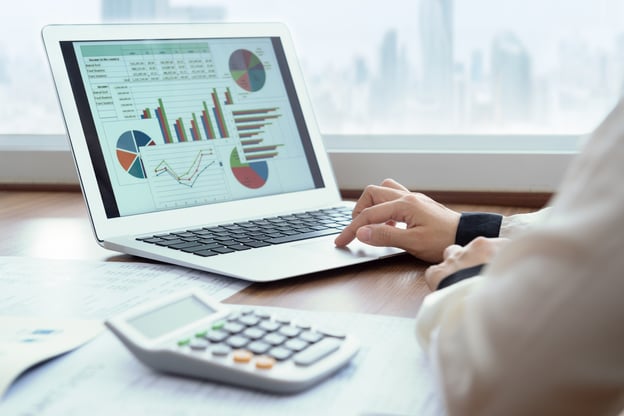 The Increasing Importance of a Financial Reporting Dashboard
The demand is growing for consolidated data and strategic insights across business units and functions. This means that FP&A professionals need to get savvier about predictive analytics and performance management. They also have to adapt and learn quickly from more holistic views of historical data--integrating a company's past, current and projected numbers.
Justin Goodbread, CEO of Heritage Investors, explained, "The goal is to have your financial reports provide a story that giv[es] you a complete picture of your company's past, present, and future financial health."
The good news is that a financial dashboard makes it easier and faster to aggregate and analyze financial data. It's empowering finance teams to focus on key company metrics and to understand how they're affecting the company's bottom line and other crucial KPIs. Beyond traditional finance metrics, it's giving them greater visibility into the health of the business as a whole.
Indeed, with the growing influence of the finance team over high-level business decisions, being able to analyze a company's "big picture" is more critical than ever. But how exactly do you create clear and strategic dashboards to effectively track and evaluate your entire organization's health financially? It comes down to building the right dashboards--with the financial metrics that truly drive an organization's overall success:
Business health
Customer health
Employee health
Here's how to elevate your reporting and analysis with these three critical dashboards.
Top 3 Financial Dashboards
Business Health Dashboard
Arguably, finance's most important role is proactively measuring a company's financial situation and overall sustainability. Generally speaking, business health dashboards should evaluate both short- and long-term financial metrics (based on a company's short- and long-term goals). And to ensure full transparency and visibility, they should also include budget to actual variance analysis.
There are several critical areas to consider, but here are the most important metrics for building a business health dashboard:
Revenue and Net-New Revenue: The most crucial measurement of a company's financial position is its level of profitability. While liquidity, solvency and operating efficiency are all important, the bottom line is that revenue, net-new revenue/revenue growth and profit matter most and being able to visualize how those numbers are trending is vital.



Net Profit Margin:

The ratio of profits to total revenue is the most telling metric for assessing profitability. A simple profit dollar figure simply isn't enough to determine a company's financial performance. A company might show a multi-million dollar net profit, but if that represents a low net margin, even a slight increase in operating costs could be disastrous. Conversely, a high net margin indicates more financial stability and flexibility for dedicating capital to growth and expansion. Net profit margin allows finance professionals to measure what percentage of total revenue translates into profit. While that margin often varies by sector, this metric is critical for projecting future profits and setting business goals and key milestones to directly shape decisions about business and operating expenses.



LTV:CAC:

This ratio compares a customer's lifetime value (LTV) against a customer's acquisition costs (CAC)—the costs associated with earning their business. For a business to be viable, the investment spent to acquire a customer not only has to be paid back but also has to generate a healthy profit. Companies can't afford to miscalculate the potential of this value. Essentially, the LTV:CAC metric indicates whether a company is well-positioned for long-term growth and whether it can strongly influence decisions about sales and marketing operations. In general, a healthy ratio is 3:1.
See how Vena's new financial dashboard tool can help you gain more visibility into your company's financial soundness.
Customer Health Dashboard
Finance teams (especially with subscription-based business models), need to measure how existing customer relationships are impacting the bottom line. This enables finance leaders to help sales and customer success teams understand where they should focus their efforts and resources.
Beyond the numbers, customer health data provides insight into the stability of the company's overall customer service function. After all, it's always cheaper to retain an existing customer than to sign a new one.
Here are the most important metrics to include in a customer health dashboard:
Number of Active Customers: It's important to show a visual comparison of actuals versus projections. This helps sales and marketing departments understand if they're above or below expectations.


Gross and Net Revenue Retention: Are your customers renewing their contracts or are they spending their dollars elsewhere? This helps companies measure customer satisfaction through a finance lens.


Time to Value: How long does it take for your customers to start leveraging the value of your product? Especially important for technology and SaaS organizations (with longer product implementation times), this metric helps finance departments gauge whether or not a company needs to invest more in a customer success function.
Learn why John Daniels Associates relies on Vena to help their clients grow.



Employee Health Dashboard
Without a doubt, a company's most important asset is its people. Employee trends and behavior affect a company's bottom line and are vital for finance professionals to measure. But effectively tracking and acting on employee health findings means working closely with HR (which also underscores the significance of cross-departmental transparency and collaboration). Fortunately, modern FP&A platforms can make it easy for finance professionals to sync HR data with financial data to determine what the numbers mean for the business.
Here are the most important metrics to include in an employee health dashboard:
Employee Retention: It's important to measure what percentage of employees stay with your company over a given period of time.


Headcount Budget versus Actuals: This metric helps business leaders understand whether or not the company is expanding at its projected pace.



Revenue per Employee:

This is a good way to measure employee productivity and also helps finance and HR teams gauge how headcount is influencing the bottom line.


Employee Survey Data: You can collect this data from employee engagement activities and surveys. This might include the percentage of employees who would recommend the company and/or express confidence in a company's leadership. The savviest finance departments are likely to find a positive correlation between employee satisfaction and overall business performance.
Learn how WWF-Canada turned 2 hours of reporting into 2 seconds.
Connecting the Dots for Financial Health
From tracking the bottom line to evaluating customer satisfaction and employee happiness, a financial reporting dashboard can offer invaluable insights for the entire company.
While individual metrics might mean different things to different organizations, connecting the dots between the key drivers of a company's health is critical to seeing its big financial picture. It doesn't matter if you're doing so with a financial performance dashboard in Excel or another platform, the goal remains the same.

The right financial dashboard can be the window to more strategic, integrated and dynamic views of the business. And with the help of Vena, building and using an Excel-based financial dashboard has never been easier.